We celebrate our 100th outing by recording an episode longer than the previous 99 shows combined. Starring: Old friends, your emails, and funny memories!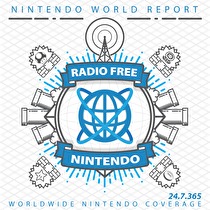 Subscribe via iTunes (Please rate and review, too!)
Caution: Extreme Length. Listener discretion is advised.

Can you handle three and a half hours of RFN ecstasy? I think you can. (Don't be afraid to listen in two or three chunks! That's how it was recorded.) Our giant anniversary show brings together the new crew, the old crew, the pirates, and highlights from the last two years.
Greg, Lindy, James, and Jonny start the show with New Business and a heaping ton of listener mail. Then, you'll get a dose of the old gang as Karl, Mike, Evan, and Jonny (who was a semi-regular before becoming host) talk about what they are playing and reminisce on the origins and evolution of the podcast.
Unfortunately, Stan couldn't join us, but he and Karl did spend last weekend recording a set of skits in which Sweet Pete and his first mate, Blue Balls, travel through time to visit three different eras of Radio Free Nintendo.
Finally, the show swings back to the current lineup for closing comments and a lead-in to the long-awaited highlight reel. Relive the funniest moments from nearly two years of talking out of our asses!
Thanks to our special guests: Mike Sklens, Evan Burchfield, Karl Castaneda, and Stan Ferguson. We also want to thank all of our listeners for sticking with us for this long and for enduring this indulgent 100th episode. Please let us know what you think of it -- either via email or a post in Talkback!
Credits:
This podcast was edited by James Jones and Karl Castaneda.
Music for this episode of Radio Free Nintendo is used with permission from Jason Ricci & New Blood. You can purchase their new album, Rocket Number 9, directly from the record label, or download it from iTunes, or call your local record store and ask for it!