We're all playing Brawl, so that's what we talk about for half the show. Then we get into some hot news action!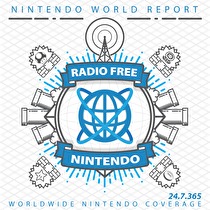 Subscribe via iTunes (Please rate and review, too!)
Let's gather 'round and bitch some more about Nintendo's online problems.

The crew is back, and now that all four of us have Super Smash Bros. Brawl, we can hardly talk about anything else. Bully and Guitar Hero try to sneak into New Business but are crowded out by the Jigglypuff Final Smash-like mass of Brawl discussion. This naturally includes some commentary on the online infrastructure, with the usual moaning over inconvenience and even some praise for how well online play sometimes works over huge distances.
In the second segment, we catch up on some recent news stories with discussions of Rock Band for Wii, Guitar Hero for DS, and Namco's Sky Crawlers. You know we can't stick to an agenda, though -- listen for an extended and unexpected tribute to the Panasonic Q.
Credits:
This podcast was edited by James Jones.
Music for this episode of Radio Free Nintendo is used with permission from Jason Ricci & New Blood. You can purchase their new album, Rocket Number 9, directly from the record label, or download it from iTunes, or call your local record store and ask for it!