Mike "Pale" Gamin joins us for this lucky show.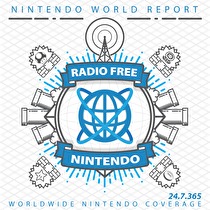 Subscribe via iTunes (Please rate and review, too!)
Weekend Re-Confirmed!

With James out of town, we bring in the Previews Editor, Mike Gamin (a.k.a. Pale on the forums). Pale gets us started on a healthy dose of Super Smash Bros. Brawl discussion, and he also tells us about the new Final Fantasy for DS. Lindemann just got Brawl and can now contribute to that topic, while Greg expounds upon the Wii Freeloader that will save him from Nintendo's hatred of Europe.
In the second segment, we play catch-up with Listener Mail. Topics include: Rare on Virtual Console, Guitar Hero Aerosmith, Sin & Punishment replacing Star Fox, hypothetical Nintendo mergers and acquisitions, revisiting Jonny's review of Twilight Princess, and our Classic Controller setups for Brawl. Please keep sending your great emails with questions for the crew and topic suggestions!
Credits:
This podcast was edited by James Jones.
Music for this episode of Radio Free Nintendo is used with permission from Jason Ricci & New Blood. You can purchase their new album, Rocket Number 9, directly from the record label, or download it from iTunes, or call your local record store and ask for it!