Right now I'm training in the mountains of Siberia, like Rocky did in Rocky IV.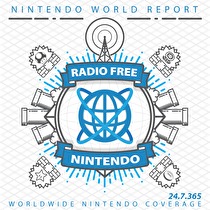 Subscribe via iTunes (Please rate and review, too!)
Lindy to podcast: "I must break you."

This week, we return to the standard lineup and pull out a leaner, meaner episode. A quick New Business segment covers: Jon's new car that will totally kick your ass and get 55 MPG, Greg's wait for the mail, and James's unsettling discovery that Dungeon Explorer smells like paint thinner (an aroma all too familiar to our resident "Staff").
In the Community segment, we pull a heady Star Fox discussion from the forums and also spend some time arguing about Denis Dyack's "One Console Future" theory. Then we launch into a rare News segment, going through several interesting announcements from the recent Game Developers Conference.
Credits:
This podcast was edited by James Jones.
Music for this episode of Radio Free Nintendo is used with permission from Jason Ricci & New Blood. You can purchase their new album, Rocket Number 9, directly from the record label, or download it from iTunes, or call your local record store and ask for it!