Witness the fight for a foam professor's hat.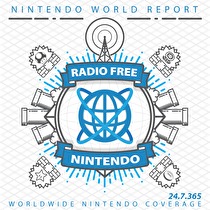 Subscribe via iTunes (Please rate and review, too!)
Brought to you by Russkie Standart Vodka.

Steven "WindyMan" Rodriguez joins again, this time for the full show, in place of Lindy. He and the remaining regulars (Greg, James) listen as Jonny says more than anyone needs to know about "Marvel Illustrated : The Swimsuit Issue." Steven makes everyone feel jealous of Brawl, and far too much time is spent talking about LORDS OF THUNDER.
With the arrival of the new Forums we talked about why they were gone (the Sith), and the exciting goings-on since their return. We explore Ninjitsu, space, and our foggy memories with another good week for Virtual Console. And, as always, we ended with a heaping helping of listener mail.
Credits:
This podcast was edited by James Jones.
Music for this episode of Radio Free Nintendo is used with permission from Jason Ricci & New Blood. You can purchase their new album, Rocket Number 9, directly from the record label, or download it from iTunes, or call your local record store and ask for it!