Our interview with one half of Penny Arcade. Get in the holiday cheer by supporting this awesome charity!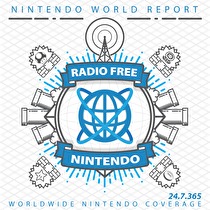 Subscribe via iTunes (Please rate and review, too!)

Two RFN podcasts in one week, huh? You guys sure are lucky! For this very special episode, Jonny talked to Mike Krahulik (better known to the internet as Gabe from Penny-Arcade) about the annual charity aimed at supplying video games and consoles for sick children in the hospital, Child's Play. If you haven't already read the text version, feel free to give the audio a listen.
A very special thanks to Mr. Krahulik and everyone at Penny-Arcade and Child's Play for doing the amazing work they do. Again, that's Child'sPlayCharity.org. Support the cause today and make a child's holiday that much easier to manage.
Credits:
This podcast was edited by Karl Castaneda. Interview conducted by Jonathan Metts.
Music for this episode of Radio Free Nintendo is used with permission from Jason Ricci & New Blood. You can also purchase their new album, Rocket Number 9 directly from the record label, or call your music local record store and ask for it!