Two staffers ramble for twenty-something minutes about new Nintendo games? It must be an E3 podcast!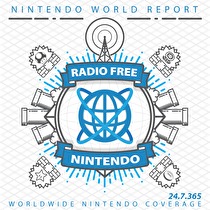 Subscribe via iTunes (Please rate and review, too!)
My name is Mike, and I'm... happy.


It's E3!!! The yearly media mega-storm that we await has finally arrived. In this episode, Mike and Karl give you a brief rundown of Nintendo's big press conference. What, exactly, does this entail?
Mario Dressed as a Bumblebee
The Official Nintendo piece of plastic Wii Zapper!
Wii Fit - The Ultimate Workout Non-Game
Mario Kart Wii - Online Battle Mode!
and more!
This is a short episode, and showcases our short-form E3 style podcasting. We recorded this sucker today, skipped the usual three days of editing, and put it into your ears as fast as we could. Keep checking Nintendo World Report (or better yet, ), because we'll be posting more bonus straight-from-the-big-show episodes of Radio Free Nintendo this week.
Credits:
This podcast was edited by Karl Castaneda.
Music for this episode of Radio Free Nintendo is used with permission from Jason Ricci & New Blood. You can also purchase their album directly from the iTunes Music Store