Safety On.
While Duck Hunt for the Nintendo Entertainment System was far from the first light gun game to be released on a home console, I spent most of my life looking back at the game as the first point on the timeline of gaming. The black box NES title has a defining place in my personal nostalgia of what it means to be fun, old school and simple but at the same time difficult.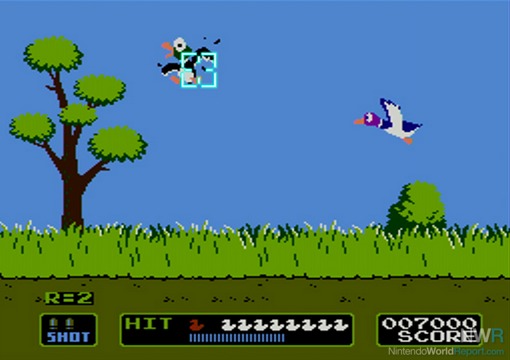 At first the experience provided by the emulation feels authentic. The classic music is all there and the sound effects are perfect. I was overjoyed that Nintendo added the extra touch of having the Wii remote speaker play a sound reminiscent of the sound that the trigger on the NES Zapper made.
However, light guns cannot function when used with our modern flat screen TVs and as a result Nintendo had to adjust the game to compensate for the use of the Wii remote instead of the NES Zapper. During the game a crosshair shows on the display to show the tracking of the Wii remote. This seems like a small detail but ultimately makes the game exponentially easier.
It is possible to turn off the crosshair so it only displays after a shot is fired. However, the crosshair remains on screen for a second or two which gives the player enough time to target the duck before firing another bullet. Playing with the crosshair turned off does bring the difficulty somewhat closer to the original, but the shooting experience still does not feel quite right.
Also, I noticed that the hit detection was inconsistent. I would have the crosshair right over the duck when I fired and it would sometimes count as a miss. On the other hand I found myself making kills on shots that should have been misses from time to time.
Overall, the experience of Duck Hunt for the Wii U Virtual Console is more similar to the New Play Control GameCube ports for the Wii then a typical Virtual Console game. The new controls change the experience of the original Duck Hunt so drastically it feels like something new in itself. Those looking to get a true Duck Hunt experience will still have to hold on to their NES.
On the other hand, those looking for an enjoyable, quick fix, of nostalgia will not be disappointed with the Duck Hunt Virtual Console package. It is good to see Nintendo take the time to recreate a classic that is not easily accessible to most. Although Duck Hunt on the Wii U falls short of being an authentic experience, I am happier having this version on a modern platform then no version at all.