If you can only get one 3D Sega Classic title...
Galaxy Force II was a hulking beast of an arcade machine, which had to be cordoned off due to its complex set of hydraulics that would move and shake the cabinet, and the player sitting in it, every which way. As a result, it did not see as wide a distribution as the other arcade games that Sega has retooled for the 3DS, such as Space Harrier and Super Hang-On, so 3D Galaxy Force II may not tickle as many players' nostalgia glands as the ports of those games did. However, its relative complexity and magnificent graphics make it worth discovering.
Galaxy Force II has you pilot a spaceship to free five planets from the clutches of a galactic empire. You can shoot a continuous stream of bullets by holding down the Shoot button, but it's with your seeking missiles (fired four at a time) that you do the most damage. In an asteroid field, enemies that vary from squadrons of small ships to gigantic cruisers continuously shoot at you before you enter the tunnels of a star base dug into a small moon. And that's just the first level. The various planets are visually distinct, from fire dragons diving into an endless pool of magma to the weird botanical growths and grotesque rock worms of a jungle planet.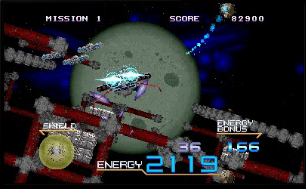 The action remains largely the same throughout the game, however: shoot down as many enemies as you can as your "energy", effectively a timer, counts down. You can accelerate or slow down, but getting hit and flying into obstacles will hasten your end. The arcade game was designed to steal your quarters, so don't hesitate to lower the difficulty or give yourself more energy through the game's menus.
As with its other Sega ports on 3DS, developer M2 has gone to great lengths to make this the best possible way to experience the game. In addition to ensuring genuine arcade sounds and building a virtual cabinet, they have quadrupled the resolution of the original sprites. Combined with the stereoscopic 3D effect, it makes for a ridiculously good-looking arcade space shooter.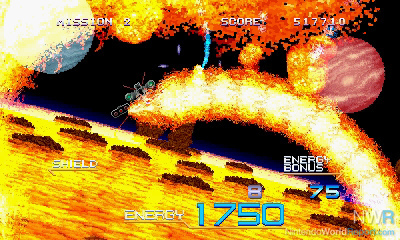 3D Galaxy Force II can't escape its arcade roots, which translate into a short and shallow experience. But it's quite a ride, and definitely the Sega 3D Classic I would recommend to anyone interested in M2's passion and technical wizardry for restoring old games and providing players with the best experience possible.