Japanese historical records suggest that Takamaru was hired by the shogunate to vanquish aliens.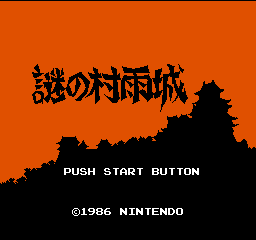 Nazo no Murasame Jō (The Mysterious Murasame Castle) is an action game for the Famicom Disk System that puts players in the role of Takamaru. As an agent of the shogunate, it's Takamaru's job to investigate and restore order to the area surrounding Murasame Castle after an alien creature threatens the peace of the realm.
Controls are what you would expect from an old-school game: simple. The A button allows Takamaru to attack with projectile weapons or his sword once enemies are close. The B button is used for special items, which can be found scattered throughout the levels. Once obtained, they can be used for special attacks for a limited amount of times. One interesting combat element of the game has to do with the various power-ups that can be found to strengthen Takamaru's projectile attack. There are quite a few of them ranging from simple shuriken to long range fireballs that can shoot in four directions. Once the player loses a life, power-ups are gone.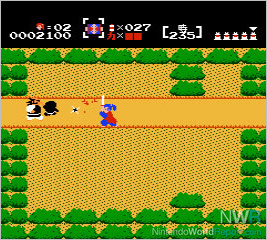 The game features a top-down perspective and has a visual style that is very similar to the original Legend of Zelda. Players have an allotted amount of time to get through each area. Spread throughout the game world are tons of enemies, which at times swarm on the screen and really make things difficult. Boss and mini-boss characters also provide for a variety of enemy engagements. With the deluge of enemies, particularly in the later stages, I sometimes felt cheated by cheap deaths.
Nazo no Murasame Jō is an extremely old school action game that can easily challenge and frustrate gamers at the same time. While the game is enjoyable, I found myself avoiding enemies and spamming the save states to complete the game. To state it simply, Takamaru's adventure is a quickly paced linear action game with time limits and a heavy emphasis on Japanese traditional culture.