Dropping beans and blowing up machines.
Dr. Robotnik's Mean Bean Machine on the Sega Genesis was my entry point into the world of Puyo Puyo, a popular style of puzzle games. Before diving into the Game Gear version on the 3DS Virtual Console (reviewed here), I didn't even really know a handheld version existed. After spending time with the well-emulated release, my takeaway is that it's a fun Puyo experience and a good representation of what makes the series great.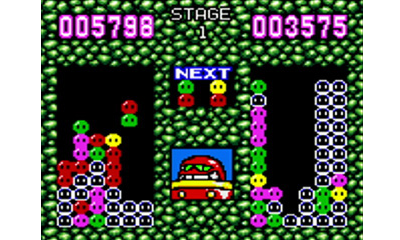 However, using the Dot-to-Dot screen size, the game is hard to play. Mean Bean Machine is a falling block game, and as the blocks fall faster, the shrunken down view becomes more and more of a hassle. If you can deal with playing it a little stretched out or zoomed in, then Mean Bean Machine is still a good portable form of Puyo Puyo. The diabolical Scenario Mode takes you through 13 stages against the computer, Puzzle Mode, exclusive to the Game Gear version, gives you specific tasks to complete, and Endless Mode is, well, endless.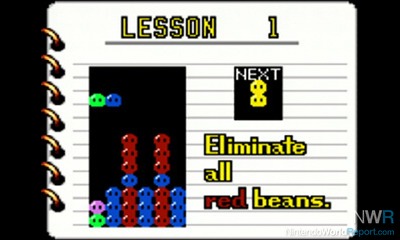 You can even engage in some local play in the two-player Gear-to-Gear Mode. Unfortunately, it is relegated to people who both own the game, as there is no option for Download Play. Still, if you've never played the two-player in this series, it's well worth the hardship of nagging a friend to get the game.
If you're craving an addicting puzzle game on your 3DS, then Dr. Robotnik's Mean Bean Machine on the 3DS Virtual Console is a worthwhile addition to your library. It has its flaws, mostly because of the limitations of the original system it appeared on, but it has a solid foundation.