More like slushy snow/dirt mix land
There are not many Christmas games out there, and the ones that are available are quite pedestrian. Christmas Wonderland 2, the sequel to the DSiWare title Christmas Wonderland does not buck that trend.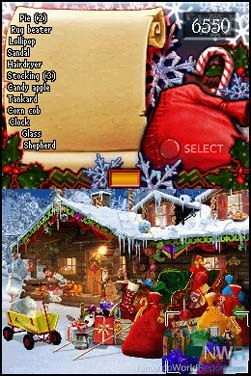 This is a search and find game, but some of the things you are given to search for are too easy to find, while others are much more difficult. If you wait a few seconds, the game will share with you one of the item's hiding places. Each image is large; to accomplish anything you have to zoom in. The pictures are mostly static, but sometimes have moving elements. Even on the moving elements, the animations are quite jarring. The touch screen is not always responsive to input, which can be confusing since some items you think are part of the game are not and vice versa. Bonus items like candy canes can be found to add to your overall score, though the scoreboard only shows three names and cannot be shared locally or online. There are also small mini-games but they seem to be just a way to mask load times.
The music is somewhat reminiscent of Christmas music but it becomes repetitive after the first few minutes of playing. There is little story to the game besides random characters instructing you to "find stuff." The few characters in the game are absolutely awful to look at. My favorite of these monstrosities is a little girl with a grown man's face. Christmas Wonderland 2 is a simple search and find game that manages to do multiple things wrong. It may have Christmas cheer but it won't keep anyone playing throughout the year, or really any stretch of time at all.