I kind of wish there was actually some gardening.
Gardenscapes' name is a bit misleading, because while the game does involve a garden, the majority of your time is spent inside a hoarder's home. Although finding objects inside the house is the main objective of Gardenscapes, your character's true motive lies in rebuilding a once-famous garden. While the gardening aspect doesn't allow alot of customization, the hidden object portions of the game are surprisingly well done.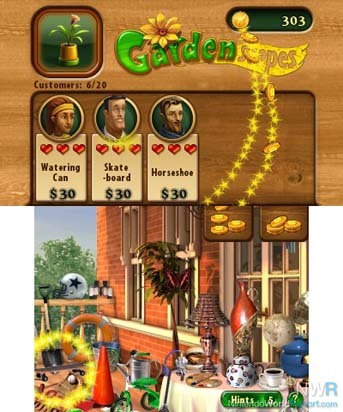 Each time you play, you are sent to a random room with a long list of items to find. While you could classify Gardenscapes as a hidden object game, the knick-knacks are never truly hidden, but rather placed in plain site among many other items. Ultimately, these easier-to-find objects make the entire process move along at a much brisker pace, earning you more cash in a smaller amount of time that you can use to purchase upgrades for your garden. You unlock these upgrades incrementally, so the longer you play the game, the more cash you need for each upgrade. As I progressed, I found that the garden building aspect became less and less of my focus due to each upgrade requiring me to spend five to seven sessions inside the home.
You search for a wide variety of items, though the objects eventually begin to repeat themselves, and even appear in the same locations in different rooms. Some "power-ups" aid your search, but only briefly change how you play the game. Special requests occasionally appear asking you to find so many of a certain kind of object, but these also do little to alter the gameplay.
Gardenscapes is not a game you would want to play for long periods of time, but only when you have a few minutes to spare. It is easier than most hidden object games, so you should never become overly frustrated. It's nice to see a game of this genre with some underlying purpose, even if that purpose is simply buying garden upgrades.