Nollie away from this one.
Zombies have long been a common go-to in games. Zombie Skape tries to make the concept more rad by adding a skateboard. Playing as skater Ethan, you must avoid zombies and rescue girls in an arcade-style game that has you aiming for a high score.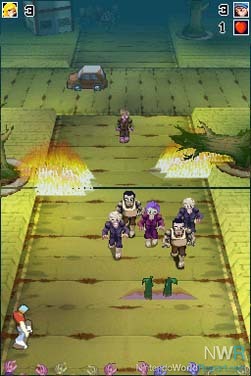 Zombie Skape's simple controls have you using the D-pad to maneuver the skateboard left and right along several creepy avenues, and the face buttons to brake and jump. The controls are quite unresponsive and make it feel like you are skating through several inches of snow, a problem made even more frustrating by the zombies and other obstacles on screen. Attempting to avoid a zombie may cause you to hit another because of the lethargic response time.
Everything about Zombie Skape feels cheap. There is little animation to the zombies, and although rescuing girls earns you points that add to your high score, there aren't many to grab. After a few playthroughs, you may find no reason to come back and top the local rankings.
Zombie Skape is low quality all the way to its end credits, which, mercifully, you can reach in less than 15 minutes.