Bubble Bobbles everywhere, so let's all Bust a Move!
From my first encounter with Puzzle Bobble in a small-town movie theater arcade, I'd become hooked on its cute presentation and addictive bubble clearing gameplay. While I originally knew it as Bust-a-Move, its odd international title, the various Puzzle Bobble entries have spanned almost every Nintendo platform, from the SNES and N64 to the GBA and 3DS. The most recent game, Puzzle Bobble EveryBubble, adds a four-person co-op play to its story mode, in addition to over 700 stages, a couple competitive multiplayer modes, and a Space Invaders cross-over minigame. The result is a robust package that should serve both veteran puzzle bobblers and amateur bust-a-movers alike.
The world and characters of Puzzle Bobble come from the Taito-developed Bubble Bobble, which came to arcades in 1986 and the NES in 1988. Coincidentally, the puzzle spinoff ended up becoming more popular than the single-screen arcade platformer. The premise of EveryBubble is that the setting of Rainbow Islands has become enveloped in bubbles as a result of a small dragon named Miniroon being given the ability to blow endless bubbles. It's up to the stars of Puzzle Bobble–Bub, Bob, Peb and Pab–to help the neighbors clean up various regions of the map by popping bubbles in that signature Puzzle Bobble fashion.
The basic gameplay centers on using a bubble cannon at the bottom of the screen to line up vertical or ricochetting shots to clear bubbles at the top of the screen. When three or more bubbles of the same color are shot with one from the cannon, they pop and fall off the screen. Early levels do a good job of teaching the basics and introducing new mechanics and bubble types that later levels will employ in some fiendishly tricky ways, but overall the difficulty curve is nicely sloped. Eventually you'll start coming across bombs, paint balls, rocks, crates, and other elements that force you to not only aim accurately but also strategize about the order in which you clear the bubble stacks.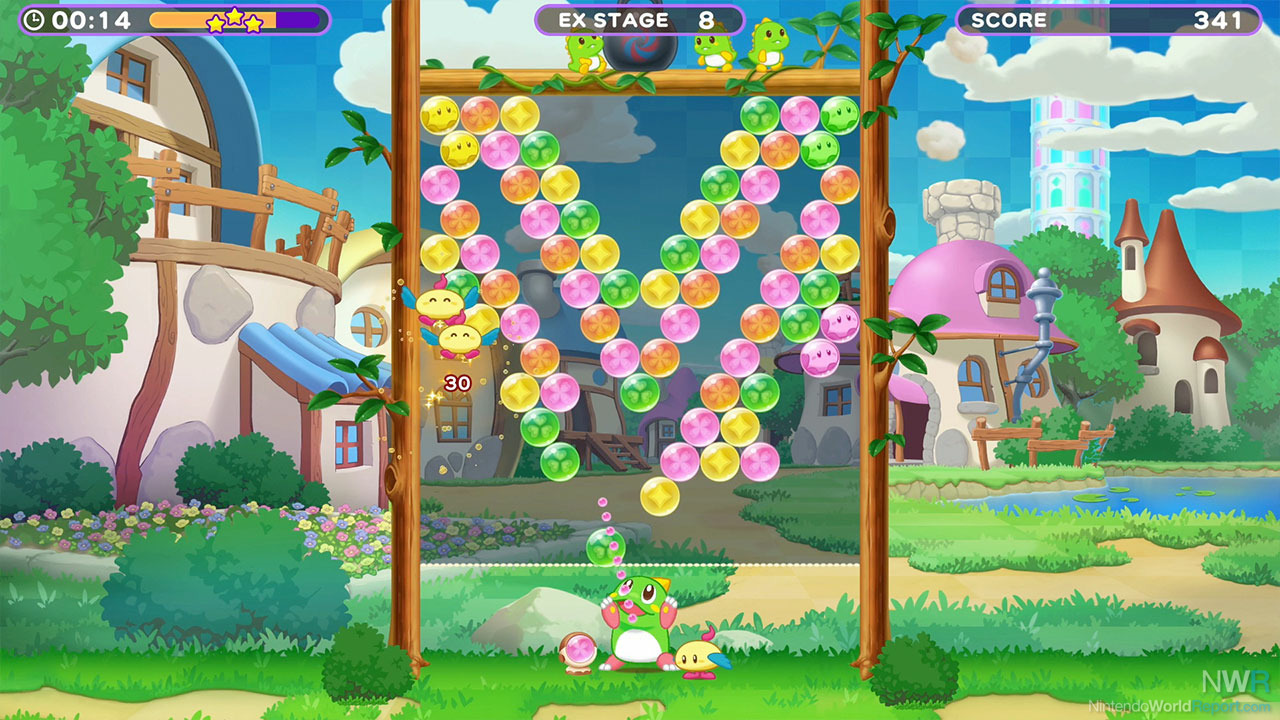 Each of the eight regions on the overworld map contains 15 normal stages and 15 EX-stages. Within these stages you can earn up to three stars based on how fast you complete them, with the time limits for 1, 2, and 3-star ratings indicated before the level starts. To unlock the much more challenging EX versions, you need to score a 3-star rating in every normal stage within a given region, which is no easy task after the first couple areas. What's unique to Puzzle Bobble EveryBubble is that you can bring up to four total players into each level, including a combination of human players and computers. The most interesting thing is that the stages change dimensions and even bubble arrangement based on how many players there are, which means a different experience depending on your group size.
While the story mode cutscenes are mostly window-dressing, there are a few other ways to burst your bubble. Baron's Tower in the middle of the world map offers a high-score challenge with unlockable difficulty levels and online leaderboards. In the VS section, there are options for online play against random global opponents (with a rating system) or you can use a password system to match with someone specific. In local play, there are 1-on-1 and 2-on-2 options where you can select any of the characters you've unlocked in story mode. Another addition is called Puzzle Bobble vs Space Invaders, which is as you would imagine; it's also playable with up to four players. It oddly doesn't feature a leaderboard or any kind of high score keeping, so it's more of a light distraction from the standard Puzzle Bobble fare.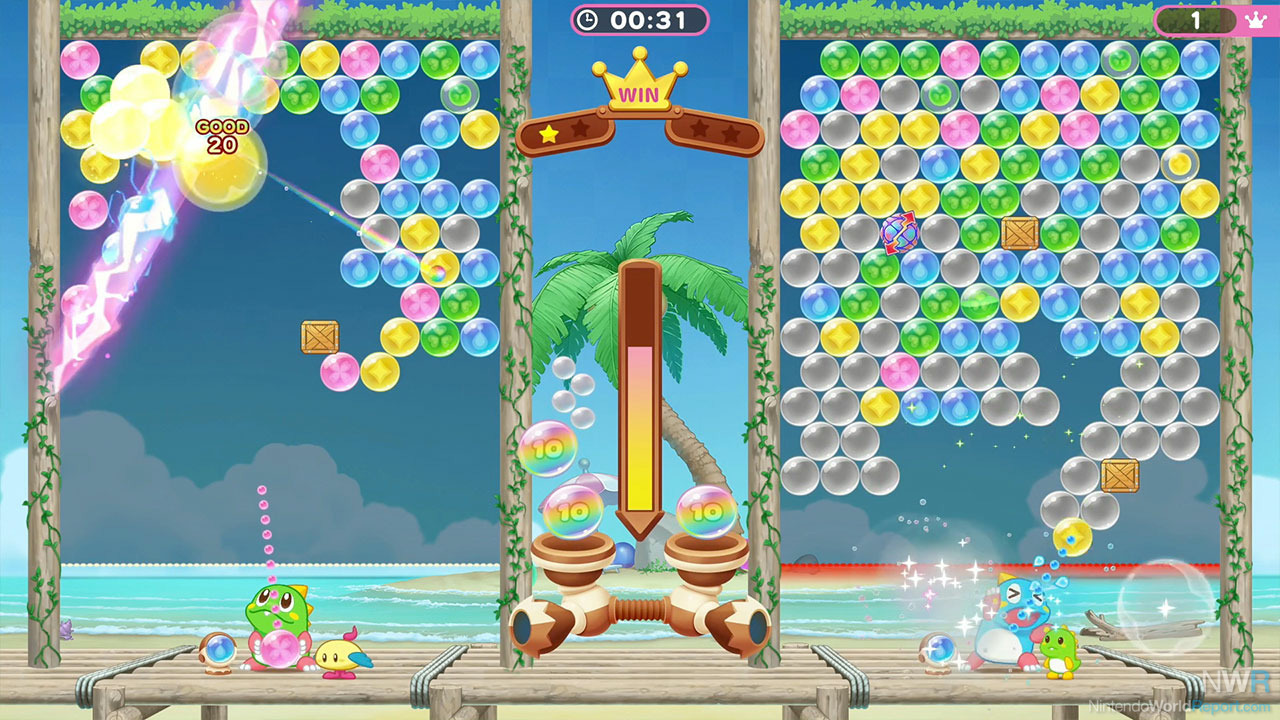 In the Memory Album section of the main menu, you can see the characters and buddies you've unlocked, and listen to some of the music tracks you've opened up. While the soundtrack is largely pleasant, I found some of the high-pitched sound effects to skew more annoying than cutesy. The brightly colored world, characters, and bubbles make for a vibrant visual experience, but there is some stuttering between screen transitions.
Puzzle Bobble EveryBubble emphasizes cooperative multiplayer but that doesn't detract from it as a solo experience. The variety of levels and mechanics make each stage feel like its own puzzle, and the unlockable EX stages offer a stout challenge for those so inclined. The amount of content within the story mode in particular and the way EveryBubble scales based on the number of players lead me to give it a hearty recommendation. It could use a few more options in VS mode and extras in the main menu, but overall this is a puzzler well worth busting a move to.