A fast-paced puzzle game with surprising depth.
The match-3 puzzle genre is one of the most well-worn styles of game, to the point where it's easy to overlook new entries that pop up on the various digital shops. It takes a lot to stand out in that crowded field, but The Punchuin and its action-focused twist on that genre is well worth your time.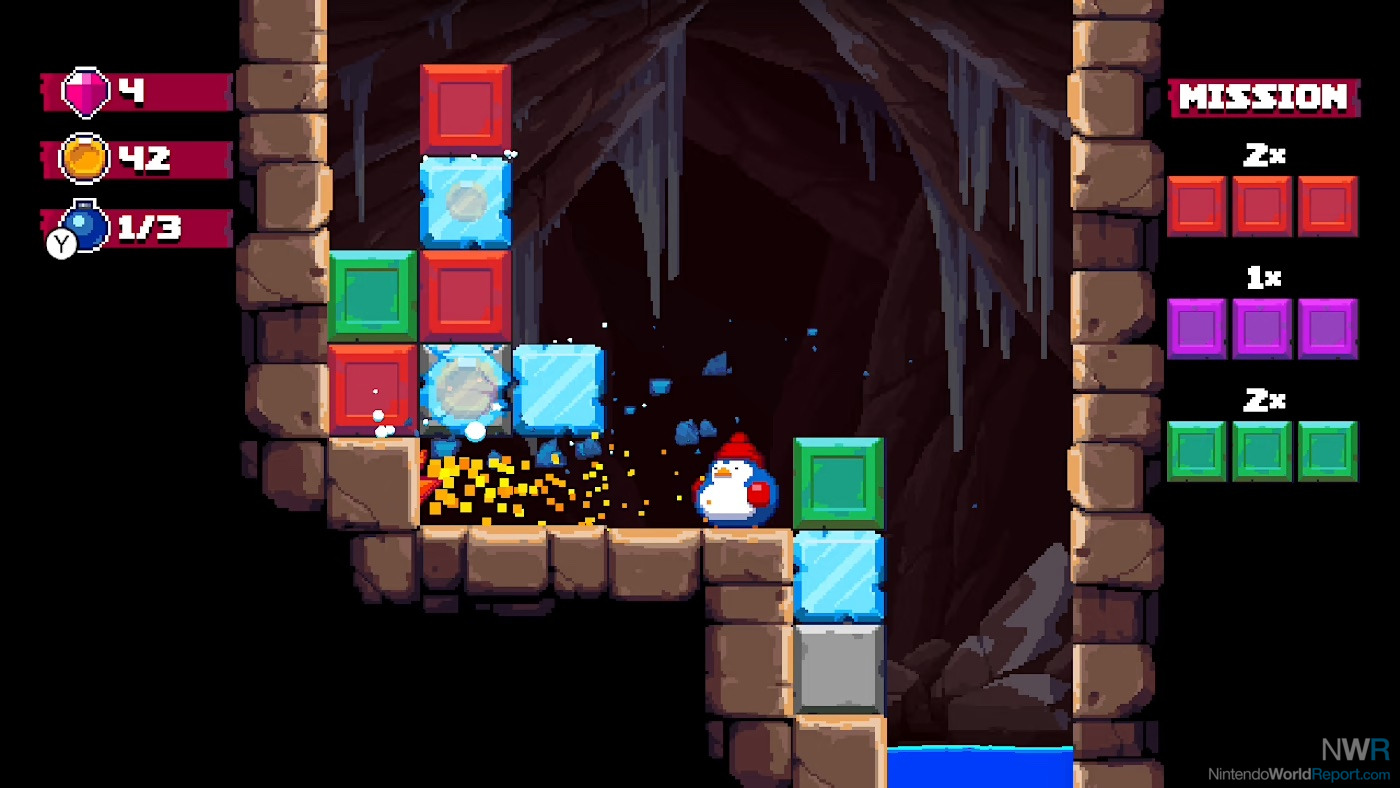 The Punchuin starts with the standard premise of a vertical playfield with blocks continuously falling from the top. But this time, instead of moving the blocks themselves, you're controlling a penguin with boxing gloves, the titular Punchuin, who jumps around the level pushing those blocks around. Each level has a specific number of color matches you have to achieve to clear it, as the blocks steadily fall and build up.
The mechanics are very simple. If you punch a block, it moves three spaces over, unless it hits something on the way. Punching a block that's right up against something else bounces it one space toward you. Nailing the specific moves you need to get blocks lined up can be tricky, and the quick pace of play creates a hectic but exciting race against the rising tide of blocks.
The Punchuin keeps this formula fresh by mixing up the level design, with different types of terrain within a level, like hills and bottomless pits you have to navigate, which changes some of the strategies involved. There are also ice blocks that you have to break, which can contain coins to purchase upgrades, or power-ups that help you clear things within the levels.
In addition to the standard levels, there are puzzle levels where you don't have the time limit but have to solve them in a specific way to clear all the blocks without getting stuck. These levels are fun, but can get very challenging. There are also other levels with things like a minigame or a boss fight that use the same mechanic as the main game, but these are less interesting and feel kind of out of place. Unfortunately, the structure of the game requires you to collect gems to progress to later worlds, and you won't have enough of those gems without completing at least some of those levels.
The Punchuin is at its best, though, in its core puzzle gameplay, and it's worth fighting through the other stuff to see that. Its unique blend of action-puzzle-platforming is really fun, and easy to jump into and out of in bite-size chunks.