Style and atmosphere make this Layton/Ace Attorney-esque adventure stand out.
Back in the Nintendo DS heyday in the late 2000s, I have fond memories of drowning in well-written, mildly tongue-in-cheek adventure games, primarily in the Professor Layton and Ace Attorney series. That brand of video game is still active - heck, a new-ish Layton game is coming to Switch next month - but not as many in the past several years have captured my attention as much as SFB Games' Tangle Tower has. With a distinctive art style, soundly excellent voice acting, and a clever mix of deduction and puzzle solving, this Switch game from the developers behind Snipperclips is a breath of fresh air.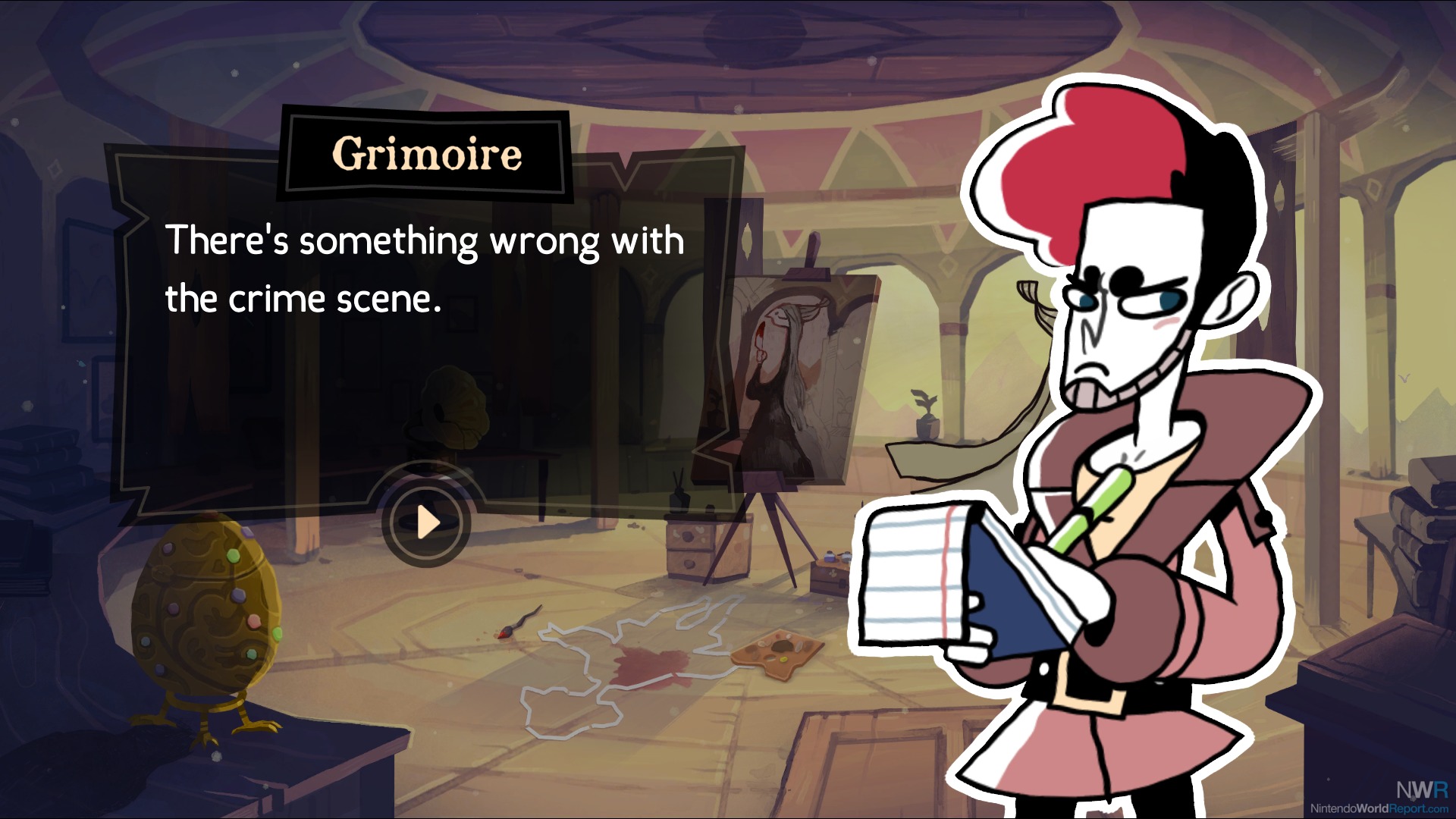 Tangle Tower is actually a follow-up to SFB Games' 2014 mobile and computer point-and-click Detective Grimoire, which in turn owes its origins to a Flash game. The latest entry follows the previously titular Grimoire and his sidekick Sally as they journey to Tangle Tower to solve the mysterious death of Freya Fellow. Requisite twists and turns abound with the peculiarities of the world and locale helping to contribute to an overall solid mystery.
Gameplay involves a lot of frantic tapping or button pressing (using the touch screen is much preferred, but cursor-based button controls are adequate), as you travel from room to room seeking out clues and talking to suspects. It's not always totally clear what you can and can't interact, which can occasionally lead to frustration, but Tangle Tower gives you a lot of room to explore as well as making it easy to double-back to old rooms as needed. A loose hint system that encourages you to search in a specific room or talk to someone is available, which smooths out that potential problem.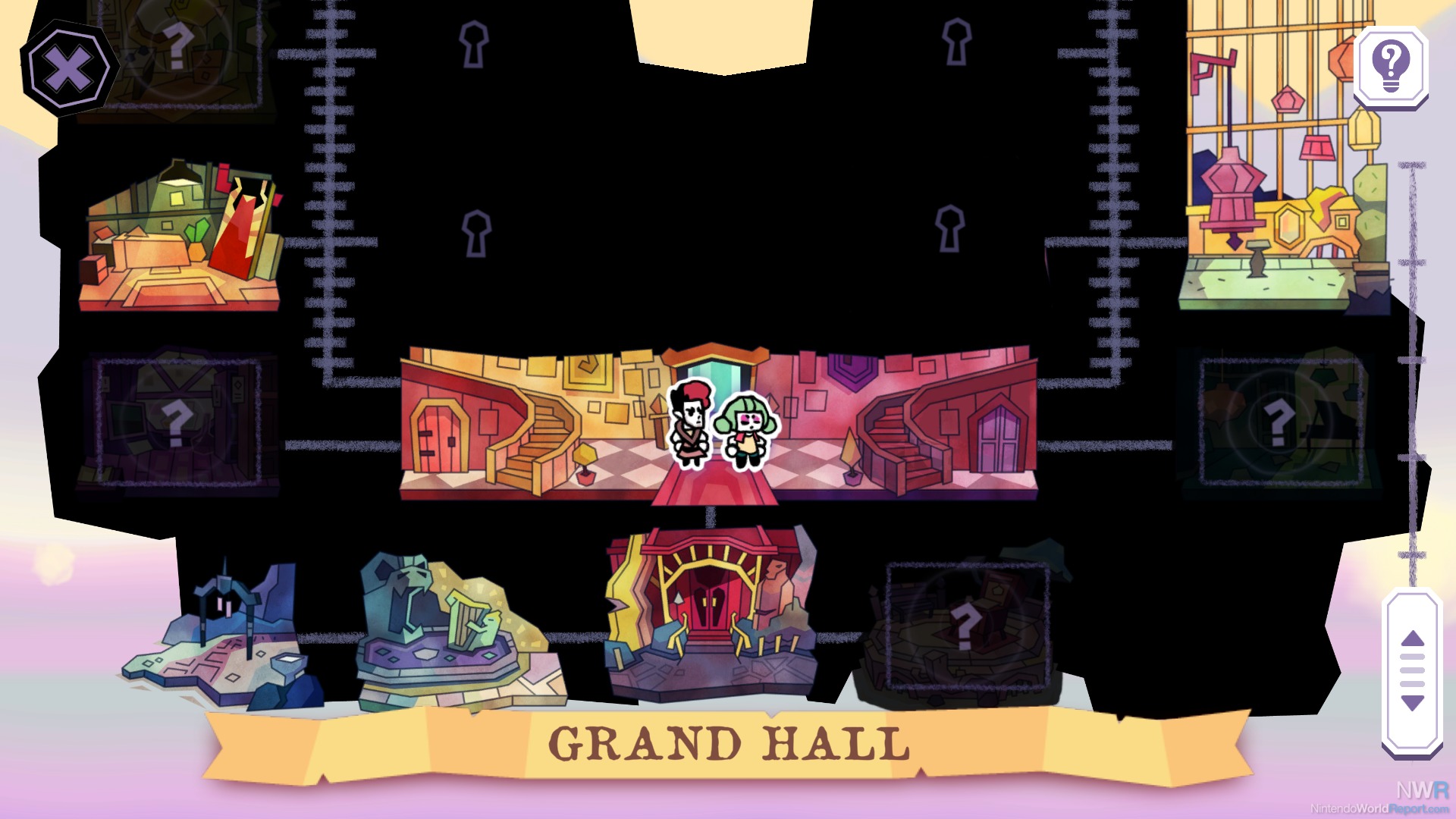 What I enjoyed the most in Tangle Tower is when you stumble upon a puzzle. While they are nowhere near as numerous as the ones in Professor Layton games, they're evocative of that style. You're usually fiddling with logic puzzle constraints, moving around pieces into a specific order, or trying to figure out a tricky solution. They usually drop you in with little information, but through the solid voice acting, Grimoire or Sally will give you hints as you fail. It's a much more elegant way of doling out hints than the deliberate ones in Layton games.
Then there are the moments of deduction, which are slick and enjoyable. As you talk to suspects and gain clues and hints, every once in a while, a deduction sequence triggers. This involves completing a sentence by filling in blanks with items or words that further the case. It's exceedingly clever and feels very rewarding when you crack the code. Occasionally the sentences are a little hard to parse out, but once again, the slick hints guide you in the right direction after failure.
The overall case is somewhat neat and tidy - it won't take you much more than a few hours to solve the mystery - but the journey along the way is enjoyable. The voice acting and standout art and animation fits the distinctive characters very well, and with few exceptions, the puzzles and deduction sequences are engaging and brain-wrinkling. I hope this is the start of a new era in Detective Grimoire's career, because I wouldn't mind revisiting this world and gameplay style again soon.