A decent arena-based shooter that is both more and less than what inspired it.
Galaxy Champions TV will be immediately familiar to anyone who has played Smash TV, a top-down arcade shooter from 1990 that also found its way on to the SNES. Both games feature two-player co-op, and that's where you're going to find the most enjoyable experience with them. Galaxy Champions retains most of the gameplay elements of the title it's inspired by, and it also adds a progression system that allows you to unlock perks to help you progress further in the game. Unfortunately, it lacks the color and attitude that made Smash TV so memorable.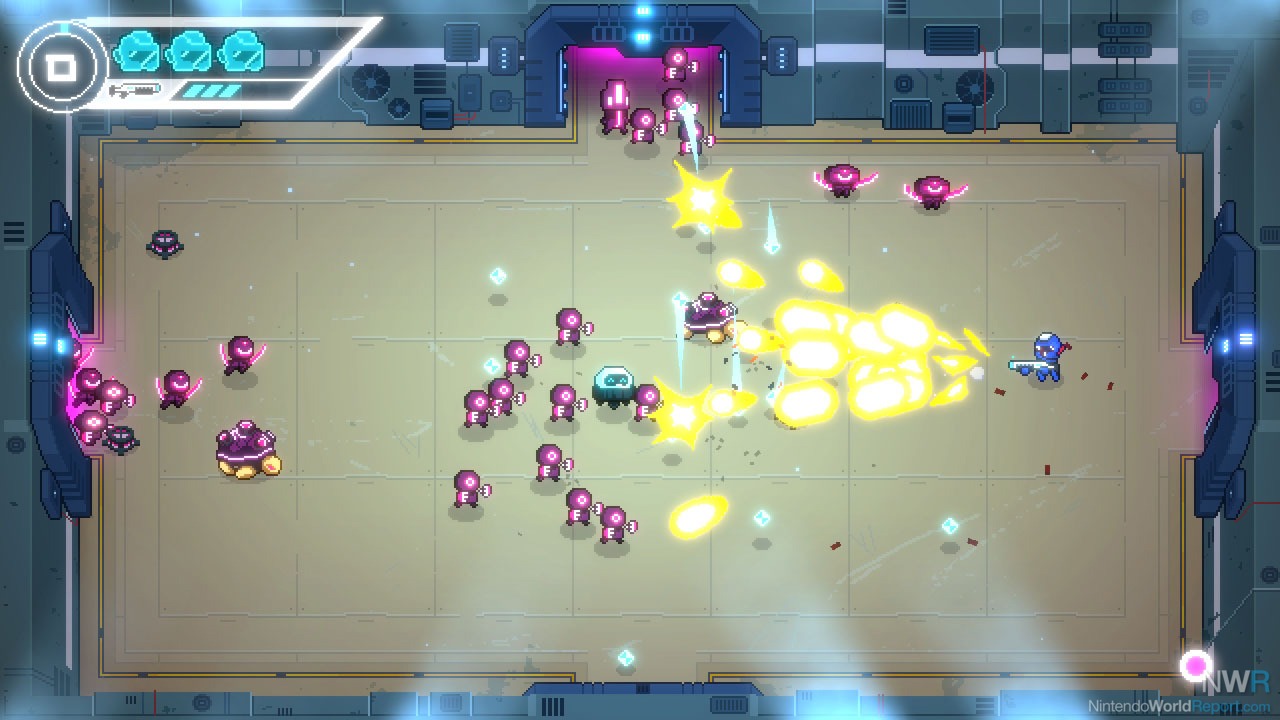 Overall, the gameplay and controls in Galaxy Champions are simple and easy. You move with the left stick and aim and shoot with the right stick. You can also unlock a dash move on the L button that allows you to avoid taking damage. Like many twin-stick shooters, you are bombarded with enemies and projectiles, and each of the four worlds offers a decent amount of variety in terms of what they throw at you. Doors at each of the four walls open up periodically and release swarms of baddies for you to kill, with five different limited-use special weapons also popping up fairly frequently. These consist of a machine gun, a laser, a grenade launcher, a shotgun, and a flamethrower. You can only take three hits before dying, which ends your run, but you can unlock perks to generate health pick-ups and increase your amount of health.
There are only four worlds of 10 stages each, but the difficulty level is quite high, so it is going to take you multiple runs to make it all the way through. The final stage of each world contains a boss encounter, which shakes things up just enough. It's nice that perks you unlock carry over to subsequent runs; experience does as well, so you can save up for more expensive perks without worrying about losing any progress. That said, even with most of the skill tree unlocked, it will still take a decent amount of skill to get through even the second world. Fortunately, once you complete a world, you can start the next run without having to play through it again. Ultimately, the steep challenge really lends itself to playing with a friend since you'll have twice as much firepower.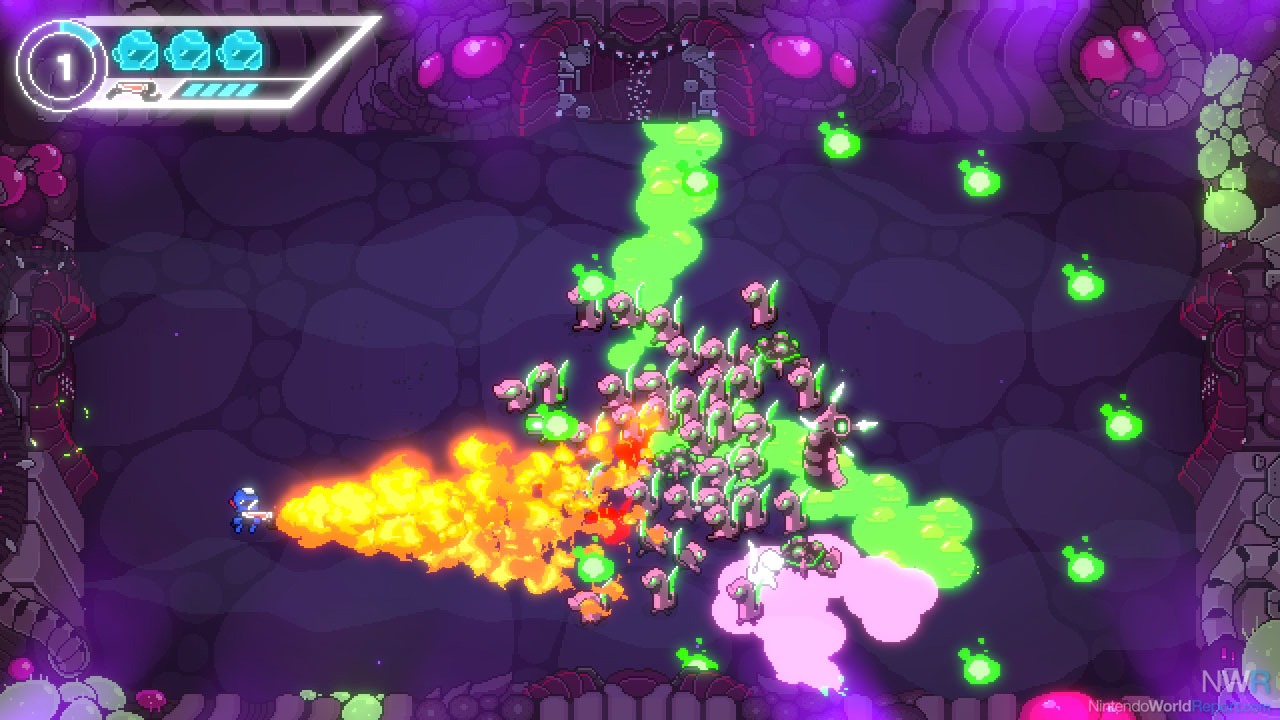 In spite of being pretty fun to play, Galaxy Champions TV is missing the heart and character that made Smash TV so endearing. There's no loudmouth TV announcer spouting dumb catchphrases; there's no freedom in terms of how you move from room to room. You exit every arena stage right until you hit the boss stage. The minute-to-minute gameplay is decent, but then you hit a wall and keep playing the same stages over and over again to grind out experience, in hopes that a new perk might be able to give you the boost you need. A Champions mode is also available that functions more or less like a simple score attack mode, but the online leaderboards of the Steam version don't seem to be in the Switch version. There are some pretty great twin-stick shooters already on the eShop that I can recommend to everyone, like Assault Android Cactus+. However, Galaxy Champions TV simply doesn't have enough big money and big prizes for me to love it.