The last remaining PlayStation-era Final Fantasy title to get a remaster has arrived on Switch.
It was only a year ago when Square Enix blew our minds and broke our hearts during the Nintendo Direct where no less than seven Final Fantasy titles for the Switch were announced, including ports of every PlayStation and Playstation 2 title with a single, notable exception. Final Fantasy VIII has always been the black sheep of the PlayStation era. Following the juggernaut that is Final Fantasy VII was a Herculean task for any sequel, and for many, the tale of Squall and company still lives in the shadow of Cloud and Sephiroth. Thankfully, after years of getting no respect, Square Enix has given Final Fantasy VIII the love it deserves with a masterful port that fans will simply adore.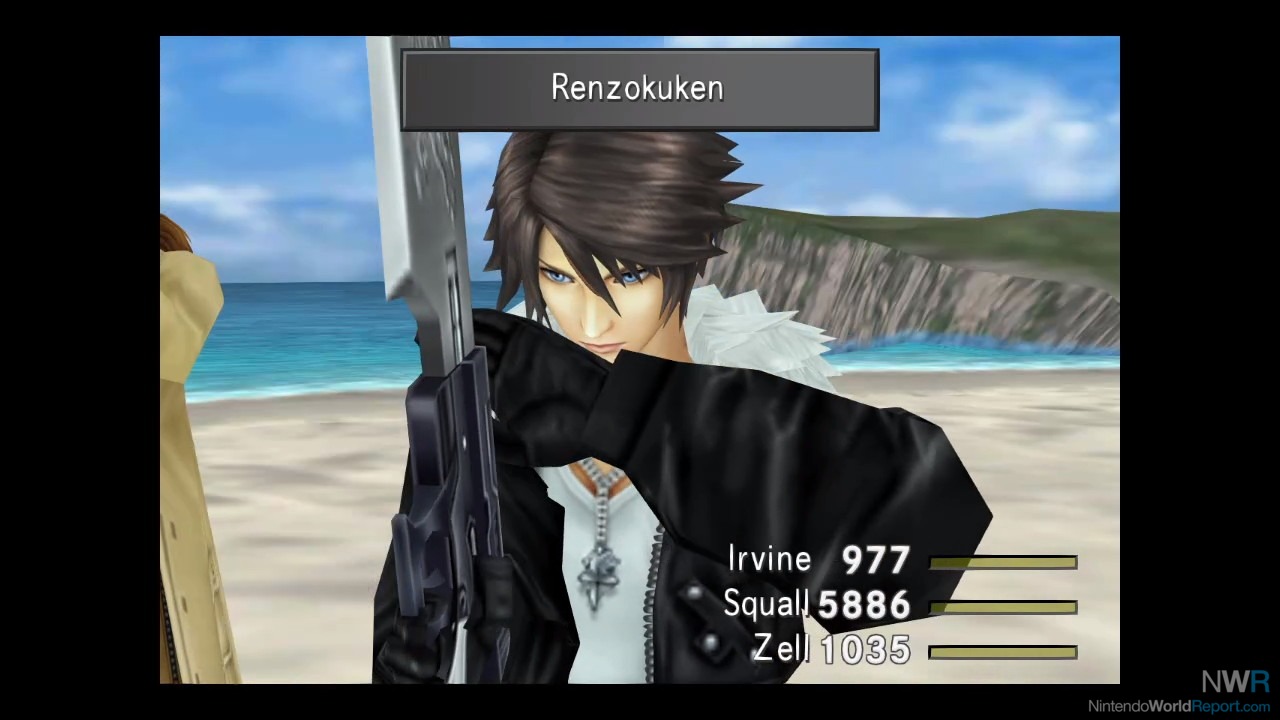 The story of Final Fantasy VIII brushes upon a number of different topics to varying degrees of success, but the main theme focuses on coming of age. The two main players are Seifer Almasy and Squall Leonhart, two rivals both hoping to join the ranks of an elite mercenary force called Garden. The pair are young and brash, and their views on the world are overly simplified, just what you would expect from a couple of teenagers with little real-world experience. Both want to end suffering and bring freedom to the world, but their paths to this goal diverge and put them at odds with one another.
Where Squall and Seifer differ is that our hero discovers the power of building relationships and relying on friends. The main cast of characters who fight alongside Squall are all wonderfully written and have interesting and fun personalities. SeeD instructor Quistis Trepe is technically the veteran presence of the group, though is still a teenager herself. Fellow SeeD candidate Zell Dincht's emotional and impetuous personality is very much the opposite to the cold and stoic Squall. The recent transfer from another Garden, Selphie Tilmitt, provides a ray of sunshine with her upbeat attitude and child-like innocence. It wouldn't be a Final Fantasy without a lone-wolf womanizer on board, and sniper Irvine Kinneas fits this archetype to a tee. The final member of Squall's team also just happens to be his love interest. Rinoa Heartilly meets Squall for the first time at a party, and their chemistry is clear from the outset. Hironobu Sakaguchi masterfully takes a party of characters with different motivations and faults and develops them into an interesting and complex group of friends whose well- being you genuinely care for.
Unlike previous Final Fantasy titles, the main villain isn't necessarily clear cut throughout and really doesn't have the same presence we've come to expect. Sorceress Edea doesn't really compare to the pure evil of Kefka or the larger than life presence of Sephiroth, but since the theme is less about the battle between good and evil and more about the journey to adulthood, the lack of a strong villain isn't a problem. The story also takes some twists and turns throughout that requires some ambiguity but for the most part, comes to a satisfying conclusion.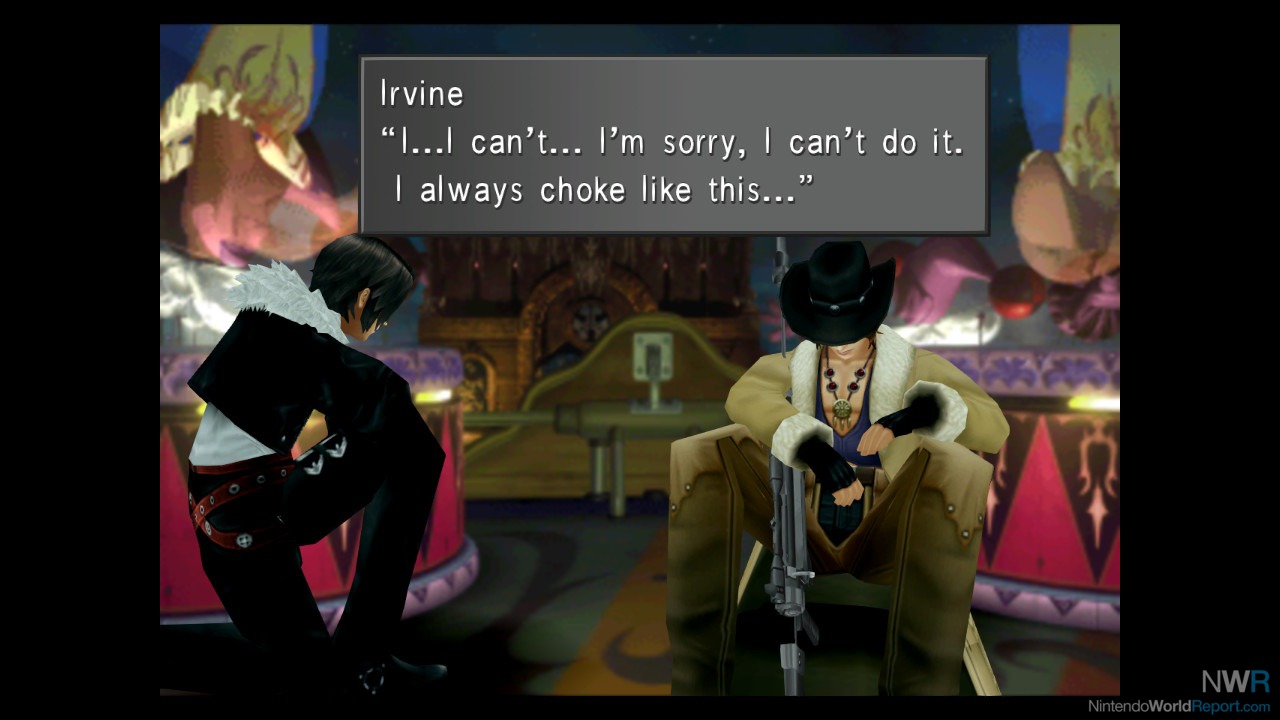 The gameplay of Final Fantasy VIII follows the more traditional semi-open world format that I prefer. The story is linear, and the tasks to move forward have a set order in which they have to be completed, but the path to get there is open ended. In most areas, you can go off the beaten path and explore the world around you. Whether it's exploring the areas located in the Garden, walking around towns visiting the locals, or sitting down for a pleasant game of Triple Triad (a wonderful trading card game) there's always something fun or interesting to do when you're not battling.
The combat mechanics harken back to the glory days of turn-based JRPGs but feature a system that allows for all kinds of mischief. At any given time, you can have a maximum of three characters in your party and switching between characters is relatively quick and easy. Each character has a unique weapon, and a limit break that can be used when health has dropped to low enough amount. Having the limit breaks accessible at low hit power is a wonderful mechanic that provides a high risk, high reward strategy.
Magic is an important tool in Final Fantasy VIII and is collected at draw points or can be stolen from enemies in battle. That same magic can be then used to augment abilities such as hit power and strength through the junction system. With a little patience and determination, large amounts of magic can be collected and used to bolster stats to epic proportions. It certainly doesn't break the game but can provide a substantial boost when fighting enemies. This system is a replacement for grinding and is the best way to get an advantage over enemies. The strength of the bad guys in Final Fantasy VIII is determined by your team's own experience level, so defeating enemies for points is made unnecessary.
What can also be drawn from specific enemies, are Guardian Forces that are immediately recognizable by long time Final Fantasy fans. Powerful entities like Ifrit and Shiva provide temporary cover for the characters that use them, and can attack enemies with a powerful elemental attack, or provide your allies with a stat boost or modifier like reflect. Guardian Forces provide the statistical benefits that come from hoarding magic, so deciding on where to assign the Guardians and what they should learn can vary greatly depending on your style of play.
If battle mechanics just aren't your thing, then the inclusion of modifiers seen in previous Switch ports will assist with getting through to enjoy the story. Removing random encounters, tripling the game speed, and providing permanent full health are all options that can be toggled on the fly with the click of a button. Not everything found in the previous ports is included in this new remastered edition, fortunately. No music bug plagues another masterful soundtrack by Nobuo Uematsu. No stutters or slowdown interfere with transitions from the world map to the battle scenes. The beautifully-redesigned characters look absolutely gorgeous whether in handheld or docked mode and blend better with the original PlayStation backgrounds than in the previous ports.
All in all, the remastered edition is simply the best way to enjoy Final Fantasy VIII. Square Enix has struggled in the past with its previous ports of the Final Fantasy franchise, but may finally be hitting its stride. All of the improvements and enhancements give Final Fantasy VIII a much more modern feel without sacrificing any of its soul. As a lifelong fan of the Final Fantasy franchise and VIII in particular, I couldn't be happier with this remaster and look forward to hours of enjoyment wherever I go.