Sega brings their classic puzzler to eSports
Puyo Puyo has been a recurring staple in the tile-matching puzzle world since its debut in 1991, even if its North American history is spotty. First called Puyo Pop and more endearing to the west as Dr. Robotnik's Mean Bean Machine and Kirby's Avalanche, Puyo Puyo began its modern renaissance on Nintendo systems early in the Switch's life, coming in 2017 as the expansive hybrid Puyo Puyo Tetris. Sega, who have owned the series since the late '90s, is now aiming to ride the Puyo train to eSports glory in the online-focused eShop release Puyo Puyo Champions.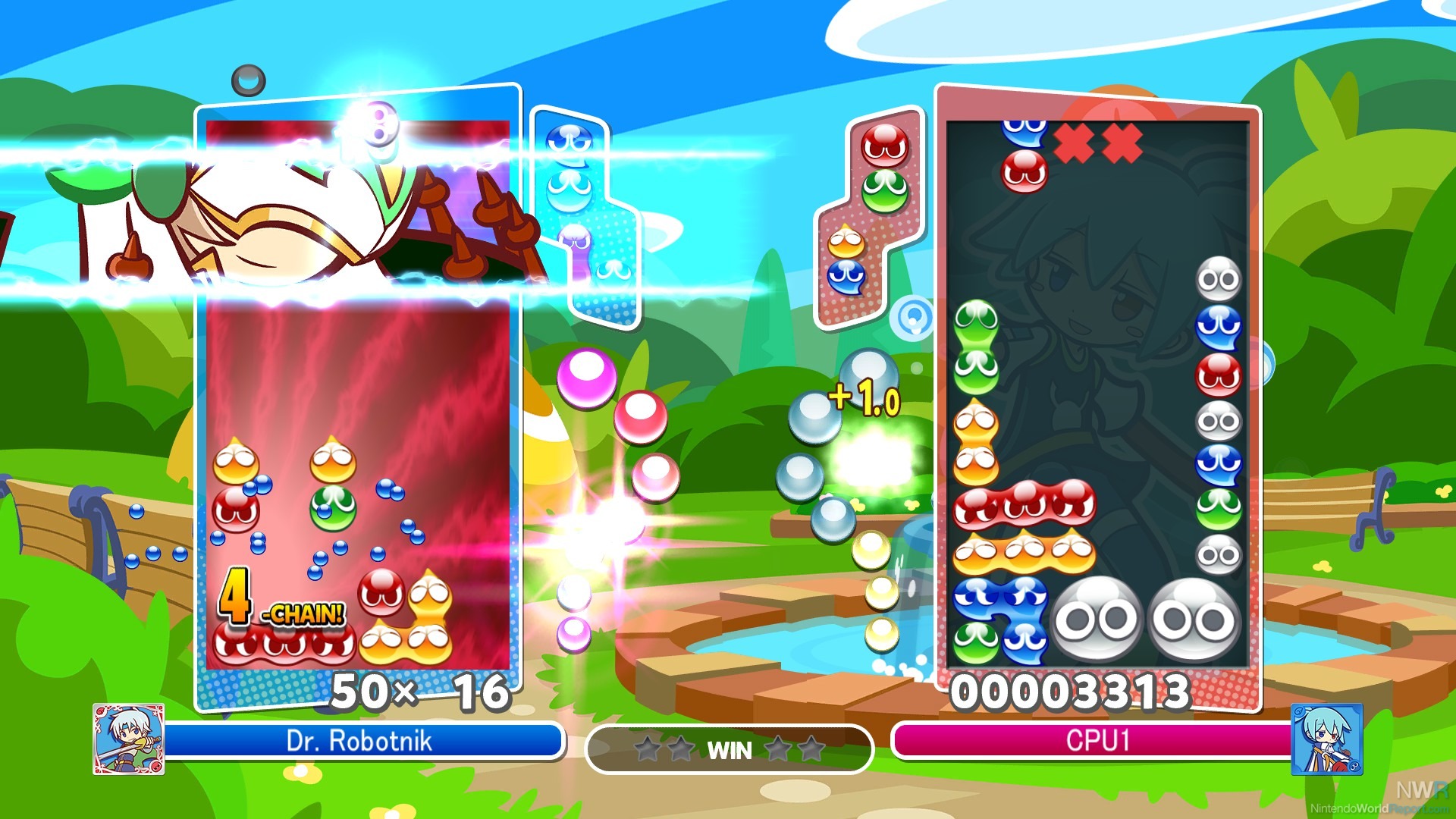 At face value, Champions is totally fine. The smooth presentation presents a dynamite local multiplayer experience for an excellent game. Numerous characters and two different play modes make it enjoyable, though I've found out I have a strong predilection to Puyo Puyo 2 as opposed to the other mode, Puyo Puyo Fever. Puyo Puyo 2 is more straightforward—every player is dealt the same two-piece colored blobs and must lay them out as efficiently as possible to dot the screen with chains while not filling up the screen. In Fever, each character has their own distinct pattern of ordered drops, making character choice weigh more heavily. Additionally, Fever mode can be activated, which is a limited amount of bonus time where you try to figure out the one move that will make the whole screen go up in a long chain.
As someone who has mostly played the Puyo Puyo 2 style in the past, Fever was a little too fiddly for me to get into, which knocks at the door of Champions' biggest issue. It doesn't really do a great job of teaching you how to play Puyo Puyo. For a game meant to be focused on turning the puzzler into a sport (it's even called Puyo Puyo eSports in Japan), this is a major failing. Everything is just presented plainly. In game speak, there isn't much onboarding.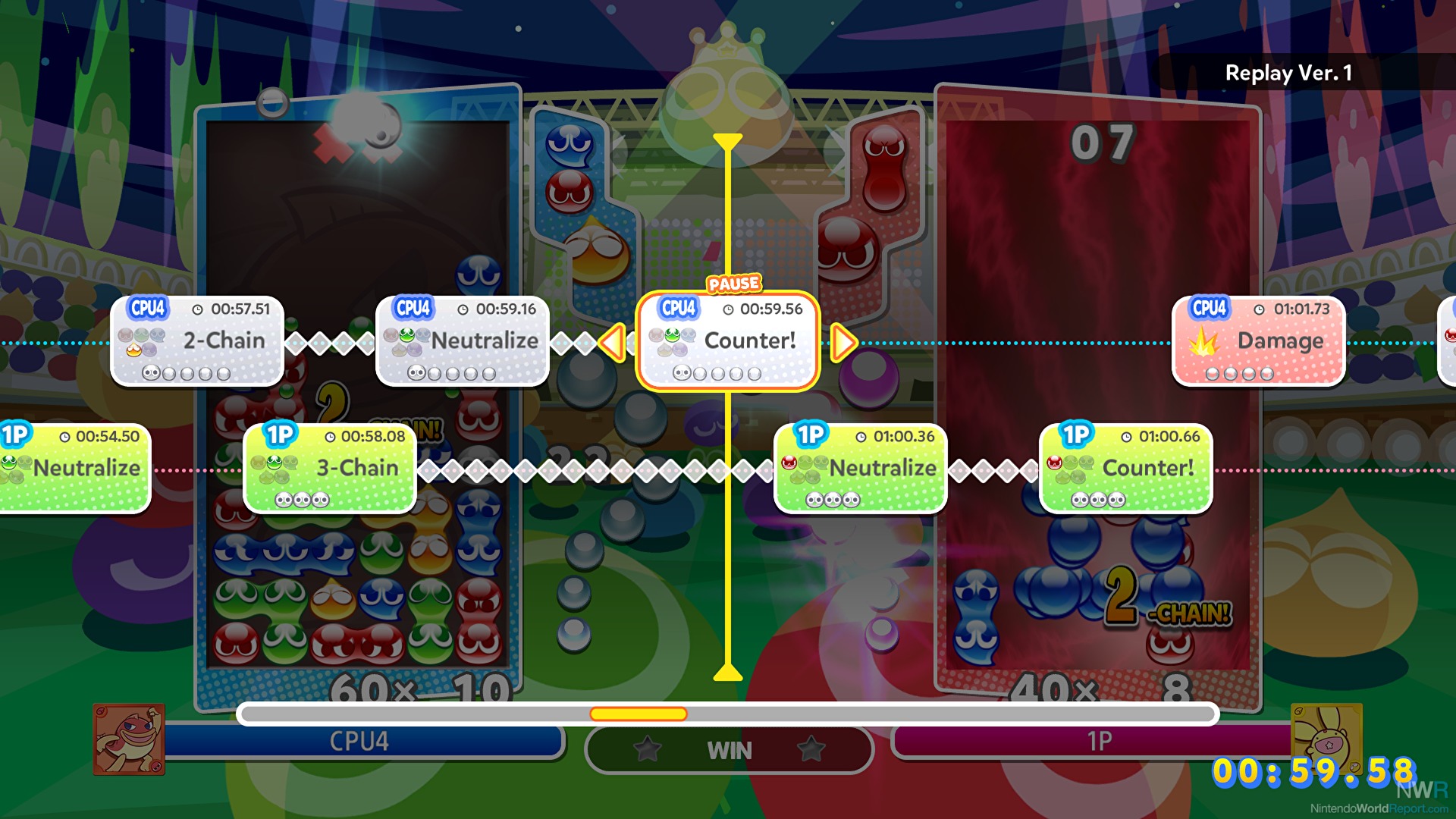 I've casually enjoyed plenty of Puyo Puyo over the years. It's a great puzzle game. Going online pre-launch was a hellscape of Japanese players (who have had this game since October 2018) destroying me. The people out there playing online are generally good at this game. Your only recourse is to study the tape and watch the impressive array of online match broadcasts available in-game. Without any real tutorial though, watching those replays isn't that much of a help if you're not entirely sure what you're supposed to looking out for. After the game's western debut, online was more enjoyable with a new pool of players, but I have concerns about the same hardcore player base shaking out over the next few months. The online for Champions might devolve into get good or get out.
Aside from some simple vs. CPU modes, no offline single-player options exist. The path to hone your skills at Puyo Puyo for the purposes of this game primarily involves studying completely outside of the game or breaking down game film. This is perfect for the few, the proud, the dedicated, but unless you go in with the pure goal of "let's get into eSports," Champions is barebones.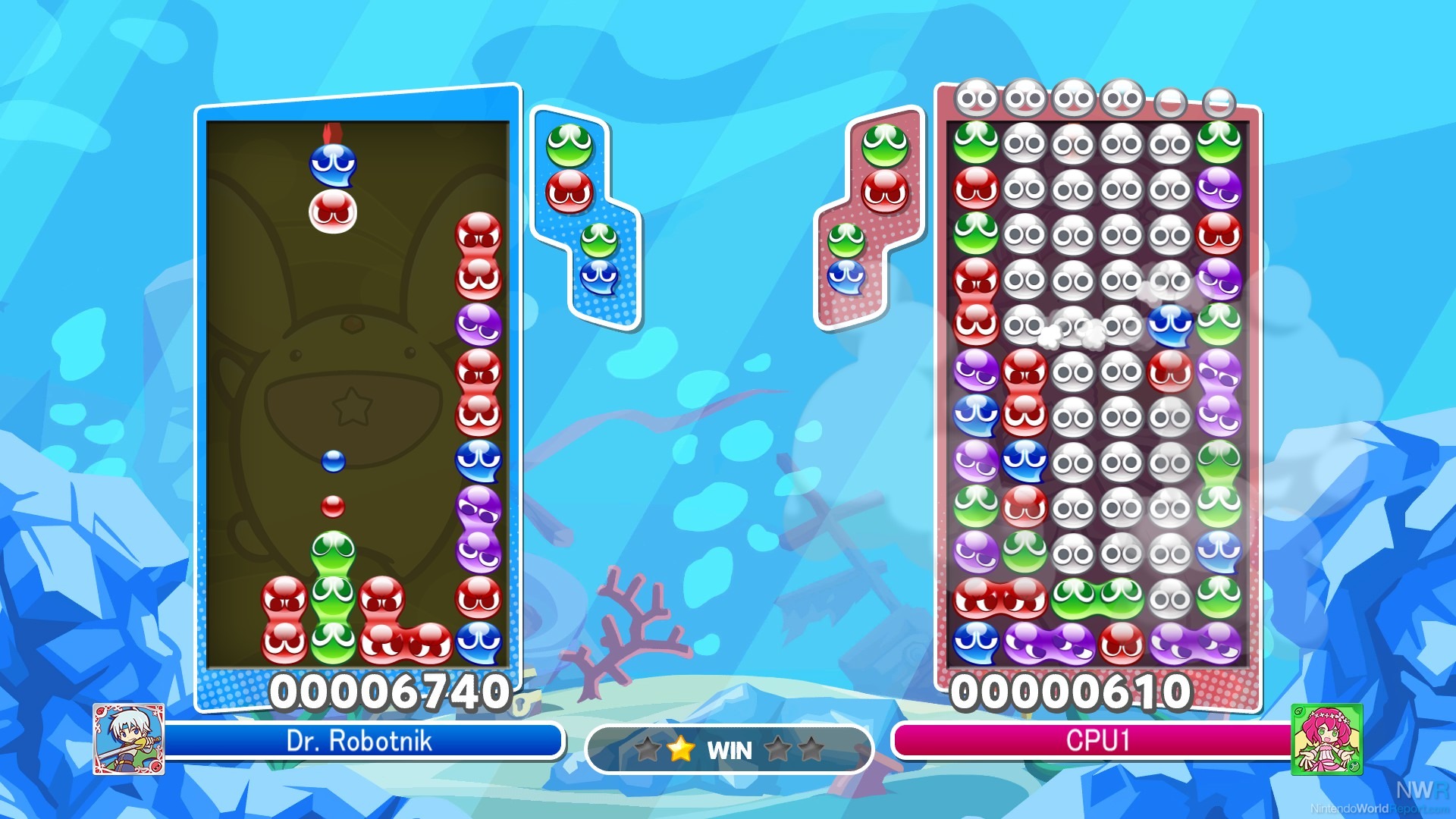 That being said, the online is very smooth. I had no issues in my playtime. The local options, while not super deep, are great for multiplayer all the way up to four players. An optional tournament mode is a nice touch as well for when you have more than four people together.
At its core, it's still a super fun and well-crafted puzzle game. Despite issues with spinning up new players for the intended online eSports puzzle world, Puyo Puyo Champions has a smooth interface and a decent amount of options. It's much more streamlined and optimized for multiplayer, though. This is a great option if you want to play this puzzler online against pros or locally with friends. If you crave a more light-hearted romp, Puyo Puyo Tetris is still available on this system and has a daffy story mode. Champions is primarily for the lionhearted.