Finally, a baseball game on Switch that hits above the Mendoza Line.
The Switch has had a rough first couple of years when it comes to baseball games. The RBI games started mediocre and have only regressed since, while fans of arcade baseball hope for Super Mega Baseball to get called up from AAA. Hamster's Arcade Archives has brought a couple of candidates, and the newest is Baseball Stars 2. And it's as good as you can get without delving into robot players.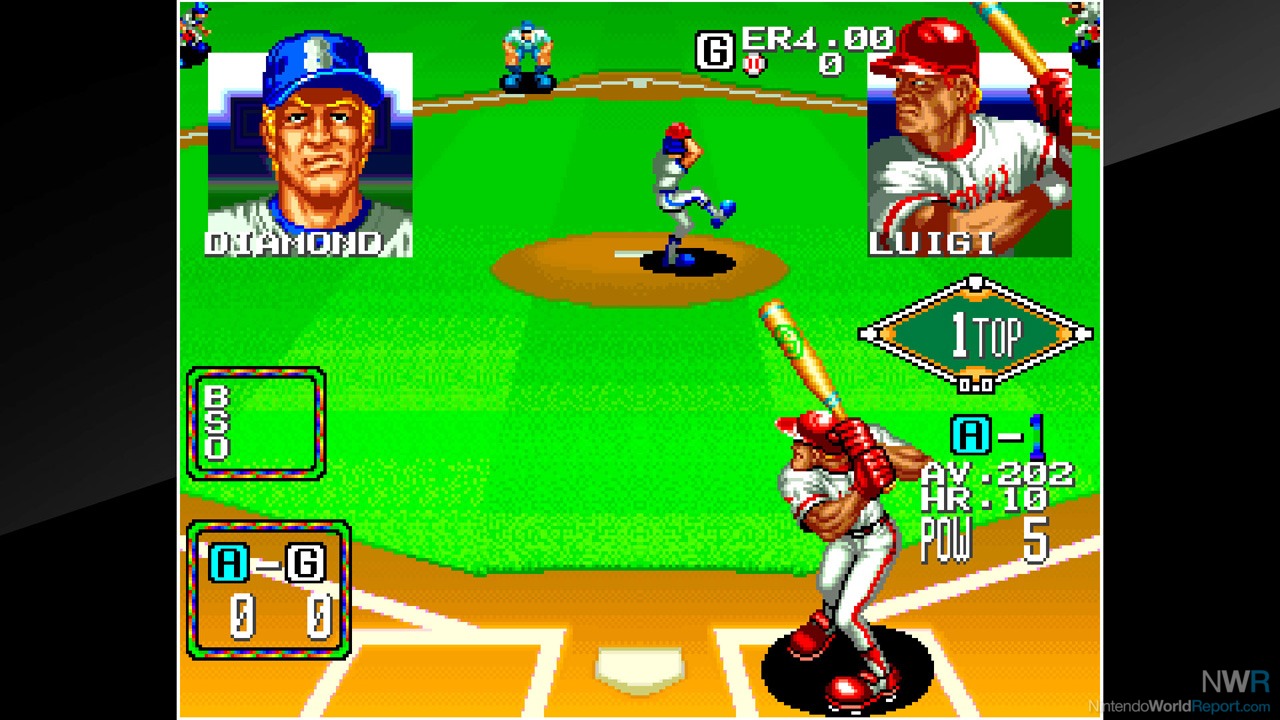 Baseball Stars 2 on Switch offers four modes from the usual Hamster launcher: the base game in English or Japanese, and the Caravan and Hi Score modes. The base game offers a 2-player mode, but most of the time is spent in the 15-game long pennant race. In a decision I've never really understood, the choice of teams is determined by the choice of automatic or manual fielding control; the easier automatic play gives baseball hotbeds like New York, Tokyo, and… Napoli, Italy, while the manual control means playing as countries like the USA, Japan, and Italy. The Caravan mode is a score-chasing mode with online leaderboards where the goal is to score as many runs as possible in five minutes, while the Hi Score mode is a 10-minute version of the same challenge.
The controls take a little getting used to on the Switch—swinging is mapped to Y by default, and the Caravan/Hi Score games force the default controls. Thankfully, the controls can be remapped as needed (outside of the special modes). It is necessary to load up with credits and use the Interrupt option when finished with a game, as I lost my first attempt at the pennant due to forgetting I had 0 credits in the middle of an at-bat. Once the controls are sorted, it's a fun-playing game of baseball. The traditional hitting controls and ability to manipulate pitches are included; holding the directional button or stick down throws fastballs that hit "110 mph," while holding up creates filthy change-ups and sinkerballs. Throwing to the bases is simple, but when playing with manual fielding I found the players were playing way too shallow in the outfield which led to a lot of CPU extra-base hits.
The pennant race structure has a few oddities in it. Winning a game awards money, which appears to be vestigial from the original NES/Famicom game since I've never unlocked a way to spend it. I experienced a lot of rubber-banding, as my 11-2 leads in the fifth inning would often become one-run affairs in the eighth. A "Power Up" function for hitters, which gives them a giant bat and is capped at five uses for the CPU, routinely goes to 10 for the player due to refilling by 5 every time a credit is used (usually 3x a game). I've even seen the game throw a random, high-powered pinch hitter at me when I was trailing late in the game which led to a comeback win.
Although Baseball Stars 2 is a 1992 game, it's a 1992 Neo Geo game, which means high quality character sprites and some neat close-up effects on foul balls. My only complaint with the graphics is the constant flashes of white whenever a player hits a home run; they're not as bad as what I've seen with older versions (original hardware and Wii in its two releases) but it's still quite odd to see. Maybe it's supposed to represent flashbulbs going off from cameras of the time? The music frequently stuck in my head, but in longer sessions it's obvious that the announcer doesn't have a lot of lines. He would frequently use the "A beautiful diving catch!" line when my player jumped for the ball.
The simulation baseball options on Switch are depressing, especially since Nintendo and third parties are seemingly willing to cede that entire market to Sony with MLB The Show. If you're looking for more of an arcade experience, Hamster/SNK do offer Super Baseball 2020, but if you want a little bit of a grounded experience, Baseball Stars 2 is a solid contender for now while the Super Mega Baseball series avoids starting its service time clock.