It's like BoxBoy but you eat the boxes instead of making them.
Gabbuchi is a cute, simplistic puzzle game where you control a hungry little block creature and solve challenging single-screen puzzles. It's very reminiscent of HAL Laboratory's BoxBoy, and that extends past the similar aesthetic as it's another swerve from a well-worn Nintendo-centric developer. Gabbuchi is the first self-published game from h.a.n.d., a developer with ties to Square Enix, Bandai Namco, and Nintendo. The name might not be immediately familiar, but they developed the Disney Magical World games on 3DS, Kingdom Hearts Re:coded and 358/2 Days, and some Chocobo-related games. Most recently, they worked with Level-5 on The Snack World series for Switch, which came out in Japan last year.
But this is a new start for them on Switch as they're working on their own. Gabbuchi has a charming presentation with a catchy, repetitive soundtrack. The hook here is that the titular hero can switch colors, and when he's the same color as a block, he eats the block. Early challenges involve trying to eat as many of the blocks as possible while making it to the goal, represented by a heart. You want to eat as much as possible because in addition to completion, objectives are out there to "satisfy" Gabbuchi by eating enough. The going gets tough rather quickly—by the time I got to the third world, I started to have to rack my brain a lot more. Eventually more ideas are added, most notably a key unlocking mechanic. The 180 levels included offer a lengthy and tough adventure with a consistent uphill climb of new twists and difficulty.
Unfortunately, the mechanics and controls lack the elegance and playfulness of BoxBoy. Gabbuchi has a floaty jump that can make executing puzzle solutions frustrating. Whenever he touches a block of the same color, it disappears, making his looser hitbox maddening as I regularly brushed against blocks I wanted to keep around, forcing a restart. Luckily, restarting is only one button push away, but having to needlessly finetune my movements when I had a plan in place wasn't that fun. This is frustrating because the puzzles are enjoyable; the controls and feel just hinder the enjoyment. It's a bummer to have your "aha!" moment thwarted by irritating jumps.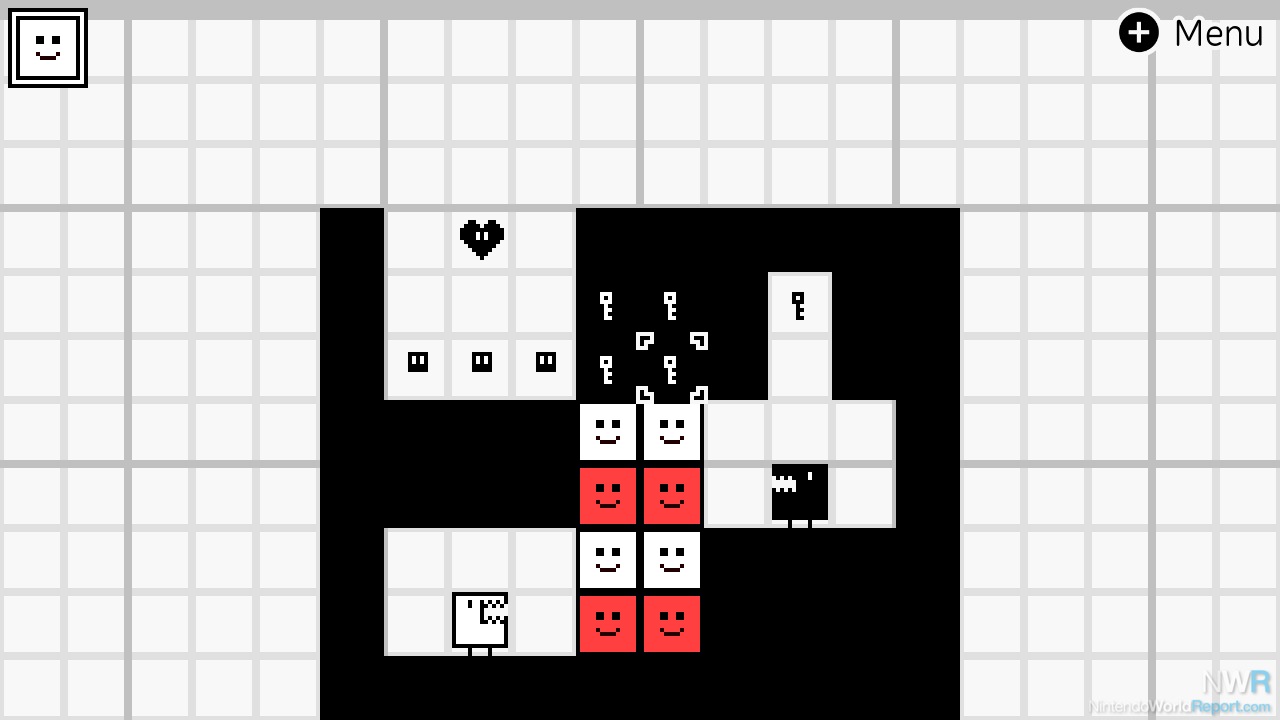 Outside of the main set of levels, you can also make your own in a well-designed stage creator. The tools are easy to use and relatively intuitive; however, with no way to share these levels, you're making for a limited audience. This level editing would be way more engaging if there was a way to share your levels online, but sadly, as far as I can tell, no such mechanism exists.
Gabbuchi has its issues, primarily due to the character's floaty jump and frustrating hitbox, but the puzzles nearly break through the problems thanks to their thoughtful challenge and clever design. It falls short of the engrossing majesty of similar puzzlers, but I hope h.a.n.d. makes more interesting games such as this. It'd be nice to see what they've learned after years of working with other company's creations.