An enjoyable RPG in the Steven Universe world.
Steven Universe: Save the Light shares many similarities with South Park: The Stick of Truth. For starters, both are licensed games based on hugely popular animated television shows. But more importantly, both are turn-based role-playing games heavily inspired by the gameplay, aesthetics, and humor of Nintendo's Paper Mario series. More specifically, the first two installments of the series: Paper Mario 64 and The Thousand-Year Door.
To create an experience that captures the cartoon's tone and spirit, showrunner Rebecca Sugar co-wrote the story and dialogue for Save the Light. For those not familiar with the TV series, Steven Universe is a coming of age story about a young boy (Steven) who befriends magical guardians known as the Crystal Gems.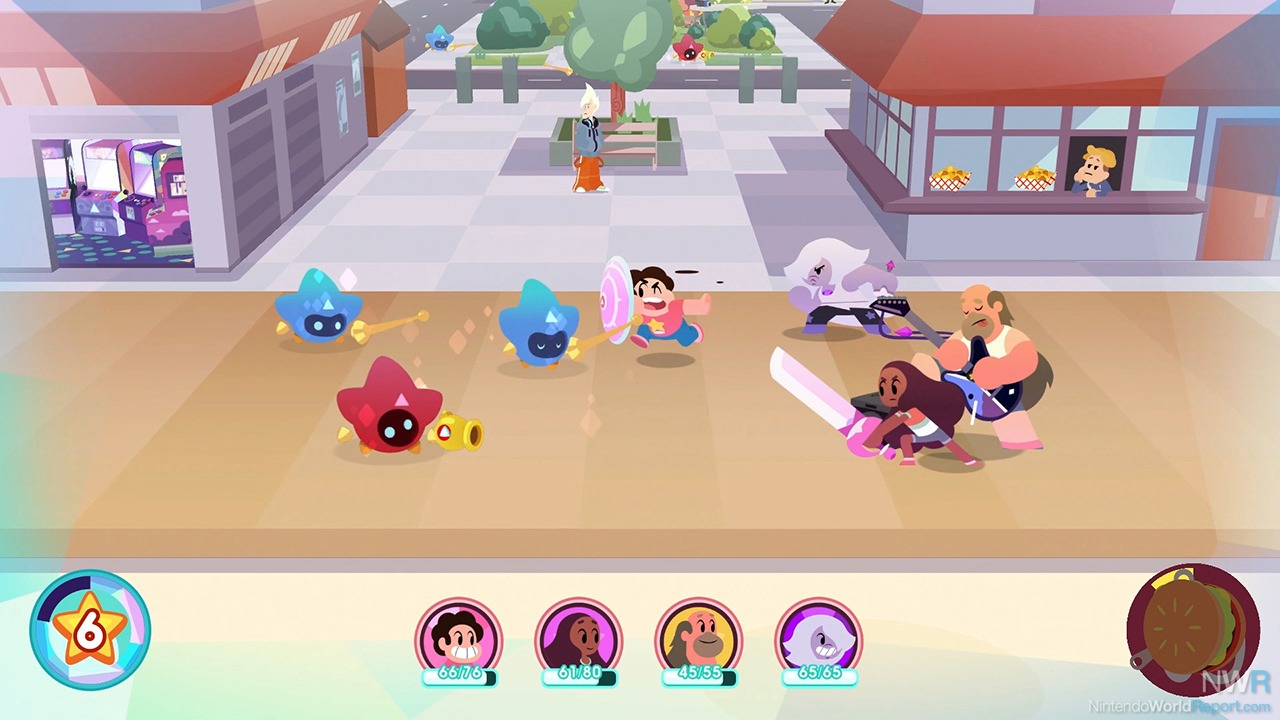 Save the Light's story begins when a villainous Gem, named Hessonite, steals Steven's Prism with plans to use it as a weapon. As Steven embarks on his new adventure, he is accompanied by his best friend, Connie, as well as his guitar-wielding father, Greg. Along your journey, members of the Crystal Gems – Garnet, Amethyst, Pearl and Peridot – join Steven's party. Members of your party can be changed at any time, except for Steven, who can't be removed from the group.
Similar to the Paper Mario series, Save the Light presents characters as flat 2D paper cutouts roaming around colorful 3D environments. It's an absolute joy to see locations from the TV series recreated with a gorgeous cel-shaded art direction. Interestingly enough, the game's character designs went for a more simplified, less-detailed approach than the TV series.
I found the fixed camera system to be frustrating. With no control over the camera, it's easy to get yourself accidentally stuck behind environmental objects. This gets even more annoying because all four characters in your party are onscreen at once. The fixed camera system can also make things awkward during sections that introduce platforming elements.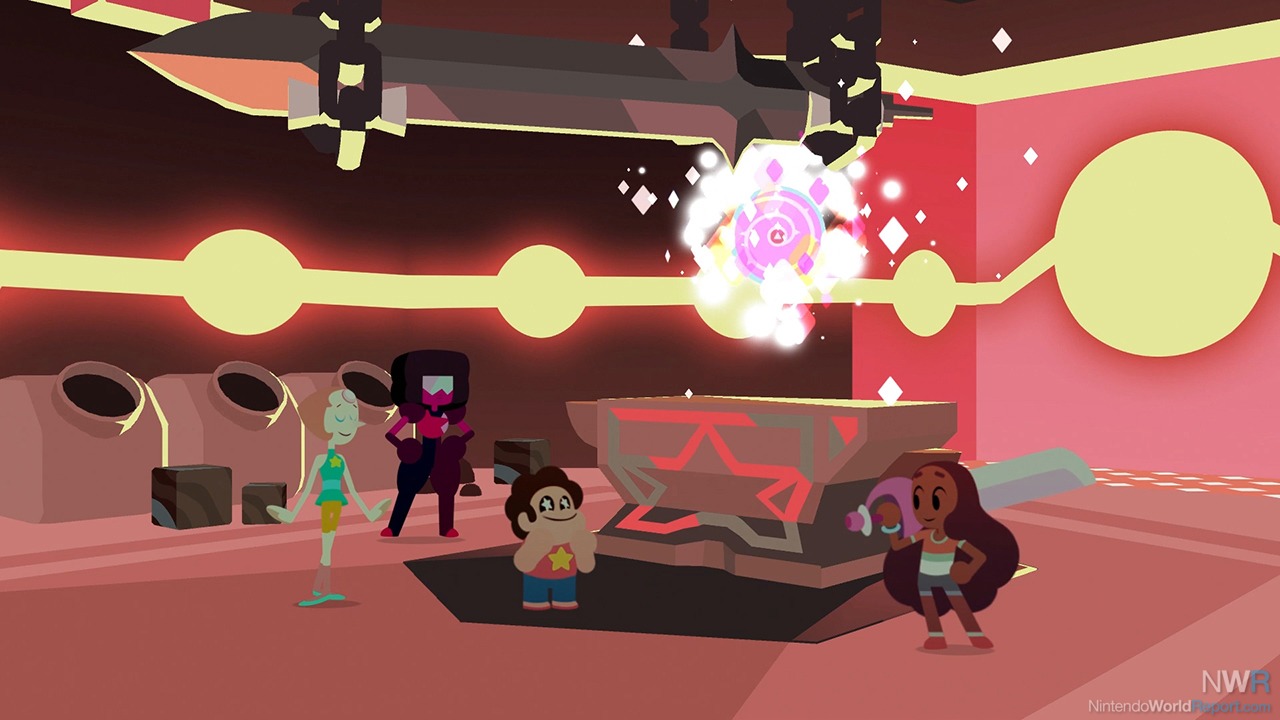 Timed attacks are part of Save the Light's combat system. When a yellow star appears, pressing the A button triggers a bonus attack. Characters can also block enemy attacks by pressing A when a star flashes. Characters can't make their next move until their Star Meter ring has filled. Once the ring fills completely, new star points are added.
After winning battles, your team members receive skill points that can be used to improve four upgrade categories: Attack, Defense, Luck, and Teamwork. Upgrading Teamwork, for example, improves relationship building between your characters. This leads to more frequent fusions and team attacks. Fusions occur when two Gems combine their powers together, allowing them to dish out significantly higher damage. There is also a badge system where playable characters can wear different badges to enhance their abilities. For instance, wearing an "XP Badge" will help a character gain XP 15% faster, while an "Attack Badge" increases attacks by two.
Back when Save the Light first released in late 2017, the game suffered from numerous technical issues. In fact, some media outlets described the game as being completely broken and almost unplayable. Since then, developer Grumpyface Studios has released at least four patches to fix most of these issues. In November 2017, the developer released a patch to resolve freezes and soft locks occurring during battles. The game received another patch in June that fixed bugs and added performance improvements. This begs an important question: If the game has been patched multiple times on other platforms, how does the Switch version perform?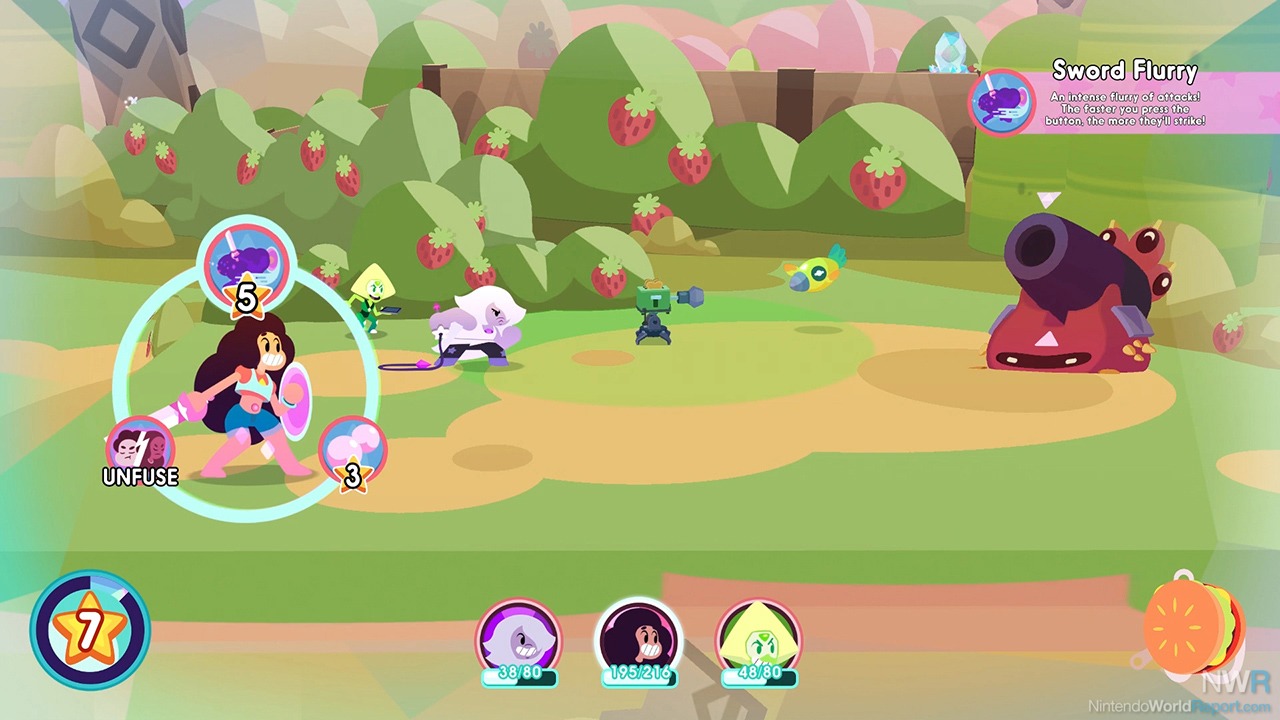 During my playtime, I had not encountered any freezes, crashes or game breaking bugs. It seemed to be running rather smoothly in both docked and portable mode. However, there's a noticeable lack of polish throughout. Even with multiple patches, minor bugs are still frequently present during battles. Characters sometimes clip through walls or objects. Loading times can also feel overly long when you're entering or exiting areas.
Despite a frustrating camera system and some minor technical issues, Steven Universe: Save the Light is still a highly enjoyable role-playing game that will appeal to both fans of the TV series, as well as fans of the genre. Thanks to some assistance from Rebecca Sugar, the show's creator, it perfectly captures the television show's colorful tone and optimistic spirit. Steven Universe and South Park are both examples of licensed games adding their own unique spins on the Paper Mario RPG formula – and succeeding admirably.