This genealogical study of a game makes for a clever roguelite platformer.
Originally released on PC in 2013, Rogue Legacy is a relative progenitor of the boon of roguelite platformers. While it has been surpassed by other similar games in the five years since its debut, solid platforming and a really fabulous familial hook make this a fun game to play, whether you're double-dipping or checking it out for the very first time on Switch.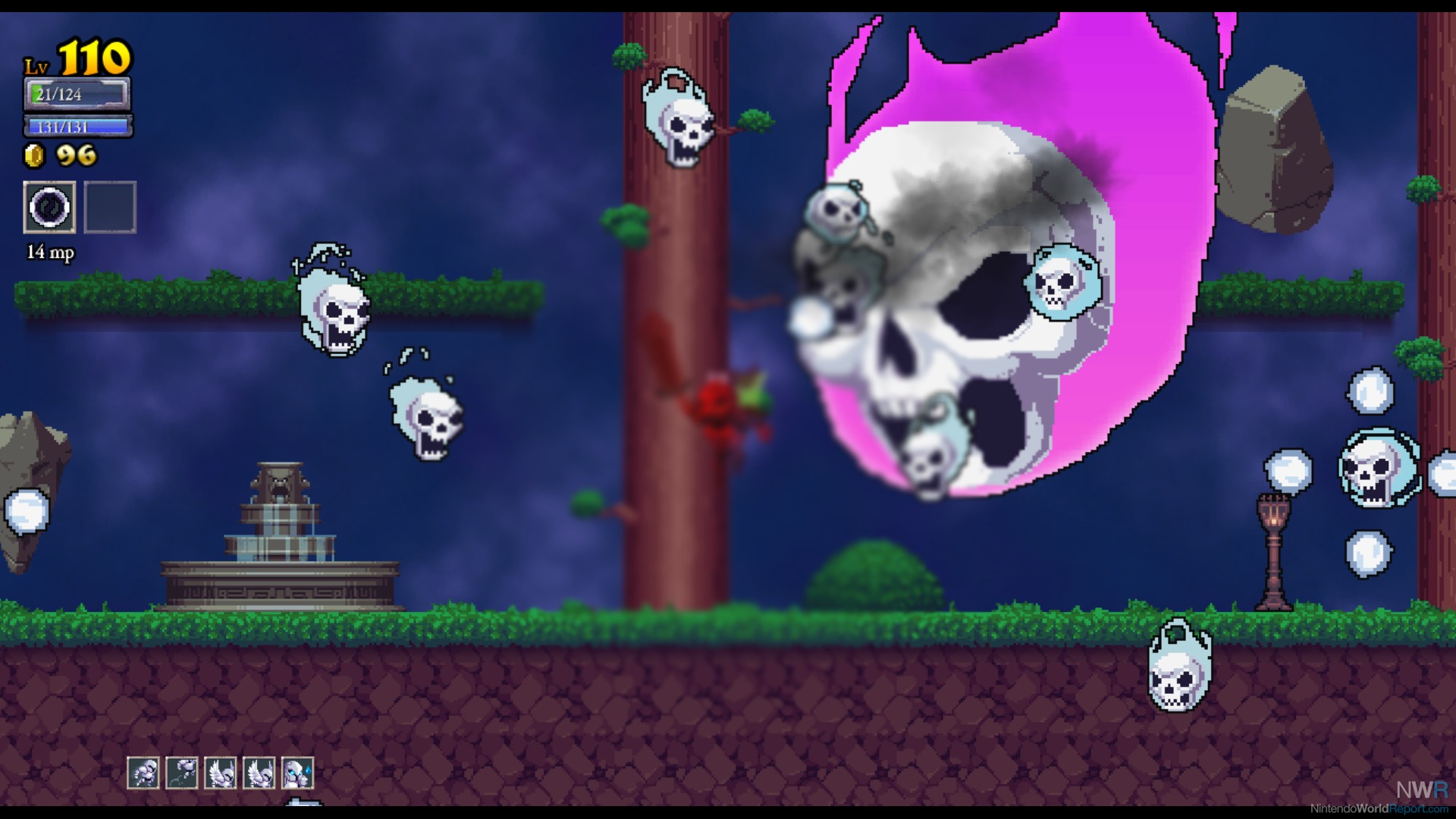 The referenced hook is that you start off playing as the first in a line of knights trying to defeat five bosses across a randomly generated labyrinth. As you die, you choose between a few options and resume as the next in the lineage. The difficulty is brutal and death is frequent, but this mechanic keeps everything more jovial as these heroes all have helpful and humorous traits to make each distinctive. For example, one hero could be OCD, requiring every item to be smashed in a room to regenerate mana. Another could be colorblind, thrusting the player's view into black and white. The traits can even affect gameplay as your new hero could have dwarfism and thus fit into small corridors. Other elements are also randomly generated, including player types that decide how much health and mana you start with as well as magic items that use that mana. Even in death, which happens often, the next line of heroes will generally carry something new forward.
When you do die, you start back over with your accrued gold to buy upgrades and items. Rogue Legacy does not reward disappointing runs; you do not bank gold as it disappears if it's not used before your next run. If you're struggling early, you'll struggle for a very long time. Using your coins to buy health increases and stat boosts is slowly incremental and punitive, requiring lots of gold and patience. Upgrades certainly are helpful, but they take so long to build up and the boost after every improvement is minimally felt. Sometimes you might have several failed runs that don't result in any upgrade. This is now my third time playing Rogue Legacy and every time I've played it, I've always reached a point where I'm hitting a wall and my only option is to keep hitting that wall as I need to have a series of good runs to even make a dent in any kind of stat upgrade. Nailing those good runs is elating, but it can get vexing to reach that point.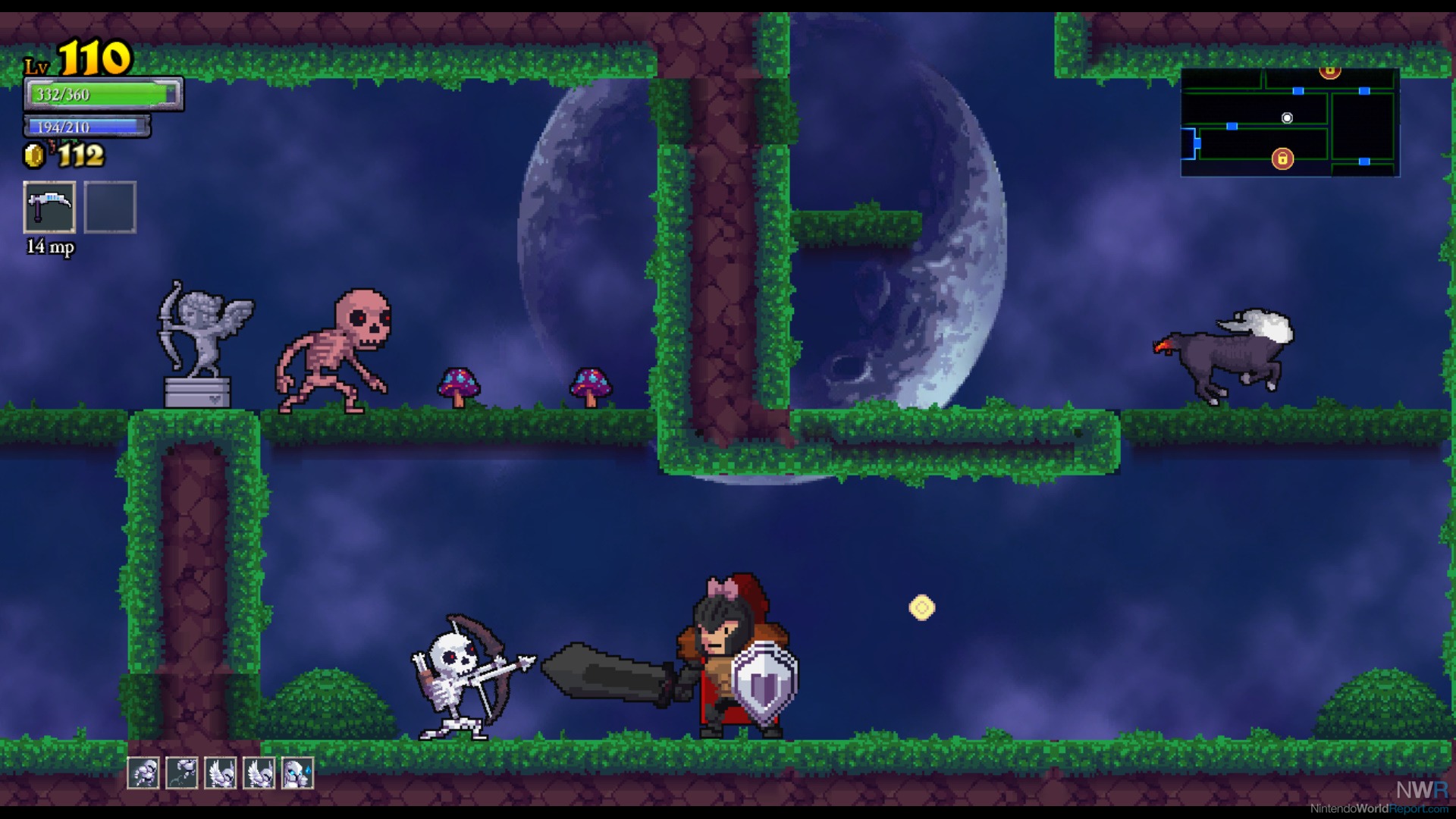 The platforming and combat is simple and fun, getting more interesting the more weapons and boosts you unlock. A lot of those frustrations found in the arduous build-up of abilities is remedied by the fact that exploring and hopping around this world is enjoyable. It nails that "one more run" feeling. Bosses, of which there are only five total, are great challenges, but the process of getting to them can be frustrating, especially as you start to find your way around the castle. The level generation does sometimes drop you into some unfavorable circumstances, but it's never infuriating or impossible.
Rogue Legacy is fundamentally sound but the stringent play pattern where you very slowly incrementally improve can make parts of this novel and fun platformer too slow for its own good. Thankfully the sheer polish of the platforming helps to transcend the issues more often than not. Even if you wind up slowing down and not saving the day, Rogue Legacy is a family trip worth taking thanks to cool ideas and a killer hook.