The brilliant local multiplayer game finally hits a Nintendo platform.
TowerFall's legacy was only felt on Nintendo platforms earlier this year when developer Matt Thorson launched Celeste on Switch. Celeste is, at least in my eyes, a masterpiece, but its quality wasn't a surprise as I had previously fallen in love with the controls of the single-screen 2D platforming action of TowerFall. Originally released for the Ouya in 2013, it finally comes to a Nintendo system, packed in with all the expansions of previous releases as well as new content, most predominantly a six-player option and Celeste cameos. The magic of TowerFall was obvious back when it first released, but every addition to it has just improved what was already so good to a point where it's complete local-multiplayer mastery.
For the uninitiated, TowerFall is a single-screen 2D platforming game split into two primary styles. The heart and soul is the competitive multiplayer, pitting anywhere from two to six players together on a map where they usually start with an arrow weapon and nothing else. Various customizable rule sets allow for all sorts of tweaking, but the default rules are that you want to survive and defeat other players by hitting them with an arrow, stomping on their heads, or felling them with an item or stage hazard. It's fast paced, engrossing, and hilarious, the latter even more pronounced by the quick replays of the final kill of the match. The degree of modifiers and customization for matches is a little daunting, but it allows for a lot of chicanery and specification. You can essentially craft the multiplayer match type that works for you and your friends. Pick between a variety of items and arrow types, make it so corpses explode on death, or even tweak it so players can have individual handicaps. There's even a Big Head Mode. The list of options is dizzying but, thanks to good UI and explanations, rather straightforward.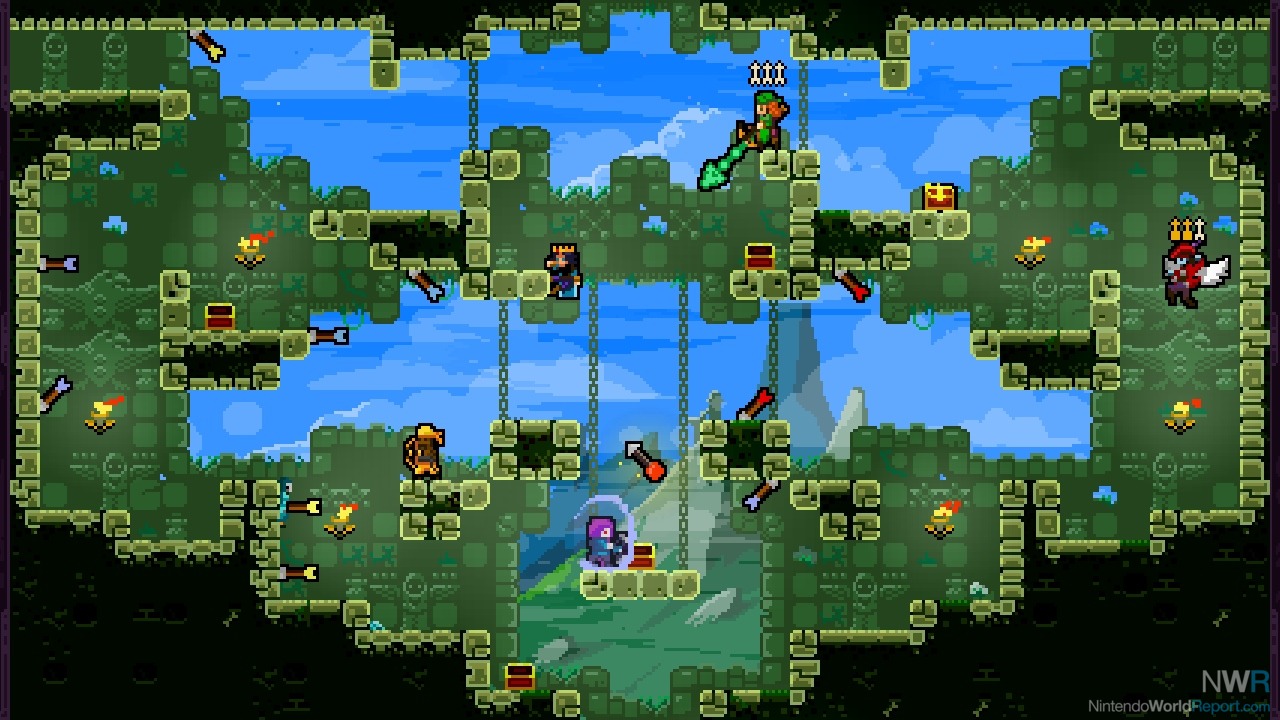 New to the Switch version is a six-player mode. If you have enough people to be able to do it, I recommend it. All stages have six-player variants that are a little wider (the regular multiplayer is not in widescreen), and while the six-player matches seem to skew a little more chaotic, it's similar to eight-player Smash Bros. in that it's a fun novelty that is great for when you have more than four people around. To summarize, four players is probably the ideal, but six players is still super fun.
What never stuck with me as much with TowerFall over the years was the single-player and cooperative modes. Playing through the content in the Switch version made these modes stand out more to me, though. Quest and Dark World are the two primary modes, both being sets of single-screen challenges where you (and other players) have to survive waves of enemies. Bosses show up and the going gets tough, especially on the harder difficulties. I don't think this content could stand up to scrutiny if it was all the game was, but as a solo option and a complement to the competitive aspect, it's fantastic. Single-player time trials are also available for you to hone your arrow-slinging skills.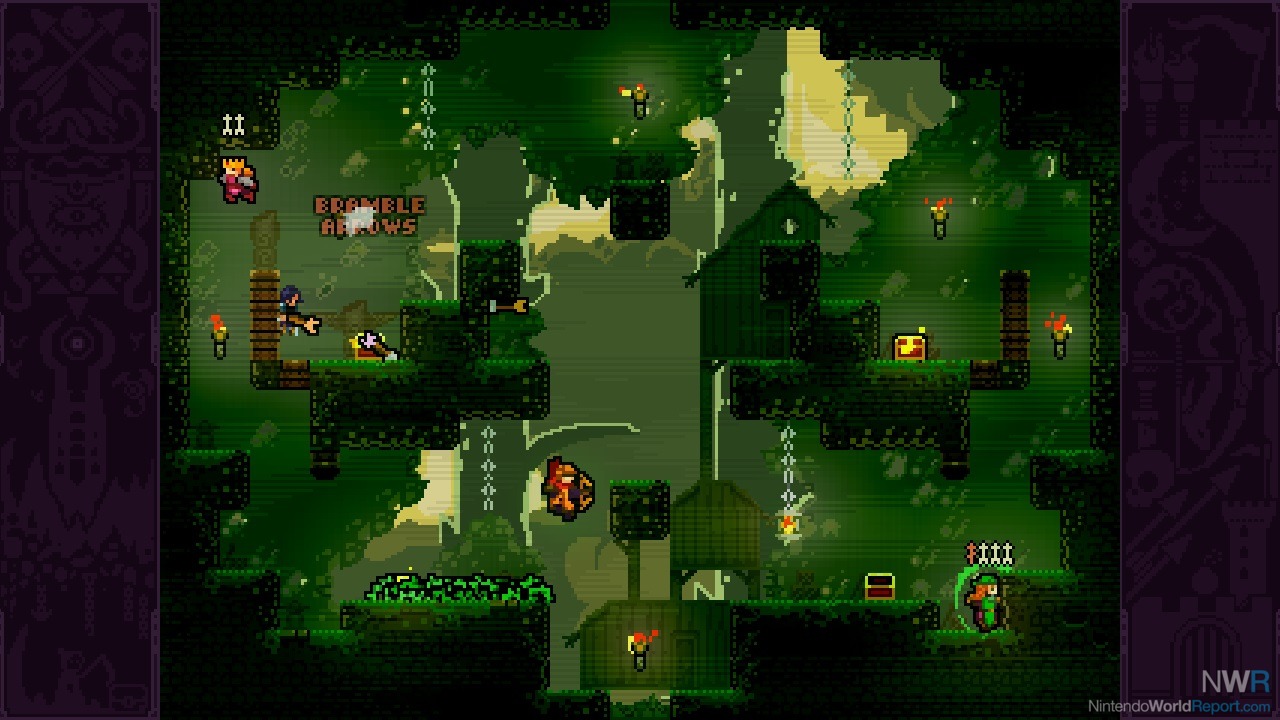 TowerFall is best as a competitive local multiplayer game and if you're commonly in the situation of having friends around to shoot some arrows at, it's a must-play. If you're not, it's a harder sell. No online play holds it back a bit and while the single-player elements are deeper than you might expect, it's not necessarily enough to stand alone. That being said, TowerFall is an outrageously incredible local multiplayer game, quite possibly one of my favorites of all time. Smash Bros. might draw attention away from TowerFall when it launches, but I'm reminded of how when Super Smash Bros. for Wii U came out, I had a group of friends over and we wound up playing more TowerFall than Smash. In the ever-expanding sea of local multiplayer games on Switch, TowerFall stands out, thanks to its intuitive and fun gameplay, excellent style and presentation, and variety of play.