A ghostly adventure that is truly out of this world.
Adventure games are an intimidating genre to get a grip on. I routinely find myself lost in them now and again. Stick it to the Man, in that sense, was different. I originally played it on Wii U, where I found exploring its cardboard-esque world an absolute joy. It wasn't overly challenging, but the pure charm and humor made it golden. That game's developer, Zoink Games,  are back with Flipping Death, which raises the ante up considerably. The result is, unquestionably, Zoink Games' very best effort to date.
While Flipping Death is more of a spiritual successor to Stick it to the Man, the new game features direct similarities that are beneficial. The most important is that Ryan North returns as the writer. His joking and endearing ways of writing dialogue form the blueprint here. The game feels built around the characters he has brought to life, something that isn't easy to fully do in a video game setting.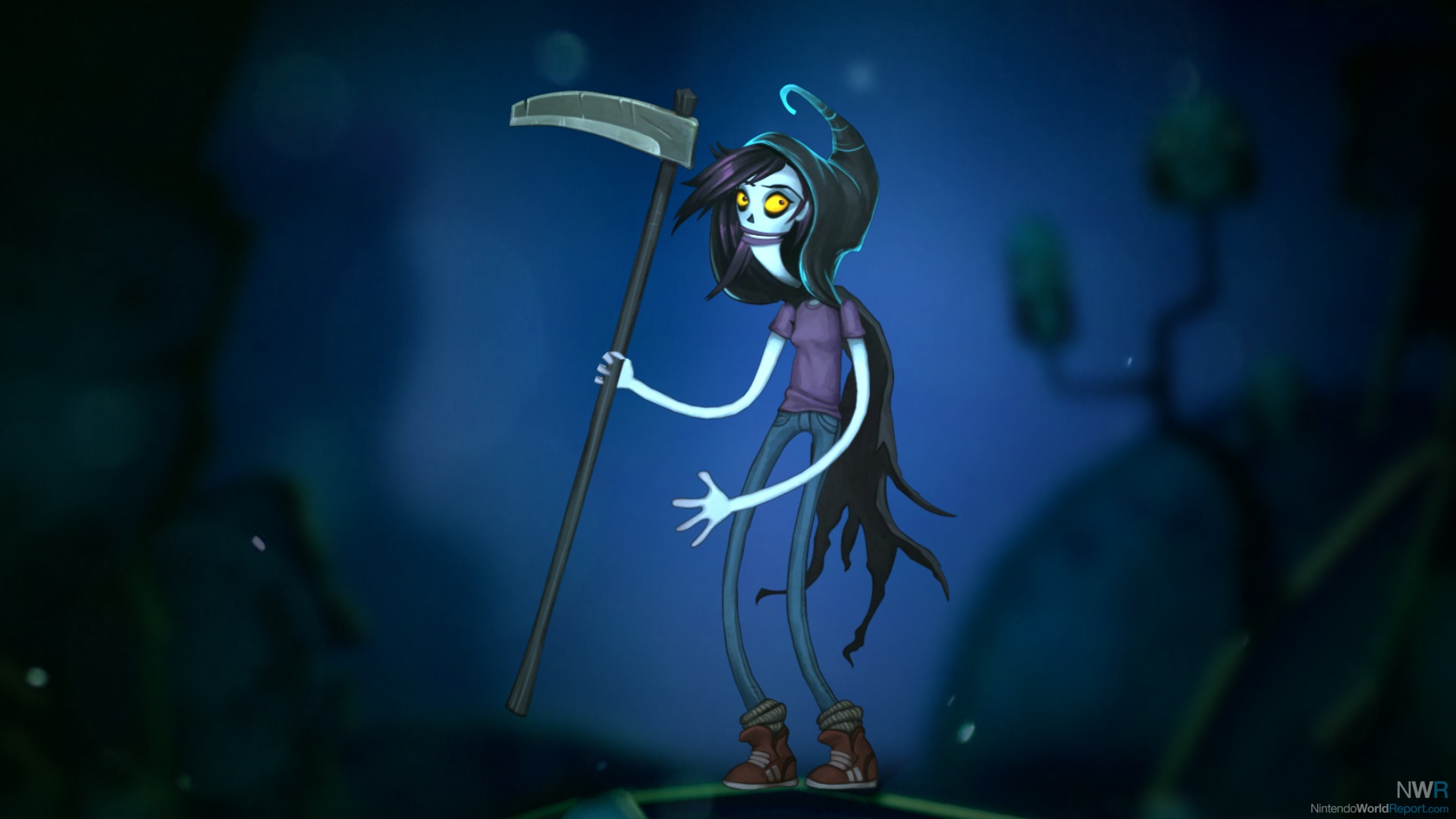 The story of Flipping Death brings you to Flatwood Peaks, where we meet Penny. At the beginning of the game, we see her getting fired from a funeral home job. Shortly after, Penny gets killed by a mausoleum falling apart, which drops her to the world of the undead. It doesn't take long to find a new purpose however. She becomes the temporary replacement of Death, scythe and cloak included, and this is where Flipping Death truly begins.
Penny has to take care of the deceased's unfinished business, so it follows that you hear out their complaints, travel to the world above, and get the job done. All of these characters have their own thoughts and feelings, something that is significantly relied upon. What helps is that all of the characters are voiced and each stands out to a certain degree. This alone made discovering the worlds of Flatwood Peaks and the Otherside a real treat.
Naturally, the gameplay needs is another wheel in the process. If you ever played Stick it to the Man, the basics will be instantly clear. You travel across 2.5D planes, all the while interacting with people and objects. Both games also share a pretty open world that allows room to experiment and explore. The flow feels awfully similar, but there are many tweaks and entirely new gameplay concepts.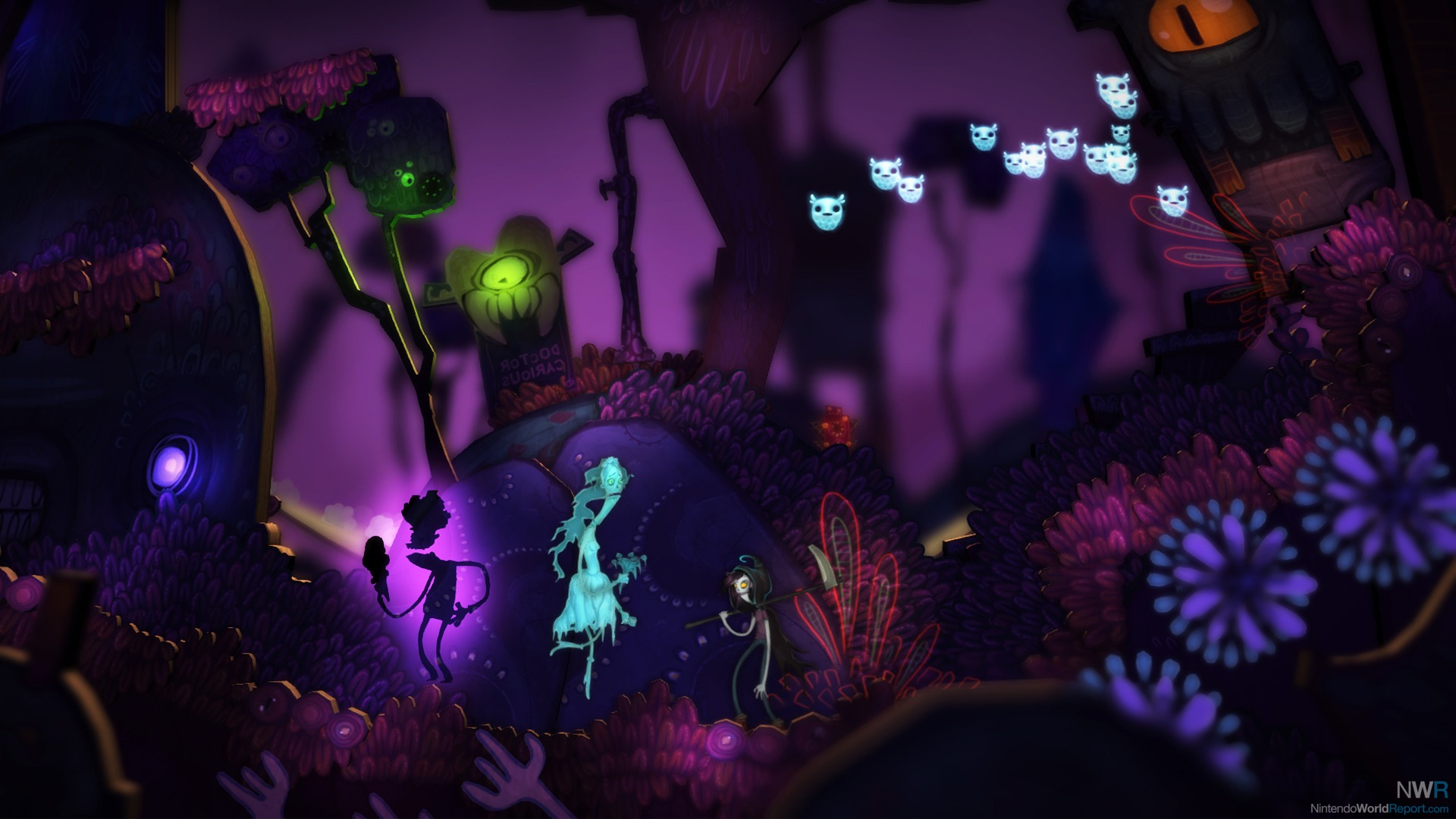 You have to flip both worlds to solve the various puzzles and maladies. In Flatwood Peaks, you aren't be able to freely explore as Penny though. Instead, you take over roaming humans and rely on their skills for help. For example, you have to possess someone with amazing licking powers to paint a boat. Another novel aspect is reading minds. It gives you more background on characters and generally gives you nice hints about what to do next. I found it a lot of fun.
Flipping Death isn't overly difficult, which is a blessing in some ways. It doesn't rely on an inventory system, instead you use what you need at that moment. The basic loop involves hopping from person to person, using their skills to push on. When you get lost, the character you possessed as well as the map usually point you in the right direction. It can be a little on the nose sometimes and using the hints too much can halter the fun a bit.
Unlike Stick it to the Man though, Flipping Death is a lot more replayable. A slew of extra challenges are spread across the game. They use certain characters to perform tasks across the world, which is utterly brilliant. In addition, I had fun chasing down the various Ghost Cards. Once found, they give you even more information on what drives the citizens on both ends.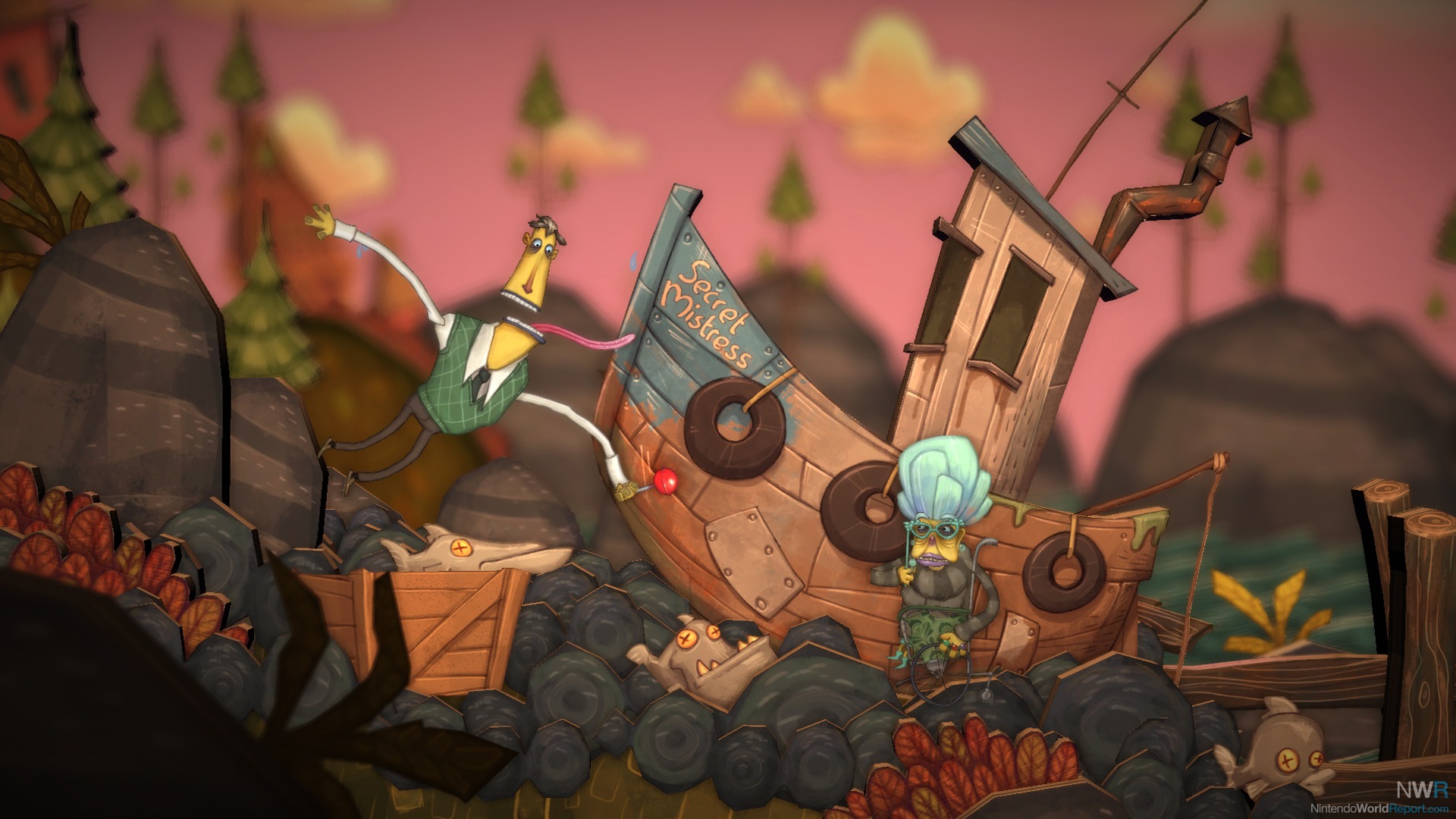 The presentation is also a step up from the previous game. While Stick it to the Man felt just a tad incoherent in places, everything flows together nicely here. The instant flip between the two worlds makes it feel that both sides are glued opposite from each other. There is an added feeling of detail in the various environments, which can feel both lush and unsettling. Flipping Death's music underlines those feelings well. It is mostly done with jazzy instruments, which certainly make me feel at home.
Flipping Death is Zoink's best game to date. The humor is top notch like usual, but the game is such a refined product. The puzzles are clean and easy to grasp, there is some solid replay value, and every character you possess does something unique. The only disappointing thing is that it feels cheap to rely on the game's helpful tools. Personally I felt that I lost a little something in the process by doing so. In the end though, it all depends on the experience players find most desirable. All what matters is this though: Flipping Death is an adventure game everyone can enjoy.