An excellent Castlevania clone with some smart updates.
While we all wait for Igarashi's much-anticipated Bloodstained: Ritual of the Night, he and Inti Creates collaborated on an NES-style appetizer for fans to digest while they wait for the main course. Curse of the Moon is essentially a modern take on the NES Castlevania games (which is a smart choice, since Ritual of the Night will be a Symphony-style Castlevania game). If you liked the old level-based Castlevania games, this will be a welcome treat. If you didn't, well, this might not be your cup of tea.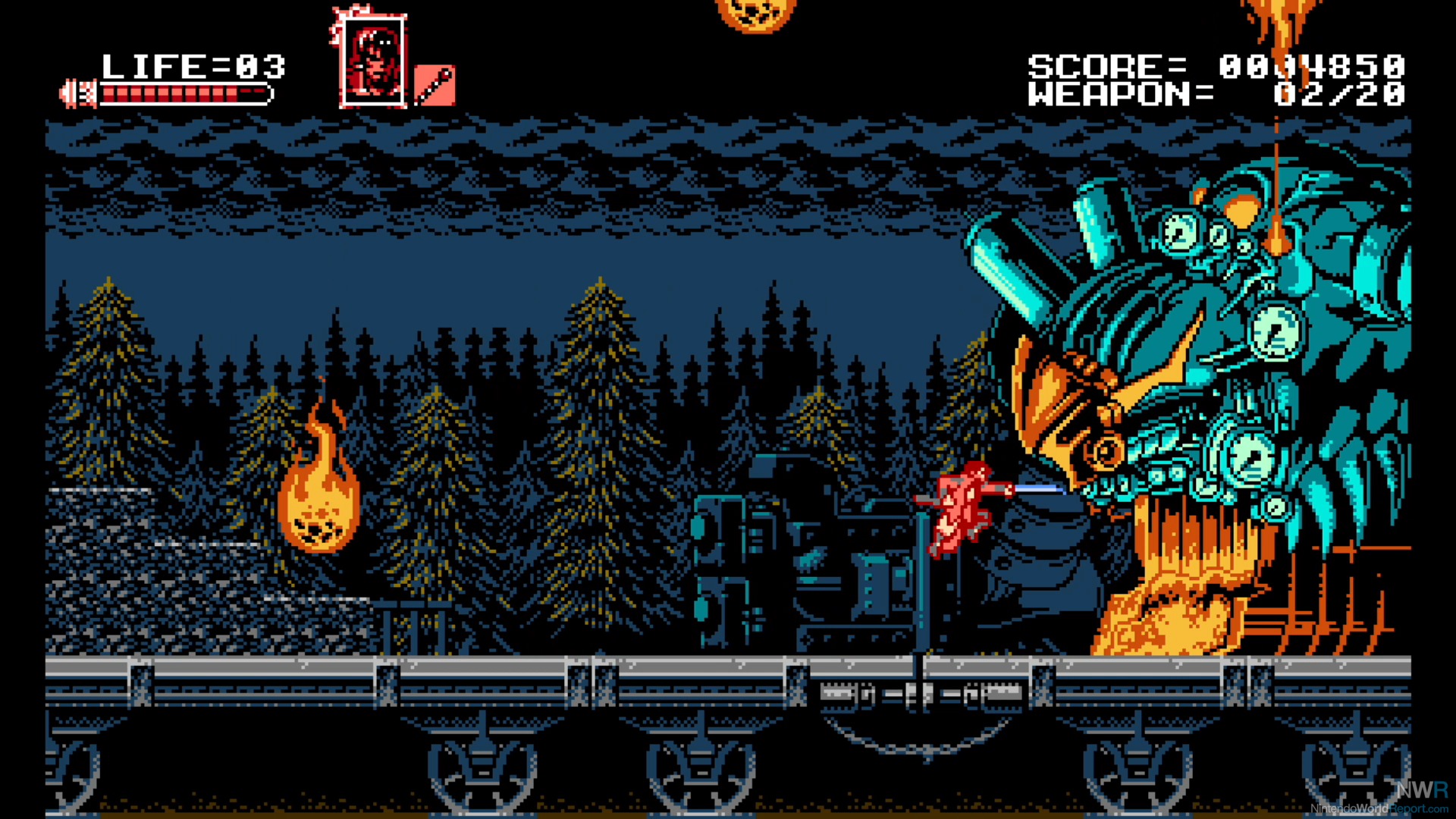 The game plays almost exactly like Castlevania III: Dracula's Curse, as you quickly recruit a party of four characters that can be switched between at any time. Your starting character, Zangetsu, is a swordsman with high HP and a short attack range. Miriam, who will be the protagonist of Ritual of the Night, wields a familiar-looking whip for a long-range attack but can also jump higher than everyone else and can slide. Alfred, a magician, has extremely low HP and can't really engage in melee combat to any helpful degree, but at least two of his spells are extremely helpful. Finally, Gebel is this game's Alucard stand-in. He has a short-range attack but he can transform into a bat to get into areas other characters can't.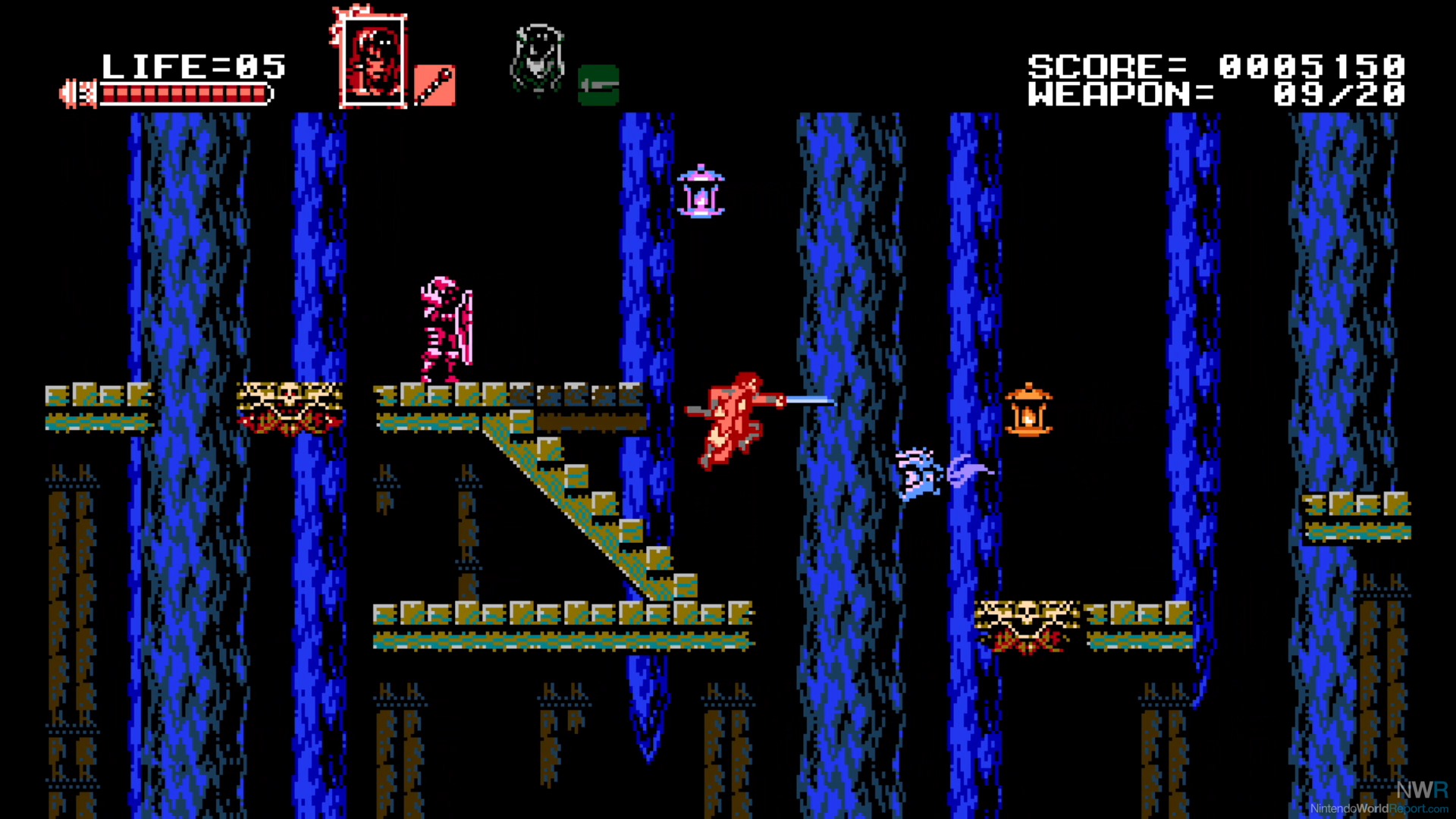 Every level features multiple paths to the same boss fight. Certain paths hide permanent stat boosts to HP, magic points, attack, or defense. Each of your characters can die, either by running out of HP or falling into a bottomless pit. Should they meet an unfortunate end, they will be unavailable for the rest of that level, which can limit your ability to explore or even, in some cases, continue at all. Thankfully, if you find yourself unable to move forward, you can activate the "Curse of the Moon" from the pause screen. This allows you to go back to any previously completed level and essentially restart. This becomes handier the farther you get into the game.
Curse of the Moon isn't especially long or difficult if we're going by NES Castlevania standards. You can make things harder on yourself by turning on "Veteran Style" when you start. Doing so gives you a limited number of lives and provides that old Castlevania knockback you know and love. If you'd rather stay sane, you can go with "Casual Style," which gives you infinite lives and no knockback. When you beat the game, you get Bravely Default'd back to the start with one critical difference.
There's not a lot to criticize about the game. I kind of wish that backtracking to levels you've previously cleared gave some indication of what item you'd found and where it was so that you can knowingly try a different path. In general, I like the look of the game but some of the boss designs and their attack patterns exhibit Inti Creates' worst tendencies. The final boss in particular looks absolutely ridiculous and would make way more sense in a Gunvolt or Mega Man Zero game. I wish Alfred was more useful than he is; you basically keep him around for two of his spells. Finally, Miriam is very overpowered—you can get through essentially any combat situation with her long-range whip and overhead sword throw subweapon. Zangetsu need not apply, and Gebel becomes useful only for his bat ability.
All that said, Curse of the Moon is a very enjoyable old-school Castlevania homage that's well worth the price of admission—as long as you have nostalgia for those games. Those of you who have no patience for the first three Castlevania games in particular may want to give Curse a wide berth, but I daresay there are systems in place here that may tickle your fancy.