The title's alliteration is more inventive than the game itself.
If the last several years of roguelike and rogue-lite games have been marked by expansion and iteration of what they can be, Devious Dungeon simplifies the formula to a degree that robs it of any character.
You'll find no surprises here. Procedurally generated levels with monsters and furniture you crack open to collect gold as you progress through them. Death is a chance to use that gold to buy weapons, armor, and accessories to get stronger so you can do more damage to crack open stronger monsters and bosses. It's a well-worn progression loop that works as advertised.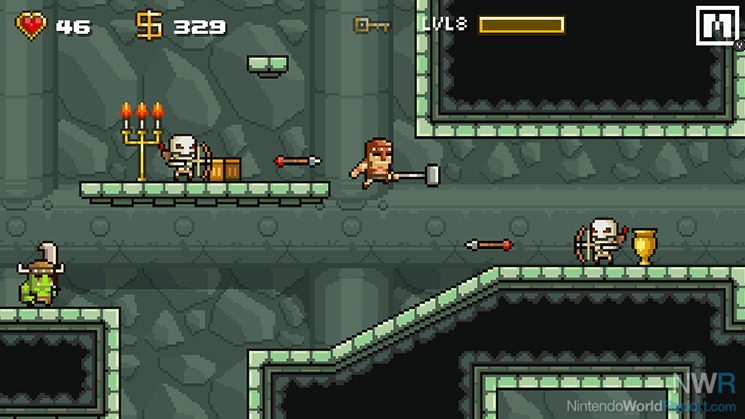 Where Devious Dungeon falters is its lack of depth and variety. Its peers feature multiple progression trees to dump money into, your character having randomized stats and features with each death/reincarnation, and different abilities to gain as you progress. You won't find any of that here, only jumping, slashing swords, and an ability to time your sword to clash with enemies as a counter - something I didn't even find useful in practice.
That blandness carries over to the presentation. Levels are uninteresting, lacking detail or defining features with a bland color palette. Enemies are generic medieval fantasy creatures, of which you'll see more iterations of early monsters rather than new ones later on. The music could be called forgettable if it wasn't the same 15 second loop being played on repeat the second you reach the start menu. Worse yet, I often experienced movement input lag if I tried to make sharp movements. The game doesn't require precise movement, but it felt like lag I'd expect from touchscreen controls rather than a controller.
The highest praise and most damning criticism I can give Devious Dungeon is that it is functional and something I could burn time with at a doctor's office or in a plane. With the consistent stream of games coming to the Switch, you're better off waiting to see if one of its better contemporaries gets released.