Donkey Kong is more tropical smoothies with Joy-Con for good measure, too.
The Wii U might not have been Nintendo's greatest run, but some stellar games from that system deserve to be played. The company clearly knows that themselves as they have been rereleasing all of their greatest hits. The one that would be on the top of my list is Donkey Kong Country: Tropical Freeze. I am not even a big 2D platforming fan, but it is hard to deny the expertise used to craft this experience. The level designs, music, and flow are all top notch. It is not surprising to most, but yes, Tropical Freeze is still fantastic.
The game opens as Donkey Kong and his friends come to face to face with Snowmads of the North Sea. These winter-loving animals have taken several islands hostage and have now stepped foot on Donkey Kong Island, displacing the family Kong in the process. Every world is populated with inspired levels that fill me with a sense of glee. The selection of flavors, themes, and experiences are still unmatched by most 2D platformers. Lost Mangroves introduces you to the game, you explore the mountains and air in Autumn Heights, the African flavor is introduced with Bright Savannah, and the list goes on. On these islands, not a single level that feels the same. What connects these levels are appearances, not structure or its potential surprises. A good example is Autumn Heights where one level is more grounded, while another requires a lot more timing in the air.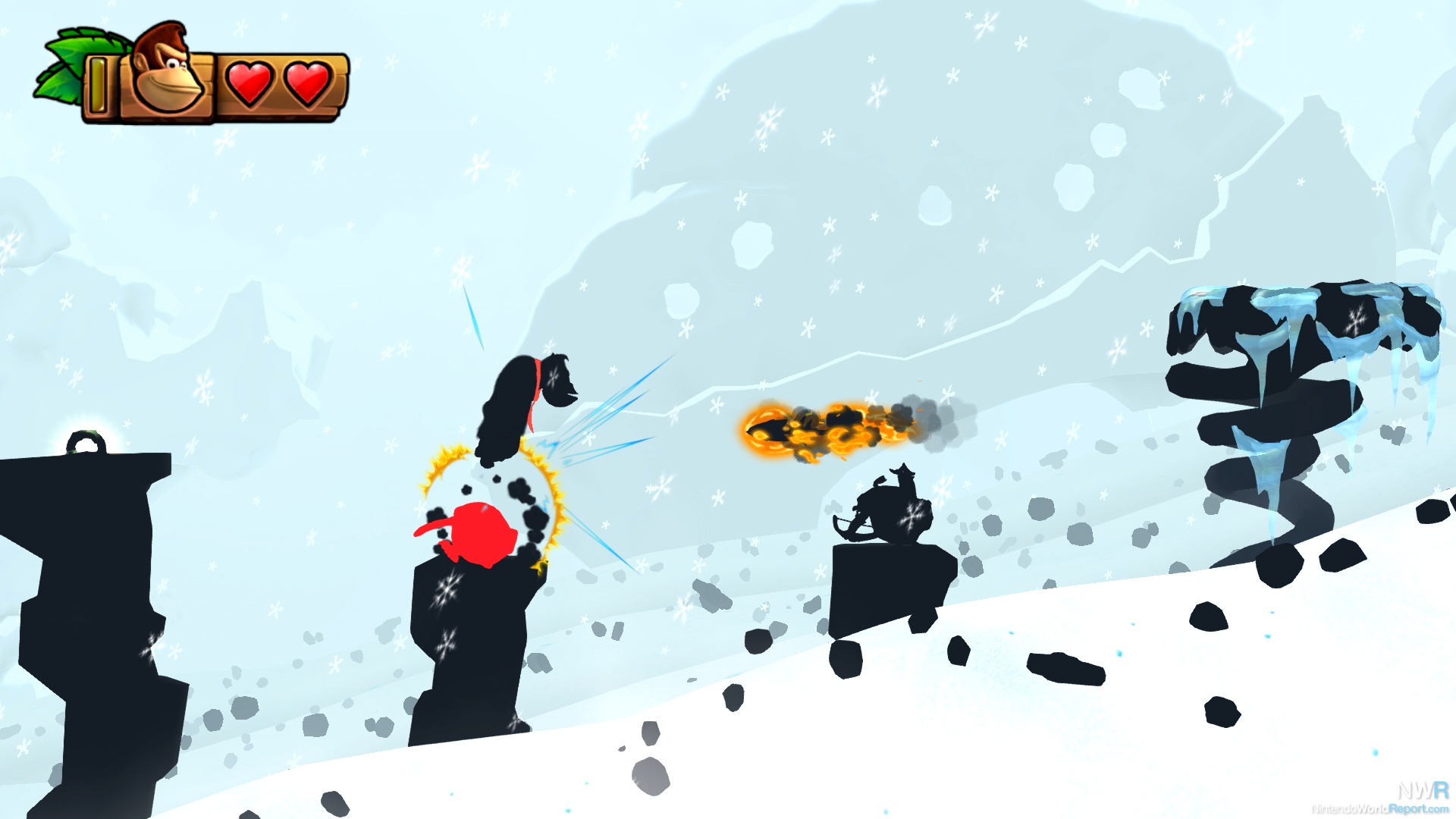 The variety of levels doesn't just rely on Kong-based platforming alone. Some will likely roll their eyes at underwater sections, but the controls beneath sea level are the smoothest I've ever witnessed. So much so that it turned Sea Breeze Cove into my favorite world of the game. There is a weight involved that I barely felt before, which makes that special. Rocket Barrel and Minecart levels are here too, and their set pieces are a joy to behold. Sadly, outside of Rambi, the animal friends are still largely ignored. It is something I sincerely miss from the older games.
The replayability of the levels in Donkey Kong Country: Tropical Freeze is ever present as well. The game comes loaded with surprises like the puzzle pieces, KONG letters and other items that you can snag along the way. It will take a while before you will be able to find them all and, even on a second run, it took me a while to find everything. Every level now has online leaderboards where you can compete with your friends and others online. You can watch video replays of their runs and even see how they have succeeded on a level. If you meet certain requirements later on, you can even unlock a hard mode. Donkey Kong Country: Tropical Freeze is not a game that stops pulling the punches, but that doesn't mean that you won't have a blast while trying.
With the Nintendo Switch release, the game is trying to change its challenging image. While you can experience the Original Mode (and you should), it might be harsh for those with less platforming experience. The four characters (DK, Diddy, Cranky, and Dixie) all have their specific powers, but they can only take you so far. This version of Tropical Freeze adds the brand new Funky Mode. This grants you the ability to play as the funkiest primate of them all. Now I am not going to deny what others have been saying. He makes the game quite a bit easier, and there are no buts about that. That being said, for a second run, it gave me a fresh perspective that I wasn't prepared for. The additional finesse in his movement is absolutely incredible to fathom, and he changes the Time Attack ball game completely.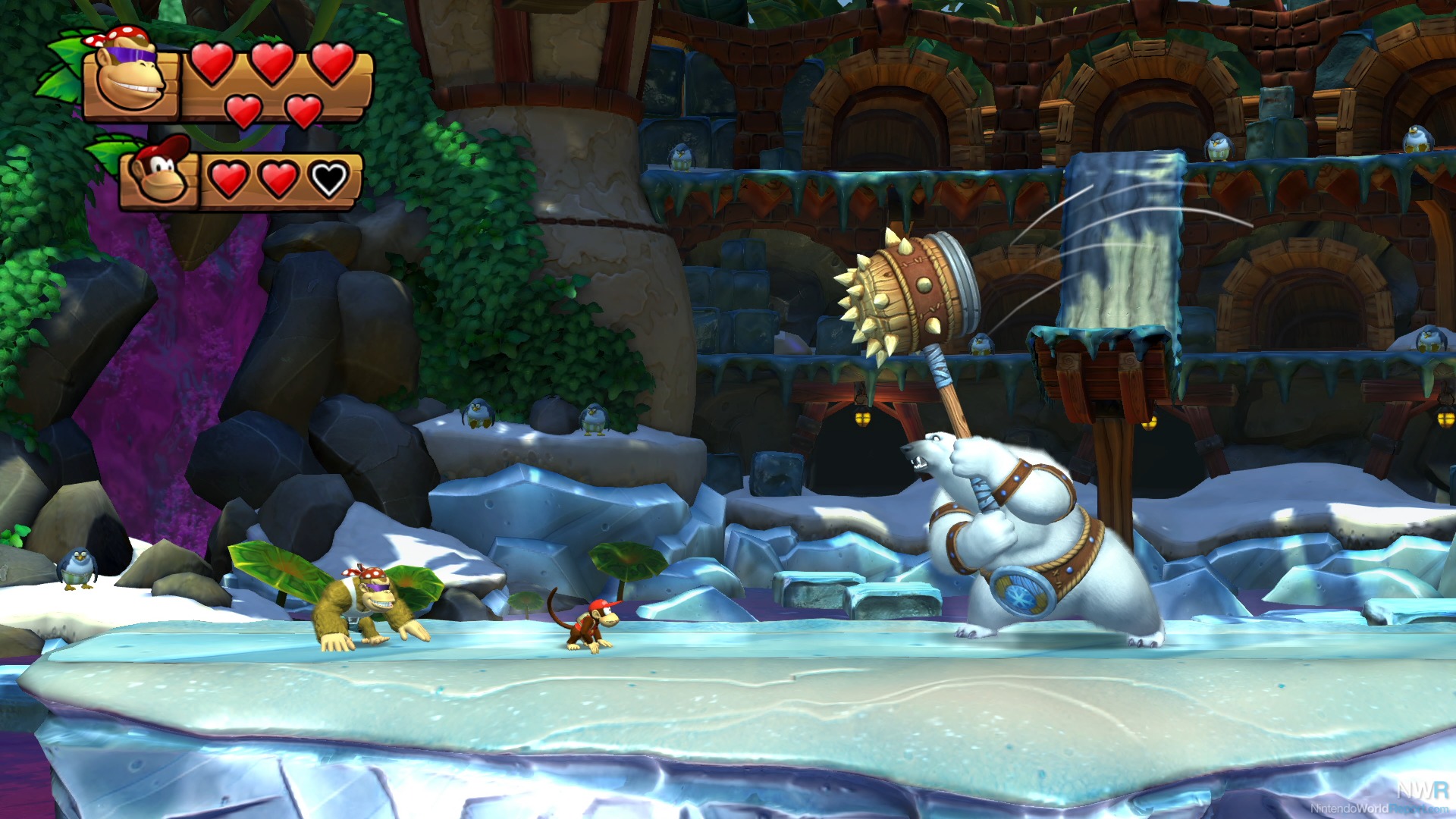 To begin, his ability to hover with the surfboard and double jump makes tricky gaps way less of an issue. This makes it also a whole lot easier to get certain items to 100% complete a stage. The fun, however, doesn't end there. Funky Kong can endlessly roll his way through a level. It makes attacking enemies an absolute breeze, and changes the way you approach obstacles. For those dedicated, timing becomes a lot bigger part of the experience. The true challenge in Funky Mode comes from nailing your momentum to a tee. This is true in the underwater sections as well, considering you will able to perform infinite corkscrews there. The true showstopper is naturally landing on the spikes, and taking no damage. Regardless if you are floating or falling down, the game reacts accordingly. Despite all of that, gaps can still mess you up good if you aren't careful.
Donkey Kong Country: Tropical Freeze really embraces the notion of the Nintendo Switch. No matter if you play it at home or on the go, the game holds up perfectly fine. Compared to the Wii U game, there are very few framerate dips. The loading times are much improved, though still noticeably long. No matter if you are playing it alone or sharing the joy, every control scheme is perfectly tailored for this version. I was super impressed with how the game played for a singular Joy-Con, where you put on a strap and basically have all the buttons you need. Most of the time, however, I went with the trusty Pro Controller.
Donkey Kong Country: Tropical Freeze was one of my absolute favorites on Wii U, and that is the same on Nintendo Switch. The levels inspire me to push harder to master them. Now combine that with a fun cast of characters and a terrific presentation, and you have the funkiest of the bunch. If you are playing it for the game, please do yourself a favor and play it in original mode first. The challenge may be harsh, but you get a real idea of what makes this game oh so special. For everybody else (or those who lack platforming skills), Funky Kong all the way baby.