Soaring from mobile to Switch
If you are unaware of Skies of Fury DX, it started out as a mobile game. What seemed like a serviceable cartoony flight simulator on iOS and Android is soaring high in its transition to the Nintendo Switch.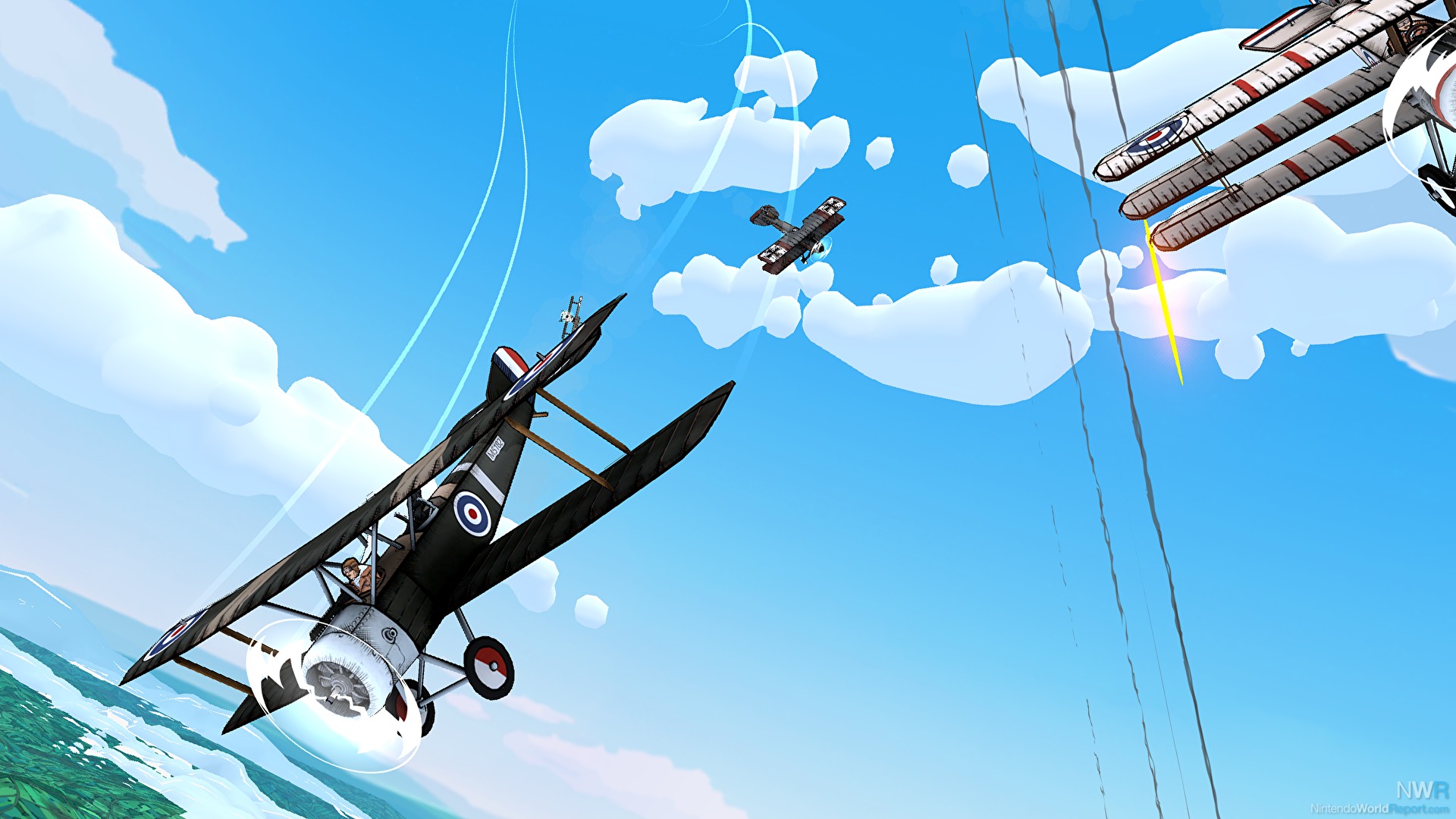 Skies of Fury is set in the year 1917 during a time also known as Bloody April. You take to the skies as both British and German forces in one of the most prolific air battles in World War I. The story is presented in a comic book format with more pages added as your complete each chapter. 100 missions are in the game, evenly split between the British and German sides, across five chapters. To complete each chapter, you must complete all mission on both sides, which is a slight gripe as I would like to be able to go through one side entirely first, but honestly it's a minor inconvenience.
The gameplay is a high point in Skies of Fury DX. Controlling your aircraft feels smooth and responsive, complete with some quick maneuver buttons mapped to the D-pad that allow you to pull off some cool moves while in battle. As you complete each mission, you gain experience that helps your pilot level up. As the pilot levels up, skill points get earned to enhance your skills. These skills help boost your ammo reload speed, decrease damage taken on your plan, as well as lot of other modifiers and boosts. Leveling up is fast and frequent so gaining skill points is a blast. Along with the skill points, you also unlock loot crates which, when opened, give a random customizable option to your aircraft like a new skin. A bunch of plane styles from the World War I era are present as well, and more get unlocked as your level up.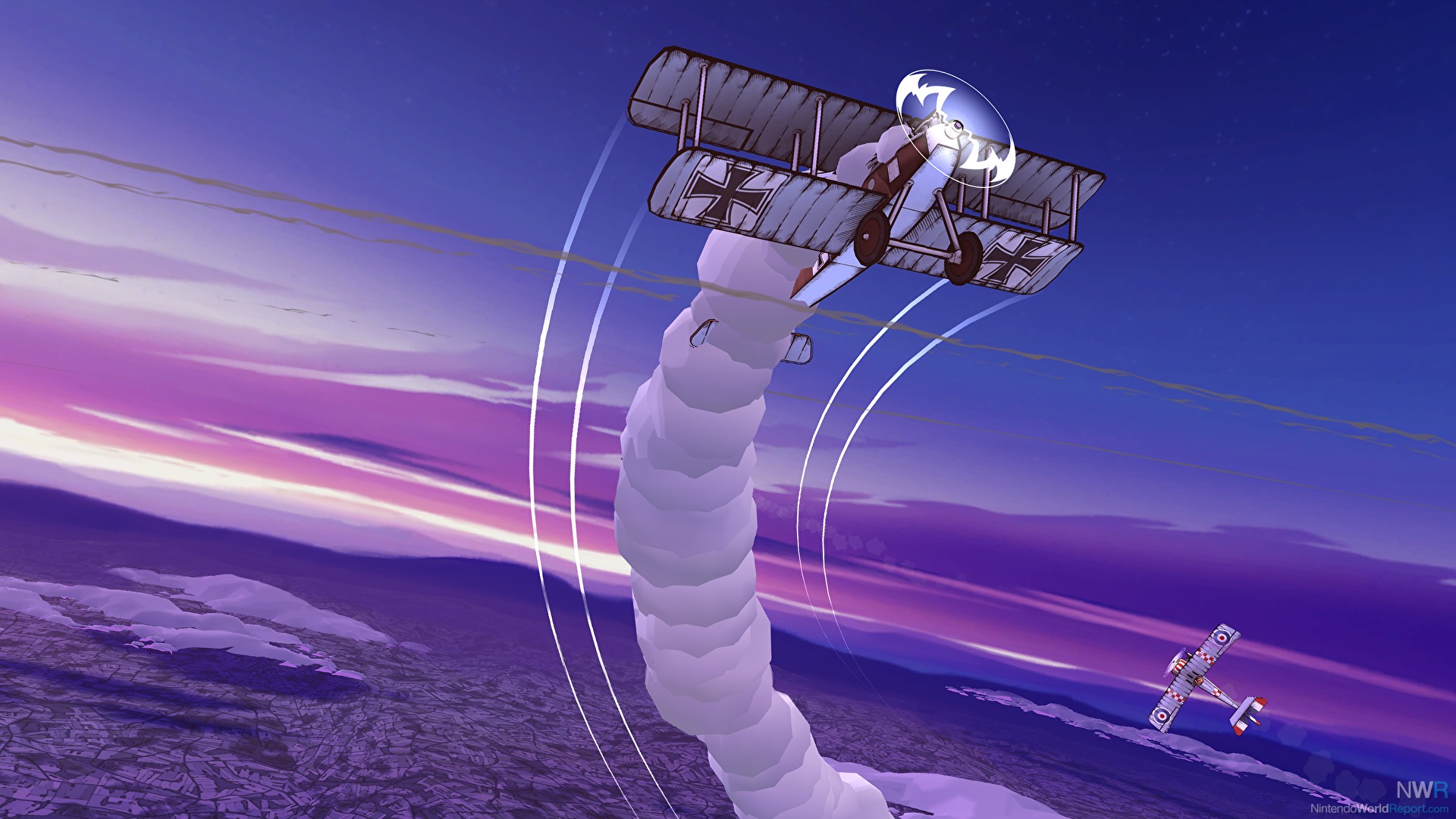 Each mission is easy to pick up and usually only lasts a few minutes. The missions are split into three main types: time trial, deathmatch, and escort. Regardless of which side you are playing on, the missions stay close to those types. The difficulty ramps up at a nice pace, however if you feel any level is too easy, you can enable up to five different challenges. These additions range from increasing the enemy difficulty to reducing the health regeneration on your plane. It's worth enabling these challenges as the more you have at each level boosts the experience you get. This gives a nice risk and reward system to help offset the mission variety.
One of the most impressive aspects of Skies of Fury DX is its stunning art style and animations. The look and feel is that of a moving and brightly colored painting. The environments are done so well and I am particularly enamored by the sunset level. Everything from the planes to the clouds is distinguishable and it's never tough to see where you need to go.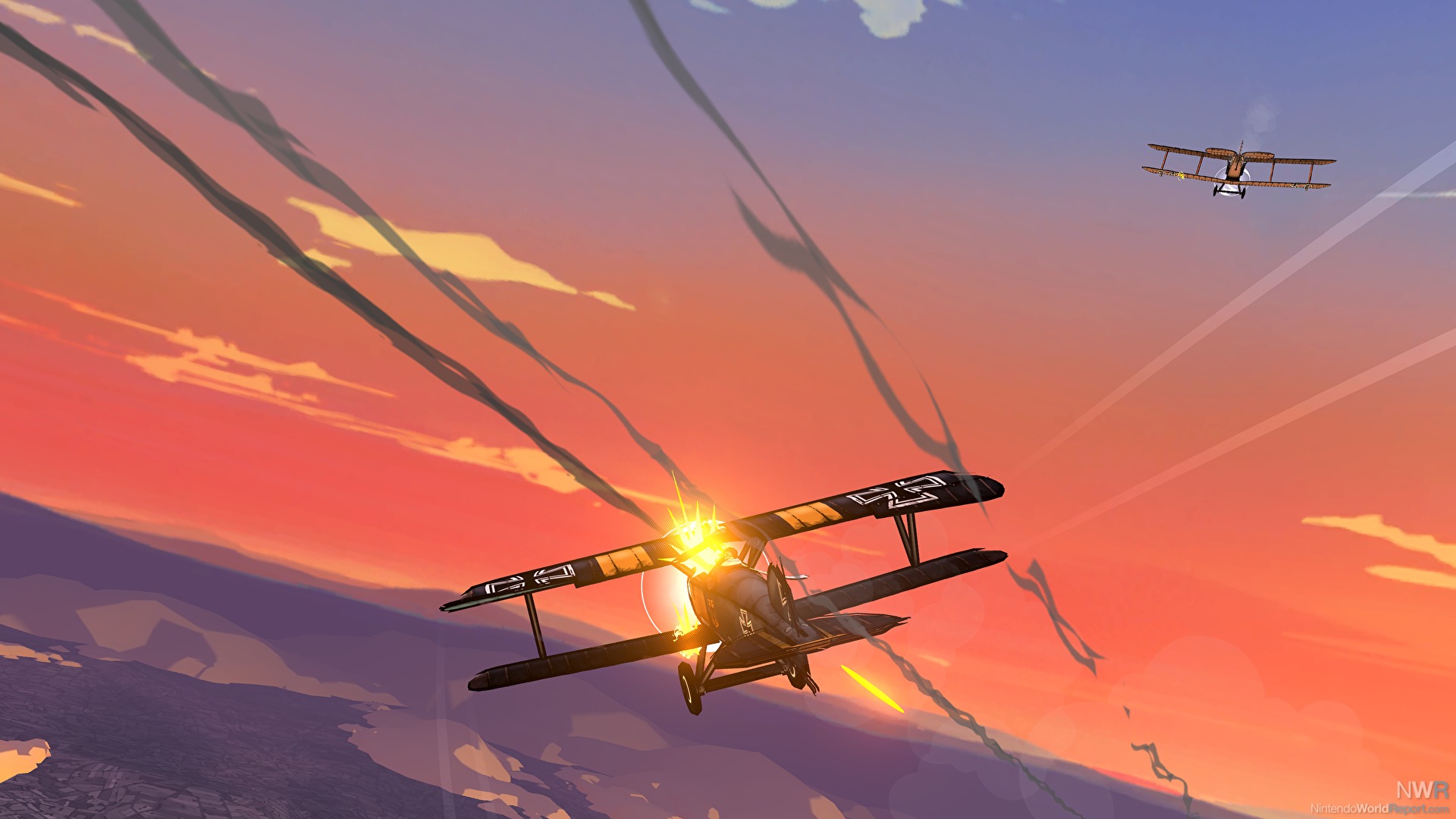 Multiplayer was absent from the mobile title so I am glad to see it get a big addition to the Switch version. Survival and deathmatch are available for up to four players. The split-screen action is frantic and fun at the same time. This is easily something that can be brought out as a party game.
Skies of Fury DX is a beautiful and fun flight simulator. With its historic story and stunning visuals style, this is a must play on the Switch. After seeing the word "victory" across the screen once you finish a mission, it's hard not to play just one more.