Dueling dictionary detectives
Word searches have been a popular form of pen and paper puzzle games and educational aids since the 1960s. As a form of entertainment that has been easily portable since its beginning and has already existed in various electronic iterations, there doesn't seem to be much to gain from bringing word search puzzles to the Nintendo Switch.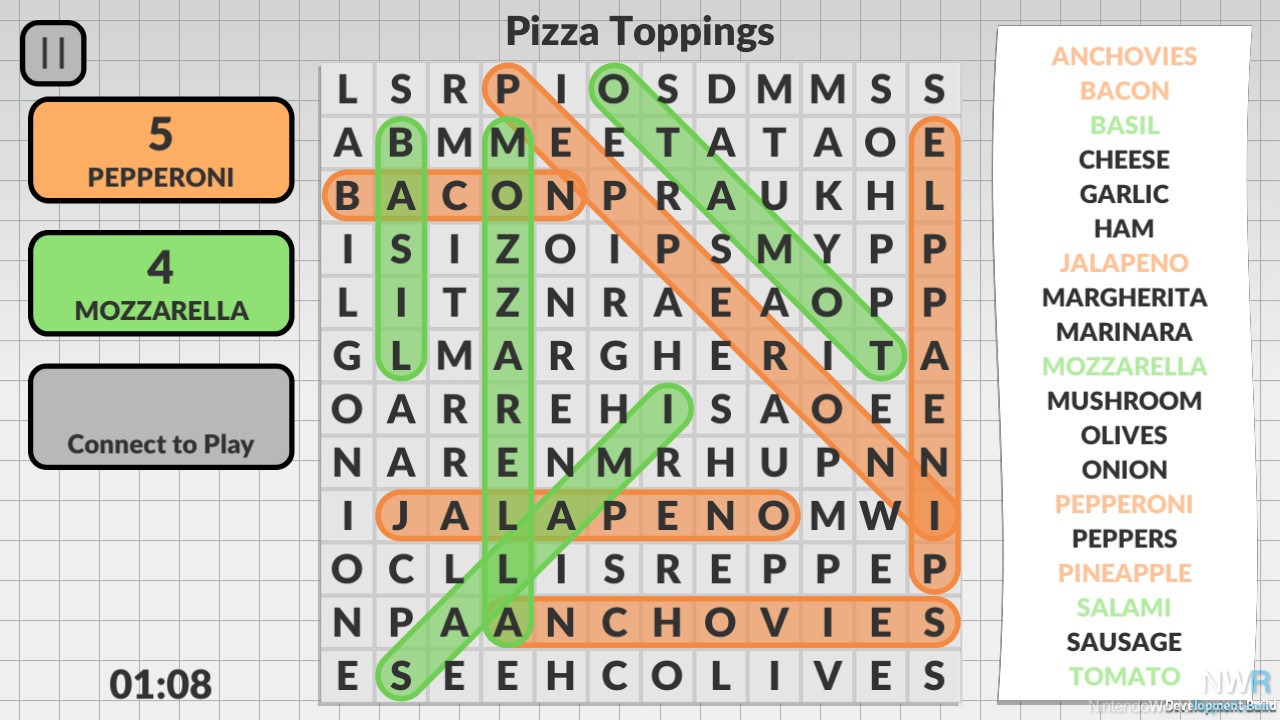 While Word Search by POWGI does offer a convenient way to play traditional word search puzzles on the go, it manages to bring a fresh new way to play, bringing something fresh to the experience. While you can invite others to join in and help you solve paper word search puzzles, they have traditionally been solo experiences with a focus on relaxation. Word Search by POWGI provides this classic solo gameplay as expected. Players are free to sit back and solve puzzles at their own pace as a handful of public domain music selections are performed by synthesized xylophones, providing a lullaby-like soundtrack to complete the casual, relaxing gameplay formula.
Word Search by POWGI's single player experience meets par expectations for a word search video game, but on the other hand, the game introduced me to a completely new way to play a word search puzzle that takes out the relaxation aspect. Competitive multiplayer is this game's unexpected triumph. A laid back gaming experience quickly turns into a frantic search for victory. In multiplayer, up two four players simultaneously work to solve the same puzzle to see who can find the most words. The game becomes surprisingly tense when two players notice the location of the same word at the same time and frantically move their cursors over to claim a precious point.
On the other hand, multiplayer also reveals one of the most frustrating aspects: navigating puzzles. Losing the location of your cursor in a puzzle can occur frequently near the end of puzzles as the color of each player's word selection matches the color of that player's cursor, which causes a camouflaging effect. In addition to the difficulty of following the cursor on the screen, moving the cursor can be fairly imprecise when using a single Joy-Con to control the game. This can obviously be remedied by using a Pro Controller or two Joy-Con, however this makes playing the game multiplayer much less convenient, especially in games with more than two players.
Word Search by POWGI is a great choice for anyone looking for a laid back solo gameplay experience or a game that can be played multiplayer with anyone, regardless of their skill with gaming. Although, the majority of the fun to be had lies within multiplayer. If you are looking for a go to game for travel with family or friends, Word Search by POWGI is worth taking a look at.