This game was supposed to be relaxing.
Animated Jigsaws: Beautiful Japanese Scenery is at least well named. It features ten animated jigsaw puzzles with ten-second Shutterstock video clips of Japan. While it runs fine, the bare-bones features and an annoying glitch make these puzzles more difficult than they'd be in real life.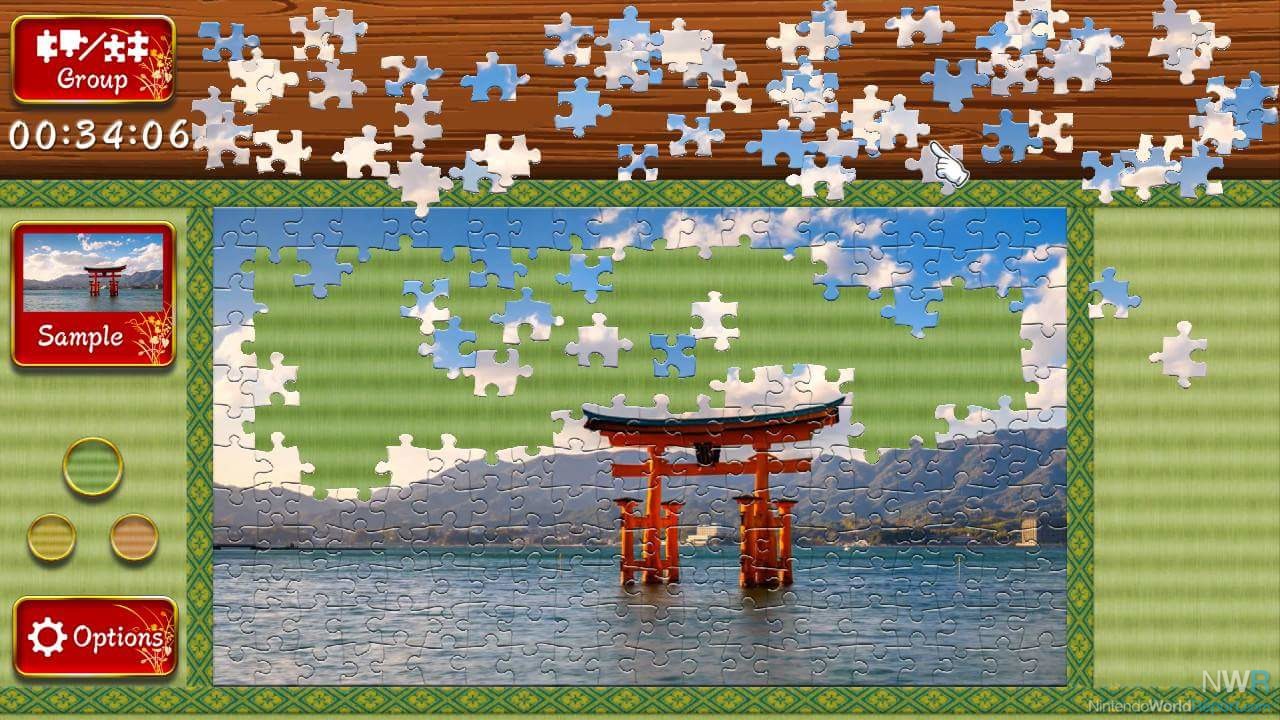 The single-speed cursor is too slow for moving across the screen and too fast to be precise. Trying to fit pieces together is made extra difficult with the big, white cursor covering half the piece it's holding. Touch support is one solution, but big fingers on the small Switch screen cover even more.
The cursor often glitches out and decides you've held a piece for long enough, dropping it somewhere along its path. This wasn't a huge issue on the colorful 60-piece puzzles, but losing a piece of street somewhere in the famously crowded Shibuya crosswalk made for a rage-inducing final level.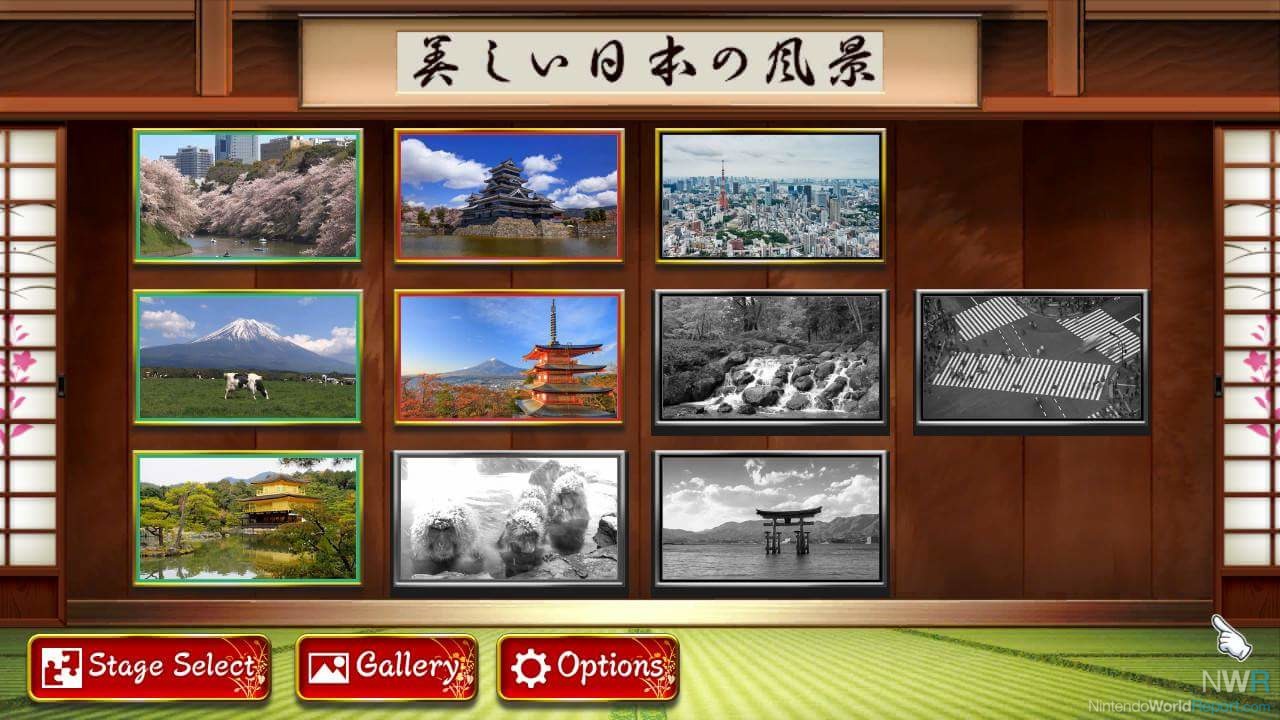 Once a piece connects to another, it cannot be moved off to the side. This leaves sometimes giant shapes floating around your workspace. A piece will also snap into place if it's dropped where it belongs, even if there's nothing to connect to. I felt cheated out of gameplay when pieces found their home while I was just trying to move them aside.
Puzzles can be solved by up to four players sharing a screen. Split-Joy-Con multiplayer works fine, but the game only uses the A button and the joystick. I feel a more casual player, like my mom, might get frustrated by repeatedly pressing the wrong button without results. I'd have also appreciated trigger support for single Joy-Con play instead of having to use two hands.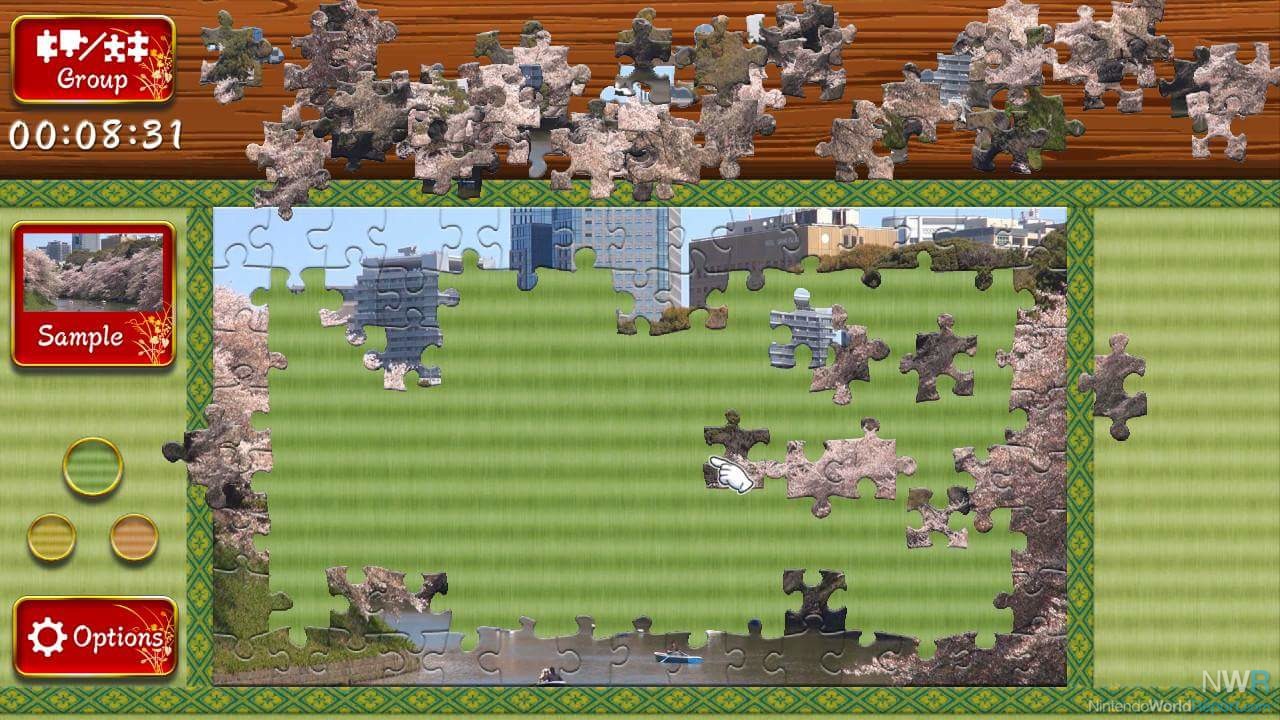 The images and music are decidedly Japanese. Puzzles alternate between futuristic cityscapes and the tranquility of nature. The three tracks are zen and boring, but not out of place. I don't know how many puzzles I would have gotten through without outside background noise.
Puzzles come in 60, 120 and 240-piece sizes. Completing all ten unlocks all three sizes for every puzzle. A scoreboard tracks times for sizes and number of players, adding a bit of replay. My fastest times were under five minutes while some more complicated puzzles took over an hour and a half.
Animated Jigsaws: Beautiful Japanese Scenery is fine for jigsaw puzzle enthusiasts on the go, but its few puzzles and thoughtless controls detract more than this game has to offer.