Fly around and tackle baddies with a dysfunctional group of criminals and your friends in this frantic brawler.
The platform-brawler genre is usually left to a few games with massive fandoms and not many more. That is why it is good to see smaller developers give their spin on this genre. Super Rocket Shootout is a great example of a quality brawler done by a small studio and is a joy to play multiplayer with friends.
The most impressive aspect are the visuals of the stages' backgrounds, visually captivating with no shortage of elements to look at. One stage has you fighting on a moving train with a desert terrain zooming past in the background. Stages that could otherwise be really boring, like a laboratory and an office, have masterful lighting and depth effects that follow your movements. These visuals are not only fun on their own, but make the gameplay experience more engaging and exciting. The attention to detail in these environments is especially refreshing within the otherwise tired and clunky retro style that we've seen time and time again. The character designs aren't nearly as attractive or memorable, being generic in the gameplay and quite uncanny in their more detailed forms.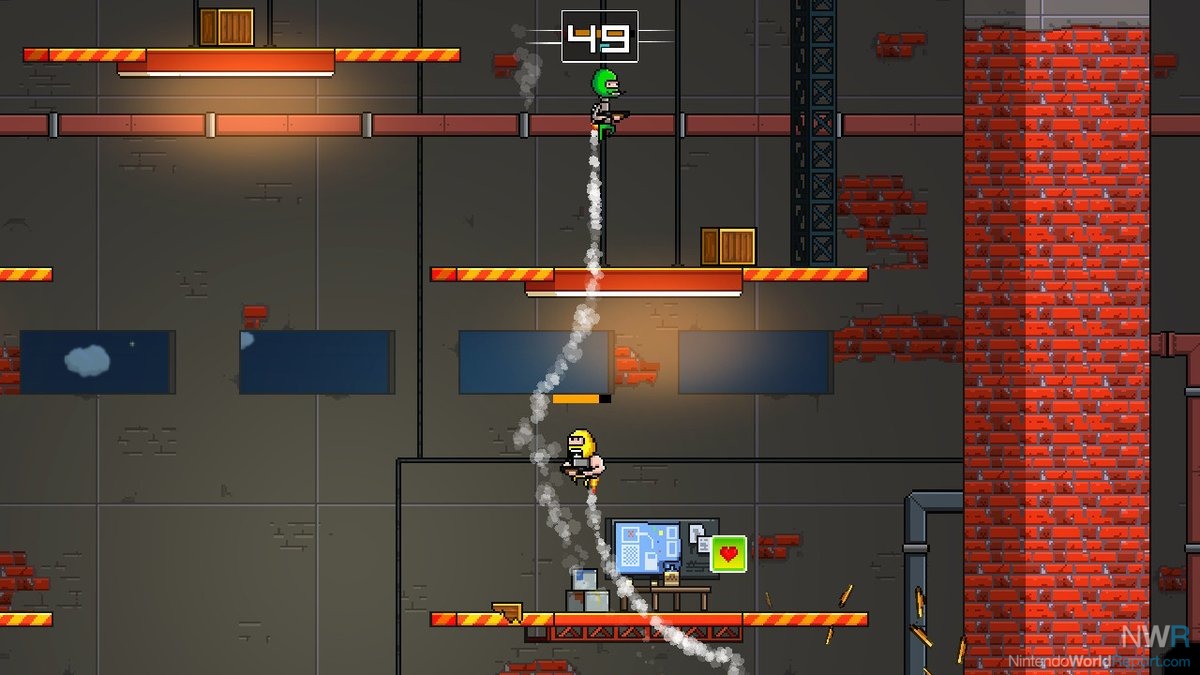 The story mode focuses on the main character, The Good Twin, and his criminal team's crazy adventures. They are a team of dysfunctional bandits that are never actually successful at stealing anything. This is your opportunity to learn the mechanics and unlock all the different characters, but the plot here is otherwise forgettable. I tried to keep my attention during the story segments, but it was difficult as it doesn't seem to add anything. I skipped over the dialogue as quickly as possible to get back to the fighting itself.
This is clearly designed as a multiplayer experience, but arcade mode is the ideal way to play on your own. You encounter seven enemies back-to-back going best of three on each. This is a stellar chance to master your defense against all the other characters' movesets. There is brief dialogue before each match, so you can still enjoy some fun moments between the characters without investing yourself in the full story mode.
There are eight characters total. Four are available from the start and four can be unlocked in story mode. Each character has their own set of special moves and stats that are listed on the character select screen. This makes it easy to see exactly what the abilities are without having to study up on the movesets ahead of time.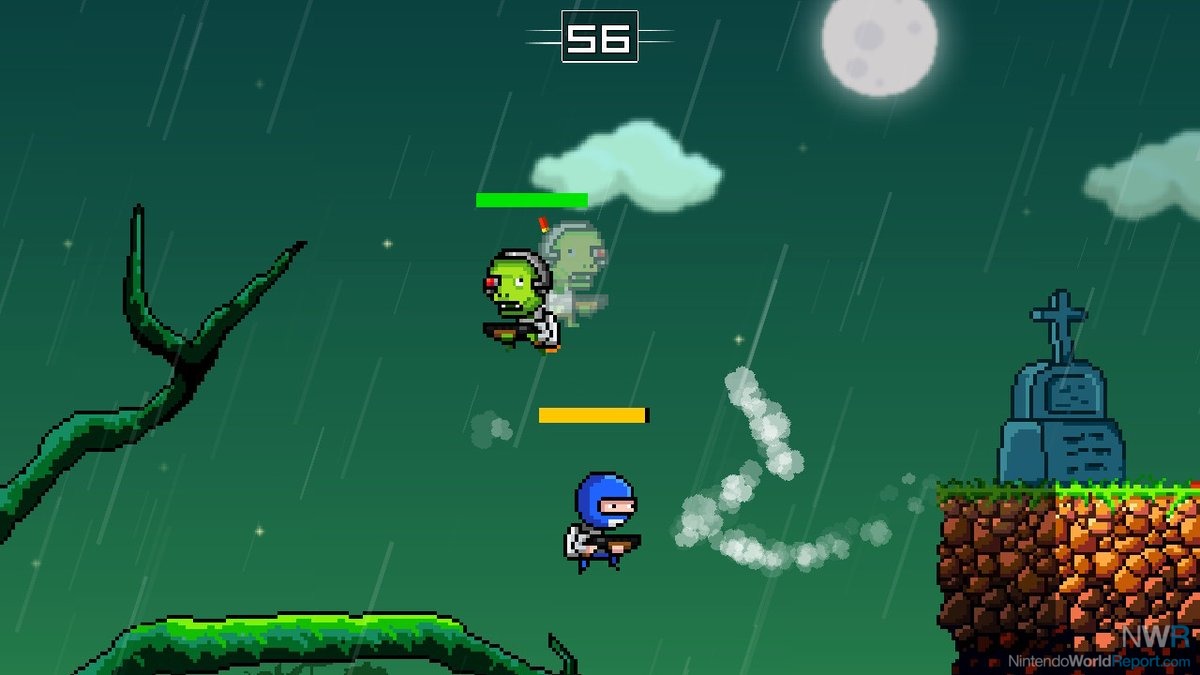 In this fighting game, all characters have a jetpack and the ability to fly. The gameplay doesn't stick in one part of the stage and instead has you going up and down constantly. It is simply a blast (pun intended) to fly around these stages. The only gripe I have with the combat is that the weapons have a short range. You have to be pretty close to your opponent to attack them. It would be even more fun to have weapons that could cover a longer distance and take advantage of the wide area of the stages.
Because the stages are large, they are best enjoyed with at least two players. Luckily, this game is very accessible for anyone that wants to jump in. This kind of game is perfect to kill some time with friends without worrying about spending hours on mastering different techniques. Overall, Super Rocket Shootout offers a frantic and fun fighting experience that anyone can pick up and play. With captivating visuals and simple yet fun gameplay, this is not one to glance over.