If you don't believe this game is worth your time, then I've got a grid to sell you.
Grid Mania is a puzzle game with a simple concept. Reminiscent of a Rubik's Cube, Grid Mania has the player slide colored orbs on a 2D plane so that the orbs line up with matching tiles on 4x4, up to 8x8, grids. The game starts out fairly basic with two red orbs and two blue orbs; these stages will take less than a minute to complete. Eventually, new colors and walls are added to the puzzles to up the ante, with later levels requiring 5-10 minutes to solve. You know what they say about games with small price tags: small value. But that might not be the case here.
The game contains 175 pre-made levels spread out over four modes. In Casual Puzzle, you have no limit on the number of moves or amount of time you take to slide all of the orbs on the grid to their respective colored tiles. The ironically named Quick Challenge restricts the number of moves you can make, but you can still take as long as you like on each level. Grid Madness plays like your typical match-three puzzle game where you connect three or more orbs to change the blank grid tiles to match the color of the orbs you connected. The goal here is to cover the entire blank grid in colored tiles. Chain reaction has you attempt to form a chain of all same-colored orbs on a single colored tile on the grid. For example, you might need to connect four blue orbs with one of them being on top of a blue tile and then doing the same with four red orbs.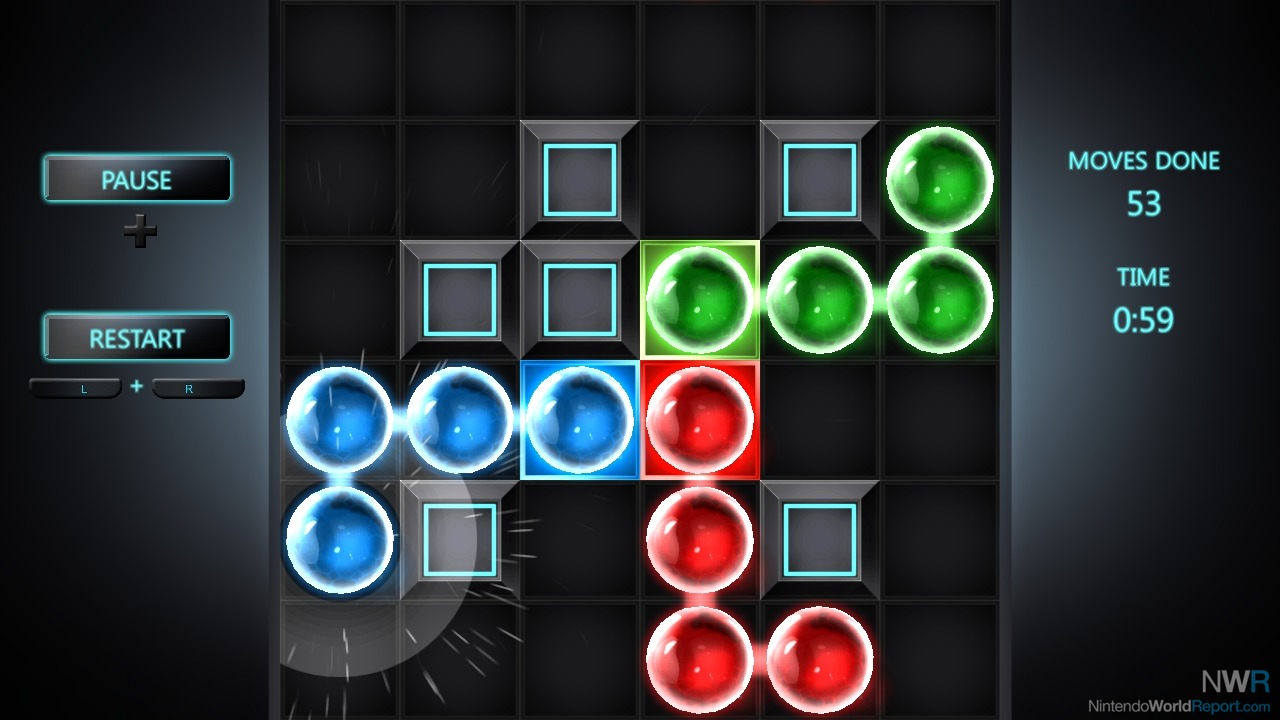 Playing the Casual Puzzle mode of Grid Mania reminds me of slide puzzles where you need to arrange numbers in order from 1-15 on a 4x4 grid (like the secret puzzle in Final Fantasy I). I've never been great at those, and I often just keep moving pieces around until everything fits. Quick Challenge, on the other hand, was my favorite mode in the game because the limited number of moves forces you to weigh every move. Some of the later Quick Challenge levels were very tricky and took a while to solve. With Grid Madness, there are no time or move limits and orbs repeatedly spawn, which makes this mode the most accessible, and even though at first glance it might appear quite easy, later stages require significant time and planning. Finally, Chain Reaction was my second favorite mode; for some reason, it reminded me of the Rare-developed NES classic (?) Snake Rattle n' Roll. I felt like this mode offered a little more freedom and flexibility than Casual Puzzle. A cool bonus that adds replay value to the whole package is that every mode except for Casual Puzzle also has a random puzzle generator.
If you are looking to scratch that puzzle itch or want a simple game that plays wonderfully in short bursts, take a look at Grid Mania. Switch is becoming home to games that either are or seem like they would be a great fit on mobile, and this trend is adding depth to the system's library. Grid Mania doesn't really do anything new, but it plays well, has some variety to its gameplay, and provides a solid challenge. "Mania" might be a little hyperbolic, so let's just say the game is "Grid Fun" for the whole family.