The visuals are only second to its timeless gameplay.
The game of Chess has been around for centuries and is readily available for anyone who has a smart phone free of charge. So one might ask why purchase Chess Ultra opposed to the many free alternatives available. Well for starters, you won't find a fully featured package with this degree of polish just anywhere and with a number of modes including challenges, historical matches, and online play; it has enough to keep even a Grandmaster occupied for hours on end. What's most impressive is that it accomplishes all this without alienating newcomers and novices by offering tutorials that help better learn the rules of this timeless classic.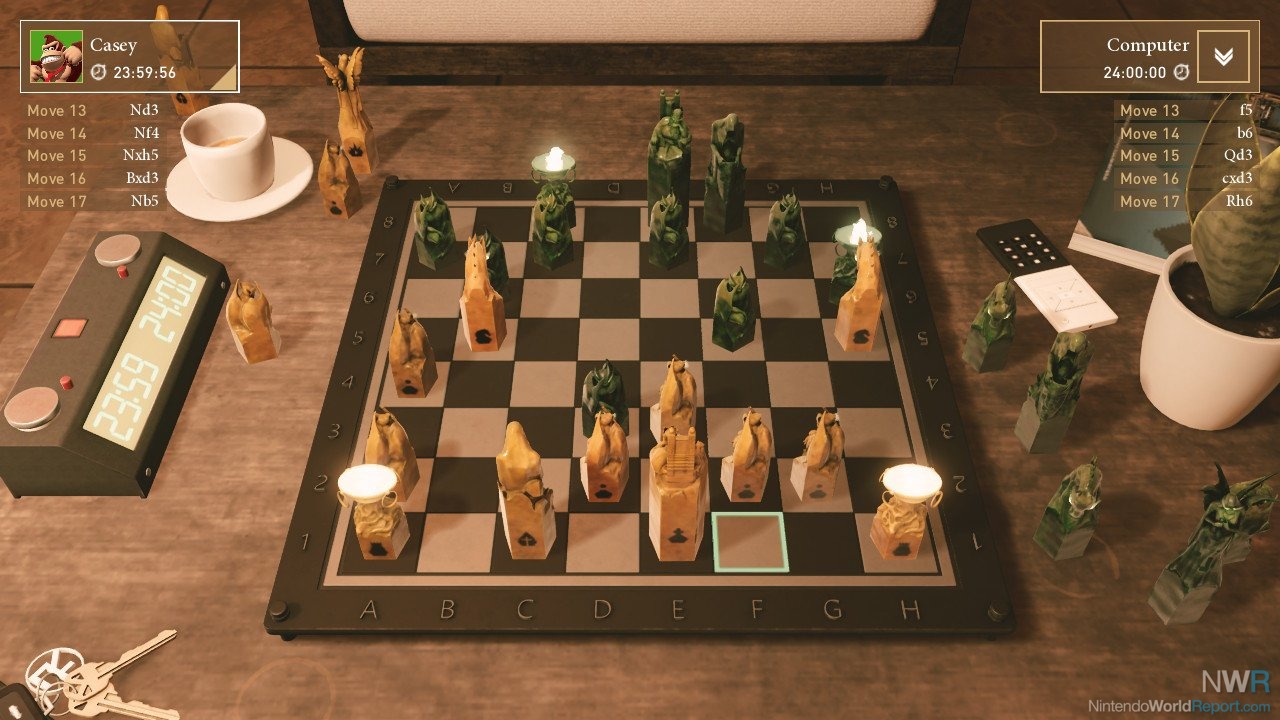 Behind the bells and whistles, the most important aspect of any Chess game always boils down to if the package presents an easy to use interface that's both fun to play while offering the purest form of the ageless game. Chess Ultra manages to accomplish that, in addition to providing a slew of extra modes, settings, and visuals that are second to none. When beginning a match you'll have the choice of five different game styles including no timer, standard timer, or even Blitz timer which limits you to only five minutes. Timers alter how you approach each match, especially with such harsh time limits as seen in Blitz, urging you to rely on instincts over a methodically planned out approach. However, what I appreciate the most about Chess Ultra is just how accessible it is for players of all skill levels. Whether you've never picked up a chess piece before in your life or have been playing the game for decades, there's a setting for you. Beginning at novice, there are nine difficulty settings to work your way up to Grandmaster. One thing to note, as you increase the difficulty, the computer starts to take longer to make moves as it's processing every possible outcome to see which is best. It's not so long to be an issue, but worth mentioning. The game also keeps track of your ELO rating, a method which is used for calculating relative skill levels in Chess.
For newcomers looking to brush up on their Chess prowess, the game offers tutorials ranging from movement of each piece to the more advanced strategies of opening, middlegame, and endgame. These are great for familiarizing yourself with the basics or for those looking to get a better understanding of advanced strategies. For something more demanding, there are challenges which task you with achieving checkmate in a certain number of turns. And what might be the coolest set of challenges are the Historic Matches. These put you in some of the greatest Chess matches of all time pinning you against legendary opponents. With over 80 challenges, there's enough to keep the most seasoned players busy for hours on end.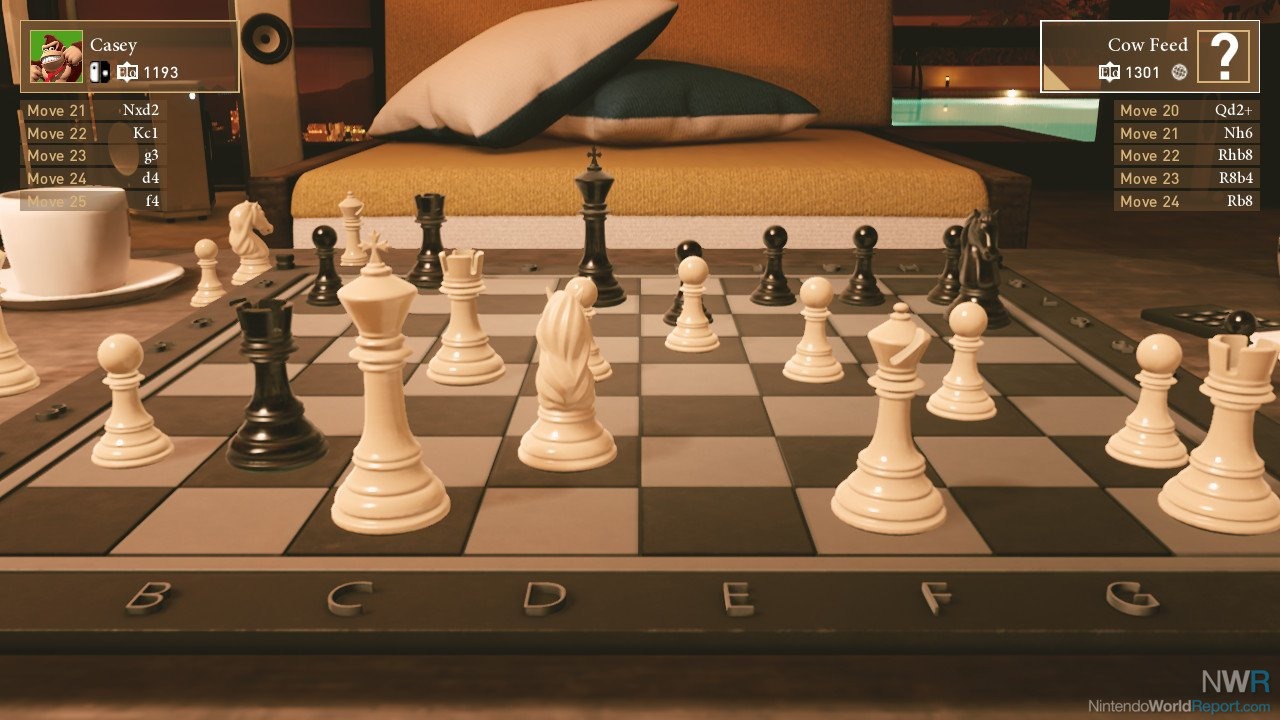 While supplying an ample amount of single player content, the most satisfying feeling comes from defeating another person. Fortunately with online play that's easier than ever, or excessively difficult depending on your skill level, something I found out first hand. Facing opponents online allows all the same setting choices as single player and even features cross-platform play, making it easy to find an opponent. Online matches work similar to how mobile games work, where you'll send your move and wait for the opposing player to make theirs. If your opponent isn't playing on their Switch, matches can take a long time, even days to complete. This is circumvented by having up to six active games at once, so you can easily jump between matches. This feels like the right move considering matches generally take a long time to complete and forcing someone to sit through an entire match could be a lot to ask. That doesn't change the fact I wish there was an option for a quick game that required each player to stay active until the match was over. Local play is another fantastic option, especially in tabletop mode. Put the Switch flat on the table, sitting across from one another to feel as if you're using a real Chess set. This works especially well with touch controls, but equally enjoyable with single Joy-Con play.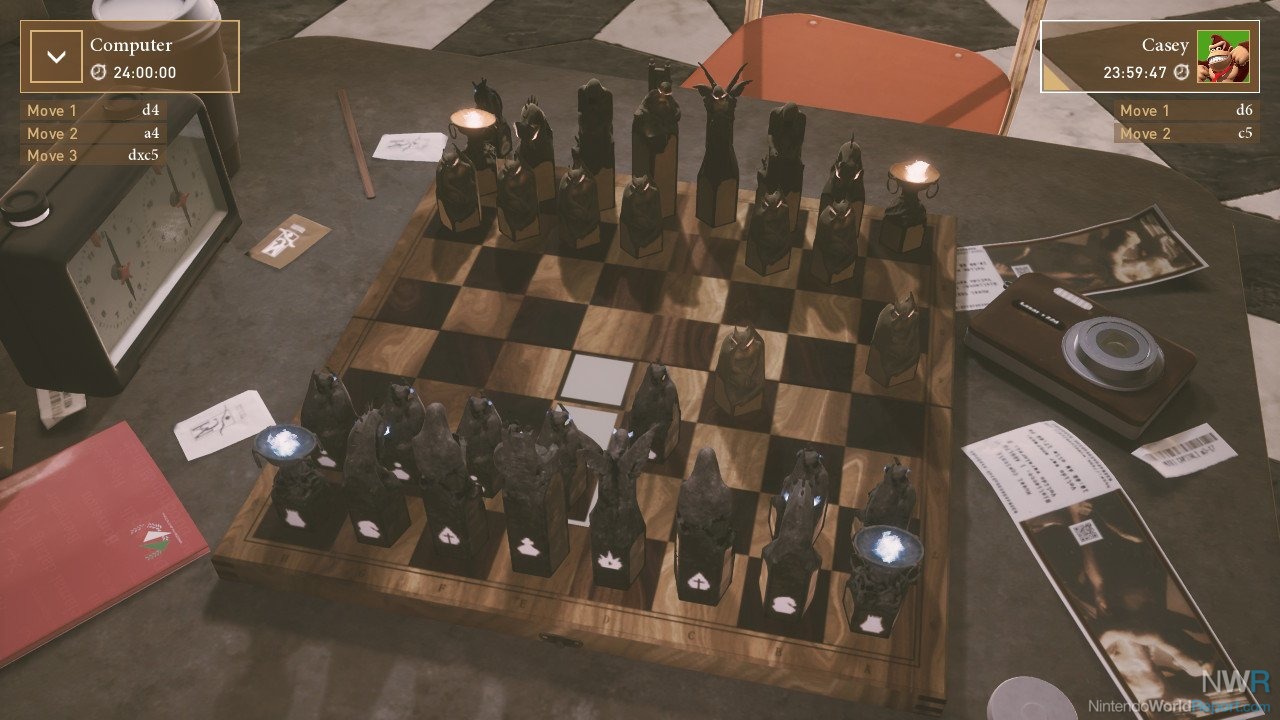 When it comes to visuals, Chess Ultra is easily the best looking Chess game I've ever played. It gives off a sense of elegance that pairs perfectly with the game. There are four distinct locations to choose from, four different sets of pieces, and each of those sets have a varying number of materials to choose from that change the appearance. This gives you a plethora of combinations to mess around with and helps give each match a distinct feel. While there plenty of options, not all of them are great. Some materials such as stripes on the Staunton set make it difficult to differentiate your pieces from your opponents as the game progresses and while I found the Fire & Brimstone pieces to look fantastic, they were more difficult to play with than the other sets.
Chess Ultra makes a terrific first impression with its strong visual presentation and continues to dazzle throughout. What resonated with me the most was just how accessible it is to players of all skill levels. For newcomers, tutorials and novice level computers help to ease you into the game. And for veterans, challenge modes and difficulty up to Grandmaster will certainly be a test of your skill. While I found some set pieces to be unusable and wish there was an online option for a continuous game, these were merely minor complaints in an otherwise outstanding offering from developer Ripstone.