Germany's number one video game is on the Switch. Hope they don't milk it!
Farming Simulator is a franchise I have a love/hate relationship with. As a lad who grew up on a farm, the whole concept behind it intrigues me. You sit on a variety of farm vehicles and instruments, work on the land, and build your own empire. That being said, the times I dabbled with it weren't too fun. I've played multiple versions on the Nintendo 3DS, which were honestly a bit underwhelming. That being said, I've always been willing to give the true experience a chance. This day finally arrived in the form of Farming Simulator - Nintendo Switch Edition. Depending on what you are looking for, you might have a gigantic timesink in your hands.
The positive thing about Farming Simulator 17, which this version is based on, is that it leaves the end goal up to you. Farming, as a term, is a rather broad one and the gameplay does a remarkable job of letting you explore all of the possibilities. You can work on the lands, take care of animals, or chop down some trees for cash. To the exclusion of other elements, you can just focus on whatever you want. Eventually I found myself trying everything, just because this game becomes an investment once you get going. I wanted my own little company to succeed and took every page out of the book to get there.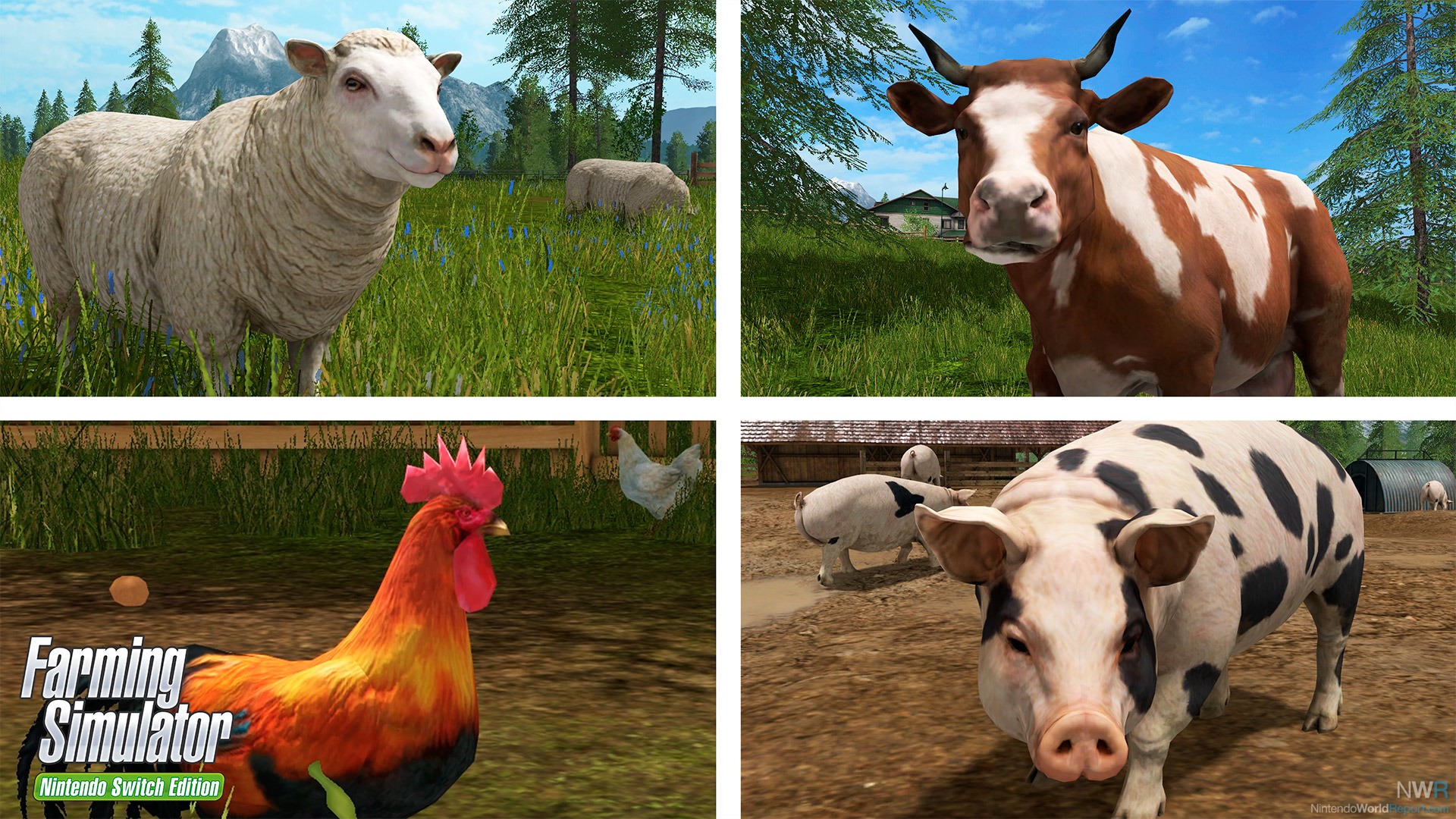 Every piece of busy work has well thought-out systems, which can be understood within minutes. You get a tool, learn how to use it and get ready for a new step in the process. In-depth tutorials are available if you lack the confidence in farming tools, giving the whys and wherefores for each tasks. Veterans can easily ignore it, but it soon became necessary even with my previous experience with the series because the button choices here are a little weird. It's a very busy game, and the minutia was hard to properly get a grasp on, so I wound up relying on the help function, which adds on-screen prompts and overlays for button presses.
As you get accustomed to the daily routine, the reality that farming is constant and regularly unchanging sets in. The work side of it doesn't change much. You are basically doing the same tasks over and over until new gameplay options come along. The majority of the experience relies on repeating the same task, often for more than 30 minutes at a clip. Some tasks are better than others, with hour-long tractor rides being the biggest slog. In these, you are just carrying something to a different location and it drags on forever. Sure, I think that there is something relaxing about these tasks, but it is for a niche audience that appreciates the realism.
Where I got the most bang out of my journey was building up my farming empire. Once I had funds, I would let workers do all the tasks that bothered me. My job was getting the materials they needed to do theirs. Once you get in that mindset, the more engaging elements start to shine. Do you want to buy gear on the cheap and let work drag on for more loan, or is it better to be efficient? You can potentially get more done right away, but you risk more if you do that right away. The micro-managing aspects started to become a fun, core element.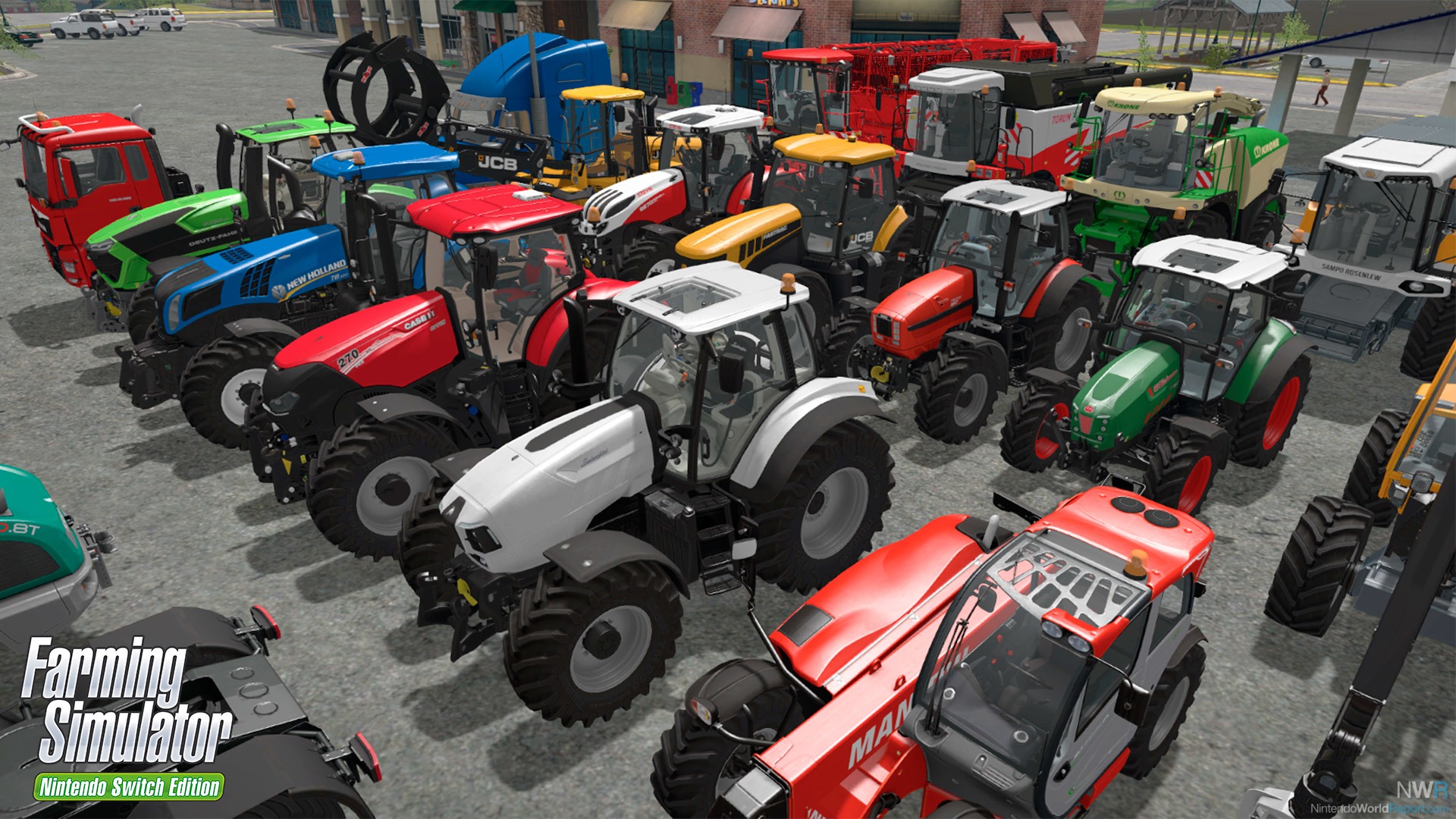 Farming Simulator is focused on letting you make strategically sound decisions and choosing your way to the top. With the time you put aside, you can help other farmers for even more cash. Once that cash starts rolling, you can decide on purchasing new pieces of land and put workers on those. Slowly but steadily, the entire map becomes your farming playground, with you running the whole show. Management becomes tough as your empire expands, particularly with employees having a will of their own, but that is the challenge in it. If you rather prefer zero challenge however, you can lower the difficulty and just continue printing money to no end.
Visually, Farming Simulator looks fine. The details on the machinery and materials is great and you can see that this is where the effort went. The environments, on the other hand, don't look that hot. It is quite rich on greens, but it lacks something grander and comes off as plain. The fields are boring to look at. The rest of the presentation is fine, and the sound design helps add a pleasant realistic feel.
Farming Simulator - Nintendo Switch Edition does exactly what it sets out to do: The franchise makes a solid splash on the system with the benefits of last year's release. The vast amount of tasks and pure variety in how you can farm is staggering. The tasks rely on realism, which makes them a little slower-paced and decidedly not for everyone. Personally, I found managing my farm the most engaging. It sees you buying materials, employing workers, and constantly expanding your empire. You won't get there on the short term, but it makes the journey worth it in the end.