This adventure asks for a lady's touch, but can Kat set up a new world?
A week and a half ago, I wrote about Layton's Mystery Journey and how I felt about it. Sadly, and quite frankly, my tone on the game hasn't really changed. Naturally, there are various reasons for this, but the big one is clear. The new entry in a beloved series feels like a serious step down, even though there are plenty of things to like. Katrielle and the Millionaires' Conspiracy does its best to pull off an impressive feat, but it leaves some corner stones to accomplish just that.
In the Millionaires' Conspiracy, you play as Katrielle, the daughter of the famous Professor Layton, who follows her in her father's footsteps and starts her own detective agency. She wants to solve some grand mysteries and hopes to find engaging investigative work. Sadly, the reality of the situation is that you tackle much simpler cases with various levels of intrigue. This sees you finding an arm of Big Ben as well as tackling a mysterious murder at the Thames. Nothing was honestly bad, but that is mostly due to the entertaining characters that you meet.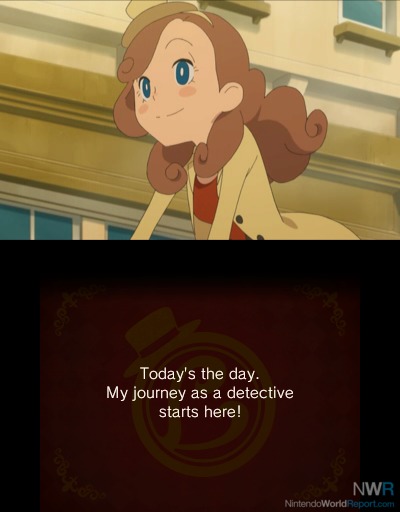 The larger story here, however, was underwhelming. At the outset, you get dropped into a mystery from previous entries. An over-arching plot is sorely lacking in Mystery Journey and cheapens the drive to see it through. As you inch closer to the end, there are elements that become interesting, but then it decides to just throw its hands up into the air. Sure, you want to leave room for a future, but the conclusion came out of left field.
Gameplay wise, it feels a lot like the original games. In each of the cases you will travel to interesting locations and interact with your magnifying glass on the bottom screen. You will search for clues, examine certain objects and hop into conversations with the characters on screen. By using these methods, you collect all of the available information and hopefully a solution. Information is tracked in your bag, so you can keep yourself in check. Once you receive a certain number of important clues, Katrielle will put everything together for the reveal. It is quite satisfying to investigate clues and find solutions to some unexpected problems. The other side of Layton games are the puzzles, which have been a staple since day one. While they certainly offer a challenge here, I do think that they are less difficult overall. A solution wasn't all that hard to accomplish, particularly if you know how the Layton titles operate. Some of the answers were plainly obvious, which I didn't expect. The puzzles that required you to fill in a number were really the easiest to overcome. Other puzzles grow more difficult as you progress, so there is still a decent difficulty curve.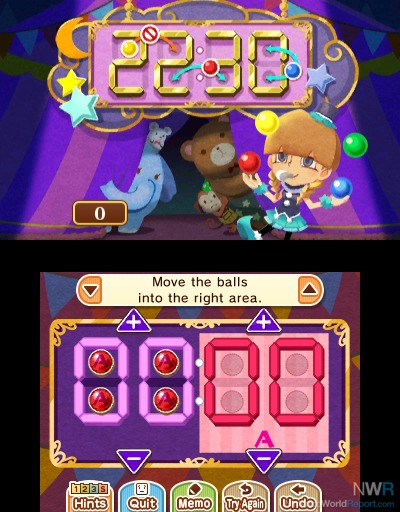 Outside of following the story, there is a lot to uncover by going back to cases you've already completed. There is a good chance that you missed a puzzle, not interacted with certain characters or simply didn't find every collectible. This option offers more than the previous games with fresh content being added. It gives you a reason to return to a world that you slowly and steadily will start to love. For the completionist, these quality of life improvements make the world feel a lot more alive and that makes me happy. As you reach certain points in a game, three fun mini-games will open up. These will see you making meals, selling goods and help Sherl (the dog) escape from a maze.
As far as the presentation of Layton's Mystery Journey is concerned, it's as colorful as I remember the previous games being. The 2D environmental work remains impressive and fun to explore. That being said, there are less engaging elements than in the previous games, which is a slight bummer. The last couple of entries added layer upon layer of scenery, ensuring that there was plenty to uncover. The feeling you are left with here is one-dimensional. That feeling is enhanced by the game only running in 2D. But it does run well on the 3DS, and the music is just as fantastic as ever with the opening tune really setting the tone for a lighter journey.
Overall though, I enjoyed my time with Layton's Mystery Journey. The puzzles and investigative work are enjoyable as usual, but that special sauce from previous Layton titles has been left out. The stage for a grander mystery is nowhere to be seen and the game stumbles to find its identity. That being said, the scenes found here are highly replayable and offer additional content if you decide to return. All of this results in a game that can be picked by anyone, but Layton's fans will need time to adapt.