Thrown out on the Switch like a nimcompoop.
Baseball simulations outside of the PlayStation exclusive MLB The Show games have had a tough time gaining traction for over a decade. 2K Sports held the exclusive third-party license for several years and despite throwing millions in marketing behind it – literally, in the case of their annual reward to the first recorded perfect game each year – they eventually dropped it. Major League Baseball had to step in and began publishing their own multiplatform games using the classic R.B.I. Baseball name from the NES era. Sadly, this September call-up to the Switch probably should have gone to the Arizona Fall League instead.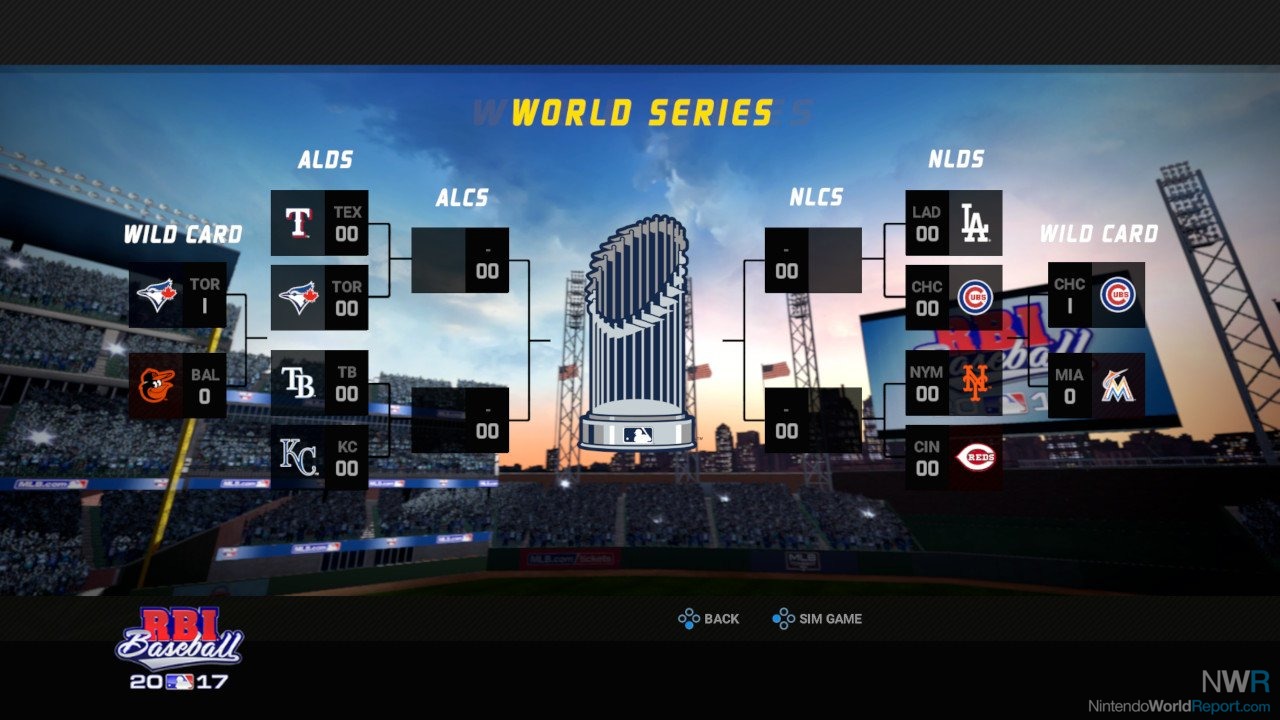 All of the major league teams and players are available, as well as their home stadiums, which are mostly accurate to the real venues. Small things about the stadiums bug me, like the scoreboards displaying generic scores even during the postseason mode when there should be at most three scores on the board. The players are modeled well, though my non-fan roommate did ask me during a game why the fans looked like cardboard cutouts and I didn't really have an answer for it. This game has no commentary; just umpire calls and brief music stings that eventually fade into the background. The six-second sting that plays in between half-innings isn't bad, however.
A few different control options are available, with "classic" and "modern" sets. In both cases, pitching and hitting handle mostly the same, but more complicated functions, like baserunning and fielding, differ. I found the modern controls were simple enough to grasp after a fashion, though I did leave control of fielders in the hands of the AI, which did a pretty good job. The hardest part is getting the rhythm of hitting down, and it took a few days before I could average more than a run a game in postseason mode. I definitely had my fill of one of the Three True Outcomes of baseball – the strikeout.
Since this is a late arrival on the Switch, the out-of–the-box rosters are woefully out of date. On first boot, the starting left fielder for the Toronto Blue Jays was released by the club during spring training and was forced to live on as half of baseball's greatest meme. Luckily, R.B.I. offered a full roster update that immediately brought things current for better or worse (In the case of the Jays, definitely worse). The current rosters can be modified as players currently on disabled lists can be brought back, but no option exists for a franchise mode or even to make trades. This can be explained by the actual sport locking down rosters on September 1, but it does hurt the replay value of the game when all you can do is single games, marathon season modes, or the postseason mode, which is at most 20 games. The only variation comes in your roster size, as you can have either a full 25-man roster or a "retro" roster of 16 players. Even that option only limits your bullpen and shrinks the number of pinch hitters available, which makes things much harder for half of the teams in the game.
In general, R.B.I. Baseball simply has no frills, and even some things that made me mildly irritated and ready to drop the game. During the review period, I saw the game "crash to desktop" (throw up an unexpected error and only let me return to the Switch home screen) four times, with no explanation or provocation so I could try and recreate it. The static scoreboards were a mild irritant, as well as the craziness of a game published by Major League Baseball not understanding the sport's own scoring rules. During a game, a player was charged for an at-bat after hitting a sacrifice fly to score a run, which isn't how official scoring is supposed to work for that play. It'd be like giving two points for a field goal in a NFL game – it's not an ideal play already, don't make it worse statistically for the player who did it. There aren't even celebrations for major accomplishments like winning the league championship or hitting a home run to win a postseason game.
R.B.I. Baseball 2017 is the sacrifice bunt of the Switch. It has a purpose in theory and might have been acceptable in its current form several years ago, but more efficient ways are on the way to get a sports fix. And with Baseball Stars 2 hopefully coming from Hamster and the fingers-crossed dream of mine that Super Mega Baseball 2 will touch 'em all including the Switch, we won't be lacking for smart baseball options. In a simulation game, I'd at least like to bring Youppi back to a baseball stadium, but that'll have to wait 'til next year.