Mixing bold additions with tried-and-true gameplay helps make Samus' return a very notable one.
Metroid: Samus Returns has a lot riding on it. Right off the bat, this 3DS game holds the distinction of being the first 2D Metroid from Nintendo since 2004. Second off, the development team is one with multiple things to prove, as Nintendo newcomer MercurySteam is seeking to prove their worth after Castlevania: Lords of Shadow, and Yoshio Sakamoto and his team at Nintendo are setting out to recover from the fallout of the 2010 Wii release Metroid: Other M. Samus Returns, a remake of the 1991 Game Boy game Metroid II: Return of Samus, has big shoes to fill, and fortunately, it expertly fills all of these giant Metroid-shaped shoes and then some. Metroid: Samus Returns is a brilliant entry in a beloved series that brings together the fuzzy nostalgia of old Metroid games while clawing repeatedly at a bright new future that will hopefully come to fruition.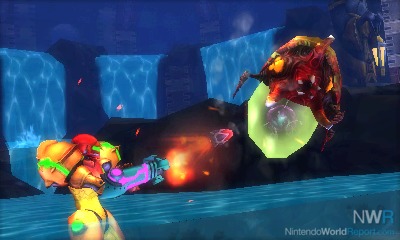 Samus Returns is less a remake and more a complete reimagining of the second Metroid game. Retaining just the broad strokes of Metroid II's monochromatic origins, it takes you through the same journey through Planet SR388 to eradicate all of the Metroids on their home planet. Outside of that basic structure and general planetary layout, this is, however, a brand new game. New power-ups, primarily from other entries in the series, appear and the world is littered with oodles of new secrets. Unlike the series' previous remake Metroid: Zero Mission, this doesn't hew as close to the original work, which works to the new version's advantage. The new labyrinthine take on SR388 is a large part of why Samus Returns is so good, but the freshly added mechanics are key to why this feels like such an important step forward for 2D Metroid.
Combat gets a major and much needed shot in the arm. The new melee counter ability, which lets Samus deftly knock away and stun an enemy with a well-timed button press, is integral to success, especially early on. This simple addition transforms Metroid into a more close-encounter-focused experience, where you are far more encouraged to get up close and personal with enemies as opposed to keeping distance with long-range attacks. While some of that magic wears off as you get deeper into SR388 and get familiar power-ups that boost Samus' weaponry to her regular late-game world-wrecking potential, the introduction of the melee counter is one of the best elements of Samus Returns. Melee countering does appear to be maybe too much of the focus early on, but as the adventure continues and your arsenal grows, it soon becomes just one of many helpful abilities you can call on when needed. A lot of boss fights do build to waiting for the melee counter opening, but it's more just one method you can defeat the hordes of Metroid you face off against than the one true path of victory.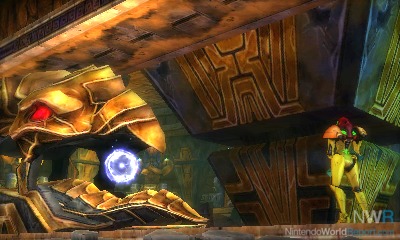 Aeion abilities are another major new addition and for better or worse, this is the only place where truly brand new power-ups are found in this remake. These four abilities, slowly found throughout the first few areas, provide a helpful boost in a way that is reminiscent of Nintendo's old Super Guide concept. Scan Pulse reveals map tiles and hidden blocks nearby you, which is helpful if you're stuck or looking for that last power-up in an area. Lightning Armor provides another layer of defense, especially useful for challenging bosses and volatile areas. Beam Burst is a super powerful rapid-fire gun attack that can take down virtually any enemy. Phase Drift slows downs time, which opens up the possibility for some interesting later game puzzles that require the use of this power. Each one is tied to the new Aeion meter, which can be expanded with hidden power-ups. Some might lament the addition of these challenging-reducing power-ups, but they actually help make Samus Returns more difficult by default. Unlike more recent Metroid games, this rarely tells you where to go next, letting you explore and get lost in the cavernous world.
Outside of the new touches, the game just feels like Metroid, mixing together a lot of the series history into this remake. Power-ups not found in Metroid II originally show up here, letting you use the Grapple Beam, Charge Beam, and Super Missiles to add to the complexity of the maze-like world. While it's a little bit disappointing that no new-to-the-series power-ups show up outside of the Aeion abilities, it's nothing that holds back the majesty of this adventure. The journey to eradicate the Metroid takes more twists and turns this time around, with added bosses and sections.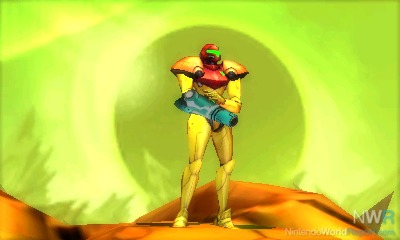 It took me a shockingly long amount of time to complete my first runthrough. I rolled credits at about the 13-hour mark with 75% completion, which didn't include the time spent dying on some tricky late-game foes. Returning to the game, even after you beat it, for 100% item completion is made significantly more engaging and fun thanks to the well-placed warp statues in each area. You still need to backtrack, but a lot of the monotony of it is excised. The warp addition is another astute modern tweak made by Nintendo and MercurySteam. Potentially helpful is the notation feature, but the small map on the touch screen makes it hard to mark anything too specific (I'm even using an XL model!). Additionally, pulling out the stylus to try to mark anything down often slowed down the game far too much for my liking. It's a nice option to have, but it's just clumsy in practice.
After beating the game once comes Hard Mode, which, well, is a lot harder. Enemies do more damage and the game is far more punishing. If you own Metroid series amiibo, including the pair of brand new ones coming out on the same day as this game, you can unlock other bonuses. With the new Metroid amiibo, you can unlock Fusion Mode, which is a slightly more difficult hard mode that lets you play wearing Samus' suit from Metroid Fusion. The other Samus amiibo unlock bonus energy, missile, and Aeion tanks during play as well as art galleries and a sound test after completion. If you don't have access to the amiibo, you're only missing out on some superfluous options. Unless you're the type to replay through games on their hardest difficulties, the amiibo usage is ultimately just a nice bonus.
Going into Metroid: Samus Returns, I was hopeful and optimistic. But given the past decade of Metroid, it was hard to not be a skeptic. After beating Metroid: Samus Returns, my skepticism washed away, mostly thanks to the fact that this 3DS game pays a loving homage to the greatness of past entries while adding enough new elements to feel like a fresh and wonderful modern experience. With their powers combined, Nintendo and MercurySteam basically struck gold with this game. Samus Returns is a dynamite entry in the fabled series and deserves to be mentioned in the same breath as Metroid: Zero Mission and Super Metroid. If you've been waiting for a new 2D Metroid game from Nintendo for more than a decade, you owe it to yourself to play this game.