Unlimited wiggle.
3DS owners who adore challenging 2D platformers, rejoice! Developer Atooi (who had a hand in crafting other, fantastic 3DS platformers) has brought forth a brand new adventure starring an unlikely duo, a chicken and a worm. By combining tight jumping mechanics with creative level design and a fully decked out level editor, Chicken Wiggle stands out in an eShop crowded with other games in its genre.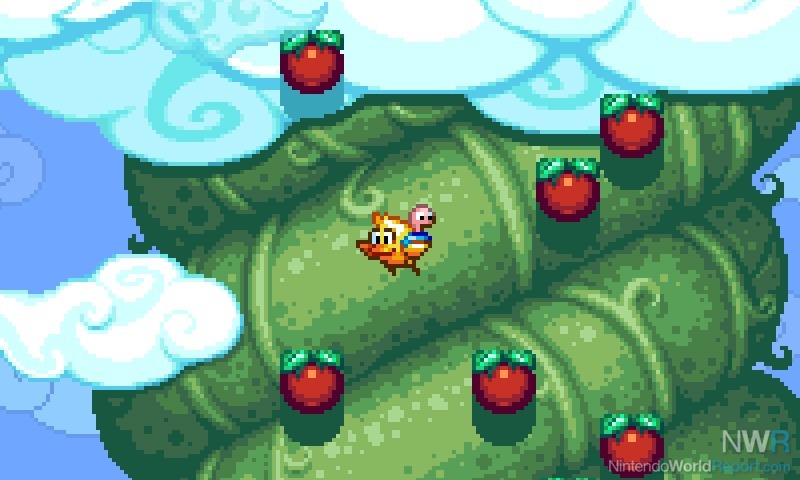 There's a problem in the world of Chicken Wiggle. An evil witch has captured a bag full of chicks, and taken them to the very top of a beanstalk-like tower. Luckily, one of the chicks manages to escape, and teams up with a sticky little worm in order to rescue his friends as they make their way to the top. The story isn't very deep, but that's pretty standard for the genre. And what Chicken Wiggle lacks in context, it more than makes up for that with the amount of content available.
There are eight worlds in Chicken Wiggle's campaign, each with six levels. There's an impressive amount of variety on display here, as each level introduces a new take on simple gameplay mechanics. The heroes' repertoire of moves is pretty basic; you can jump, peck nearby enemies or blocks, and use the worm's stickiness to reach far-away platforms and walls. Some levels give the player access to power-ups, like the ability to fly or jump further than normal, and most of them create new, more challenging situations for players to overcome. The best 2D platformers introduce the player to new mechanics by letting them jump right in and experiment, and Chicken Wiggle does just that. There's no handholding here, just smart, intuitive level design that veterans of the genre will appreciate. My only complaint lies with the inconsistent difficulty, with one level being the cause of a dozen deaths while the very next one felt like a cakewalk.
It's unlikely that you'll ever be found wanting for new content in Chicken Wiggle. The inclusion of a level editor, and the ability to share levels, means that there's the potential for unlimited levels at your fingertips. The editor itself is simple enough to use, employing a grid-based drawing system on the 3DS's bottom screen similar to Super Mario Maker. I appreciate a level editor that isn't afraid to give players access to everything in the game, and Chicken Wiggle's rises to that challenge. Every enemy, power up, environment, and block from the main campaign is usable, and I can't wait to see what talented players do with them. The one drawback for me was that the 3DS's screen is a bit on the small side, which can make getting a big-picture look at your stage a little difficult.
Chicken Wiggle is an intuitively-designed, tightly-controlled 2D platformer that has the potential for an unlimited amount of content. 3DS owners that pick this game up are getting a great value, despite a few minor issues that I had with the game. Atooi has once again crafted a fine, challenging platformer that is easy to recommend to any fan of the genre.