Cooking is more stressful and fun than ever in this intense local multiplayer game.
While Overcooked is, on the surface, a frantic multiplayer game about cooking, it's mostly an amusing exercise in stress management. The core is focused around completing menial cooking tasks as quickly and efficiently as possible as a clock ticks down, leading to harried shouts in the ideal local multiplayer environment. No task in the many varied stages of Overcooked is particularly hard, but the combination of them all together creates an overwrought symphony of cooking insanity.
Multiplayer is the heart and soul, as you can have up to four cooks in the kitchen (locally only), juggling tasks and cooperating to make meals expediently. All of the moment-to-moment gameplay is reminiscent of the countless cooking games out in the ether. Chopping up vegetables, grilling meat, and packaging up meals on a plate are regular occurrences. The action is smartly done with minimal buttons, making it ideal for single Joy-Con multiplayer (though all combinations of controllers can be used). Movement is done with the analog stick and three buttons are used for action, picking up, and sprinting. The simplicity is brilliant, making Overcooked nice and easy to pick up and play.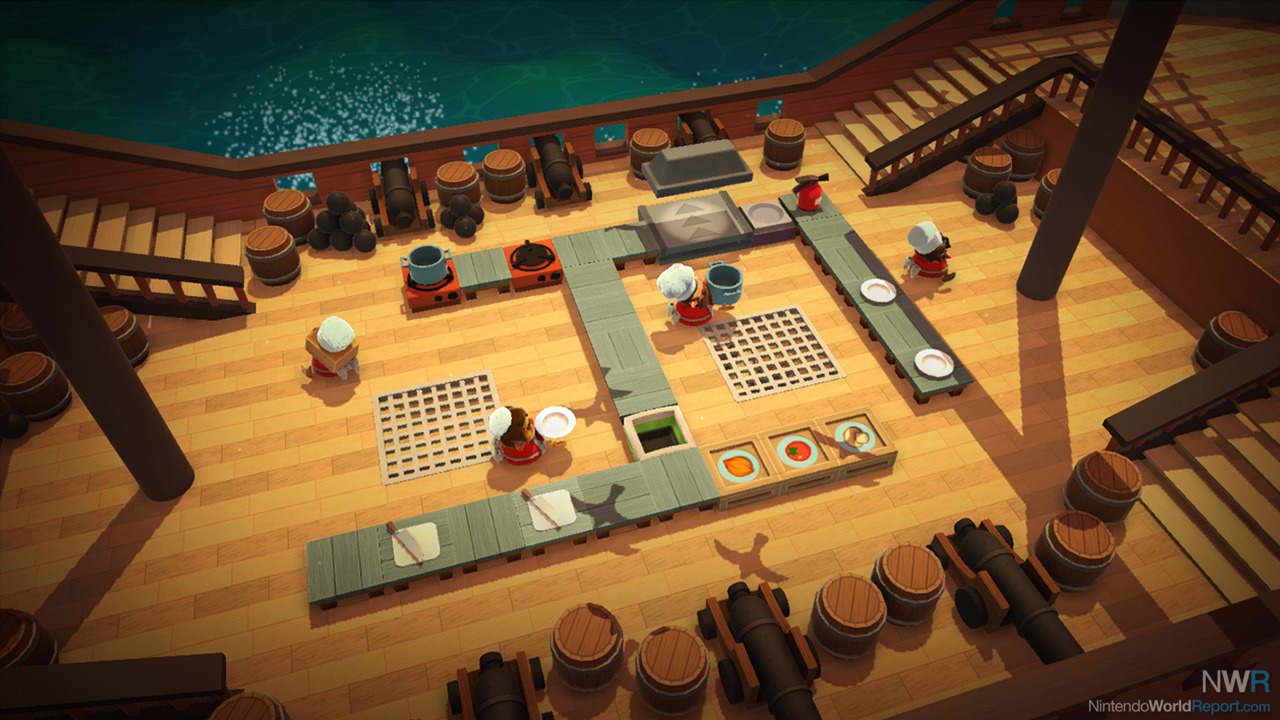 But the stress creeps back up as you play, especially as you get into the deeper, more insane level setups. After some normal kitchens, you soon have to contend with ships that have elements that tilt from one side to the other and vehicular kitchens that move apart from each other at different intervals. The levels are all extremely clever and unique, but also singularly maddening in their own special way. It was honestly kind of hard to get people to play the multiplayer for long stretches of time with me because it's such an anxious experience. When everything clicks, it's a blast, but this isn't quite the party game I anticipated. Your multiplayer friends need to be committed to figuring out the wiles of Overcooked for the long haul.
Initially, I thought the single-player was weak. It was the first mode I tried and it just seemed like a disappointing The Legend of Zelda: Tri Force Heroes dilemma where the single-player felt arduous and restrictive. After revisiting the single-player after time in multiplayer, I found much more joy. You control two chefs that you can switch between at the press of a button. Other than that, it plays out the same, but the stress is way more panicky as you have to juggle the two in tandem. As the complexity increased, playing solo became far more strategic and engrossing as I'd try to plan out the best way to use my two chefs. The single-player made a bad first impression but surprised me with how well it translates the feelings of multiplayer. On the whole, Overcooked is much harder all alone, but it's still beatable all by your lonesome. Just maybe don't expect to perfect each level.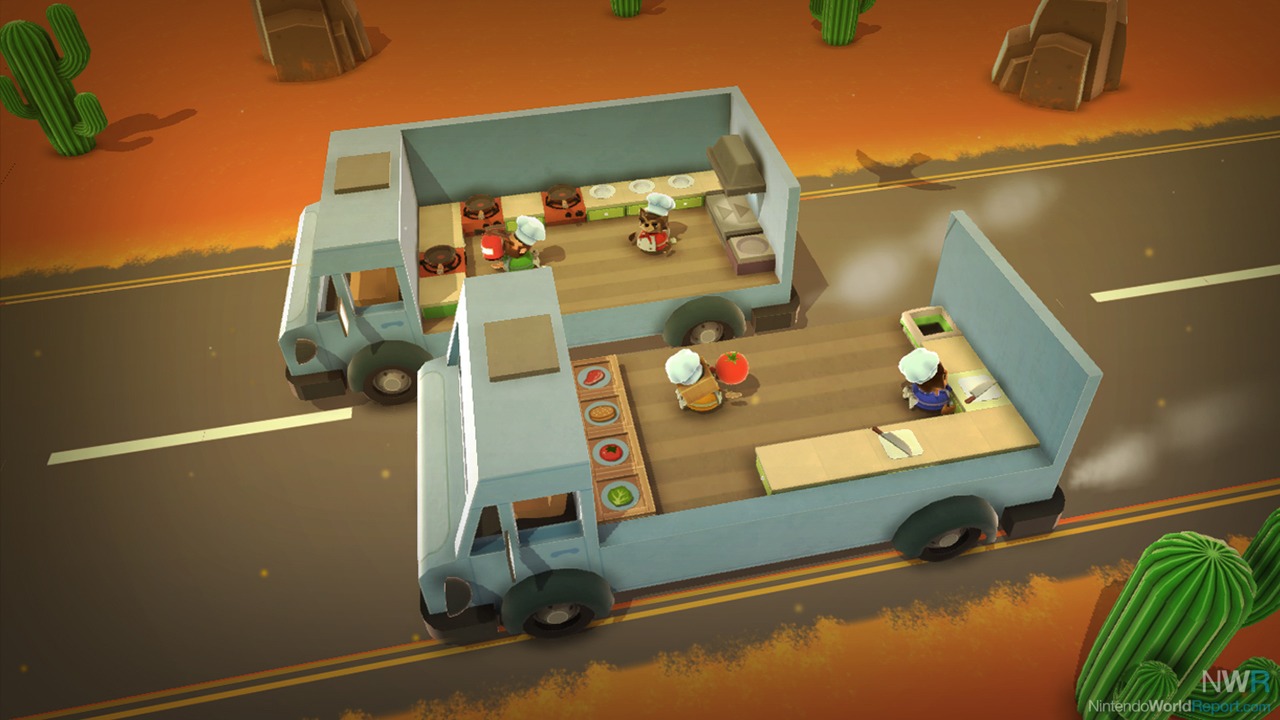 Aside from the ease of multiplayer, the Switch version also features HD rumble support, which actually helps out tremendously in single-player as it lets you know when the other chef is done their task. This version also contains two DLC packs, Festive Seasoning and The Lost Morsel, that add new levels and chefs. Unfortunately, Overcooked runs at a lower (but consistent and stable) framerate on the system. As someone who hasn't played it on other systems before, it didn't bother me in the slightest, but after comparing the Switch version to other ones, it is noticeable.
Overcooked's success is based primarily in its varied take on a simple concept. In every stage, the goal is to just make meals, but clever, nigh-endless obstacles and twists complicate things, forcing new strategies and tactics to be tested and used. Up until the bitter end, the diversity of levels and concepts is glorious. The fast-paced cooking might get stressful, but that also makes success all the more tasty. If you can find the right team of cooks and overlook a lower framerate, Overcooked on Switch is glorious.