At least the protagonist has an excellent name.
River City: Knights of Justice is totally another River City beat-em-up. I know – you looked at the trailer and a couple screenshots and saw things like an MP bar and various JRPG environments, but trust me. It's not a JRPG, there's pretty much no leveling to speak of, and you're still beating up on delinquent fools River City Ransom-style.
The most notable difference between this game and other River City titles is that you're not fighting in a modern city. Instead, you're a knight (named Alexander!) in a medieval time at a medieval place tasked with going on a JRPG-style medieval quest to banish evil and save the land. You're given a world map and town structure that evokes Zelda II ever so slightly.
There's about 100 quests to complete that you get over the course of the game, all of which involve fetching items, beating enemies, or progressing the main plot through doing one of those two things. That's one of my biggest problems with the game: the side quests are so full of item fetching that they lack any satisfying element to speak of.
The new setting means that you aren't just fighting thugs anymore. Knights of Justice has the most enemy diversity in the whole series, with foes ranging from bandits to monsters and even dragons. You fight them with your own rotating party that you recruit over the course of the game – an aspect I really enjoyed.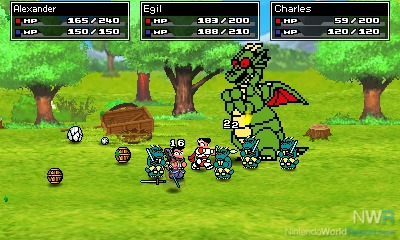 But wait, there's more! The new fantasy setting grants new magical abilities, like a staff that shoot electricity and another that allows you to clone yourself. The twists on Kunio gameplay are by far the best parts of Knights of Justice. Don't worry though; you can still make bad guys barf via baseball bat.
For the most part, the JRPG styling is a fresh and welcome shift for the series. I love fighting monsters as a River City hero, and I like being in the world. The dialogue can be pretty funny too, as it mixes JRPG tropes and Japanese delinquency tropes to a positive effect. Unfortunately, there's way too much story for the generic, trope-y quality of the writing, and I became bored with the narrative within an hour of playing.
Knights of Justice is extremely easy; 90% of your time in combat is going to involve going up to an enemy, pressing A until it dies, and then repeating until the credits roll. I like easy, cathartic games, but ease turns to boredom when a significant chunk of time is also spent clicking through weak dialogue and traversing through town at a snail's pace. This is all compounded by the fact that there's very little RPG-style progression to speak of. You do quests to get money to buy weapons to defeat enemies. That's mostly it.
River City: Knights of Justice is a game that tries a lot of new things and succeeds at few of them. Despite some clever ideas and a bolder approach to combat, the lack of progression, difficulty, and an engaging plot prevents this River City game from reaching its potential.