We return to Castleton for more missions and banter with Mickey.
When the original Disney Magical World came out, I initially shrugged it off. It seemed like a fun and simple game for a wider audience that needed more colorful characters. I eventually played the title, and was surprised by how fun some of the elements were. The game had a lot of neat missions to play, and the world maintained a lot of character and charm. That being said, I found the opening moments rather dull as Disney Magical World was figuring out its next steps. There were also technical problems that I really couldn't overlook, which is where I would expect Bandai Namco to be better. How does the second game stack up? Weirdly similar, actually.
Now we aren't saying that this a carbon copy of the original, but the positives and negatives are comparable. Just like the original, you will be entering the world of Castleton as a new citizen. You will be meeting new friends including Disney all-stars like Mickey Mouse and Goofy, and helping them with their daily lives. The basic set of characters return, but the environments have seen a major overhaul. There is a lot more to see and do in Castleton as locations are spread out and set across three different sections in the main hub. There is a dedicated residence area, a shopping district, and the general castle area. Each setting nets you unique items, attractions, and characters to interact with.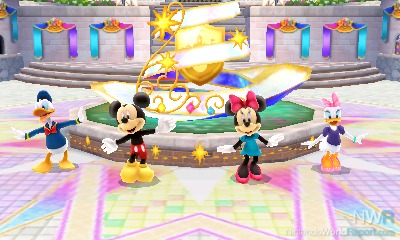 Your main objective in the game is completing tasks. At first, this feels extremely restrictive and linear. You are moving from mission to mission, and there isn't really time to do fun stuff on your own. It is a way to feed you a lot of tutorial information, which I really just wanted to skim over. The basic tasks are quite similar to how the original started, though the specifics are remixed to keep it somewhat interesting. Once you complete the initial stickerbook (each completed mission gives a sticker), the game lets go of your hand. From that moment onward, you are free to do whatever you like. A dedicated information board gives you suggestions, and it is up to you to decide what is next in your journey. You could work on your cafe, accept requests, collect materials and a whole bunch more.
It is at that point that Disney Magical World 2 becomes the game I want to play. You will interact with characters in charming ways and make Castleton the best place it can be. Your patience through the opening hours is quickly rewarded, as you will be invited to different Disney worlds. You can dance with Lilo & Stitch, walk through the woods with Winnie the Pooh, survive mazes in Wonderland, and discover Arendelle with the Frozen crew. Each location has a set of missions to play that feature many familiar faces and locations. They go far beyond the hub areas and unfurl classic Disney locations right before your eyes. It is honestly sort of magical!
Talking about magical, the moments in the assignments are nothing short of amazing. The initial one sees you walking around with Pooh and having a chat with all of his friends. It ends with you being accepted into their group, which is beyond adorable. Another moment sees the player stick up for Stitch as he is accused of painting on walls all over the place. This is where you'll partake in one of many mini dungeons in the game. It is here that you hold a magic wand high and fight against a variety of naughty ghosts. While the fights aren't too hard, I found myself enjoying them as they did require some skill. There are various attacks at your disposal, and I did find myself needing to dodge enemy barrages at times too.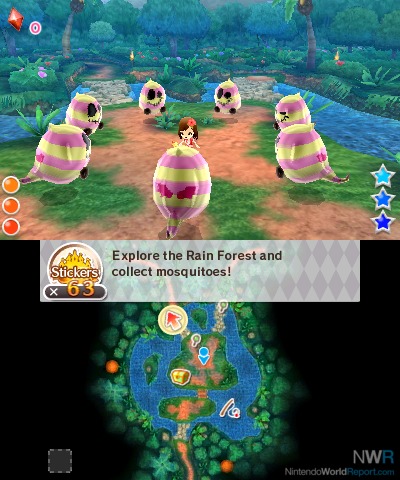 Playing Disney Magical World 2 is a hoot. There is a certain feeling of freedom attached to it, and that makes it enjoyable. I was kicking it back, playing some missions and going through it at my own pace. Once I got in the zone, I really didn't want to stop playing. Sometimes it's just trying a costume that makes you smile, while at other moments you are amazed at the bosses in the dungeons. The most important part, however, is the charm on display here. There is an unmistakable Disney flavor to the proceedings, which the original also got right. I got obsessed with collecting everything in the world, from recipes for the stores to all the fish in the various realms. I chased the puzzle pieces in particular, which unlocked special dreams with a lot of cute photo opportunities.
The title does faulter in a few technical aspects. The framerate and loading times could have been a whole lot better. In those initial hours, they will annoy constantly to an irritating degree. I got used to it eventually, but the problems remained throughout the journey. Disney Magical World 2 does look quite fine as far as the graphics are concerned. The title is a very colorful journey that keeps you happy and cheerful throughout. The soundtrack is just alright, and fits the background music bill well enough.
Disney Magical World 2 suffers from similar issues to the first game. The opening moments are a slow affair, while the technical issues are disappointing in more ways than one. That being said, I still ended up embracing what the game delivered. There are a solid amount of missions on offer with tons of variety on display. Next to this, the locations have a lot of charm to them, and that simply leaves you smiling. With the right expectations, Disney Magical World 2 could be the perfect game to play in a relaxed, at-your-own-pace kind of way.