Fatal Frame rises from the murky depths! Does this lurid resurrection sink or swim?
Those who live in the shadow of Mt. Hikami know the local legends. Do not look at the mountain during sunset, lest you get spirited away into the forest, where you'll fall helplessly into the Netherworld, never to be seen again. Once a sacred place, the forests surrounding the mountain became a tourist attraction filled with resorts and hot springs, but after a devastating mudslide the area has been closed off to the public and abandoned, now an infamous place where people go to end their lives. Thus, the story of the Maiden of Black Water begins.
If you're not familiar with Fatal Frame, go check out my preview for a quick refresher to the series. If you're all caught up and raring to sink your teeth into a chilling tale of paranormal photography and historical horrors, read on!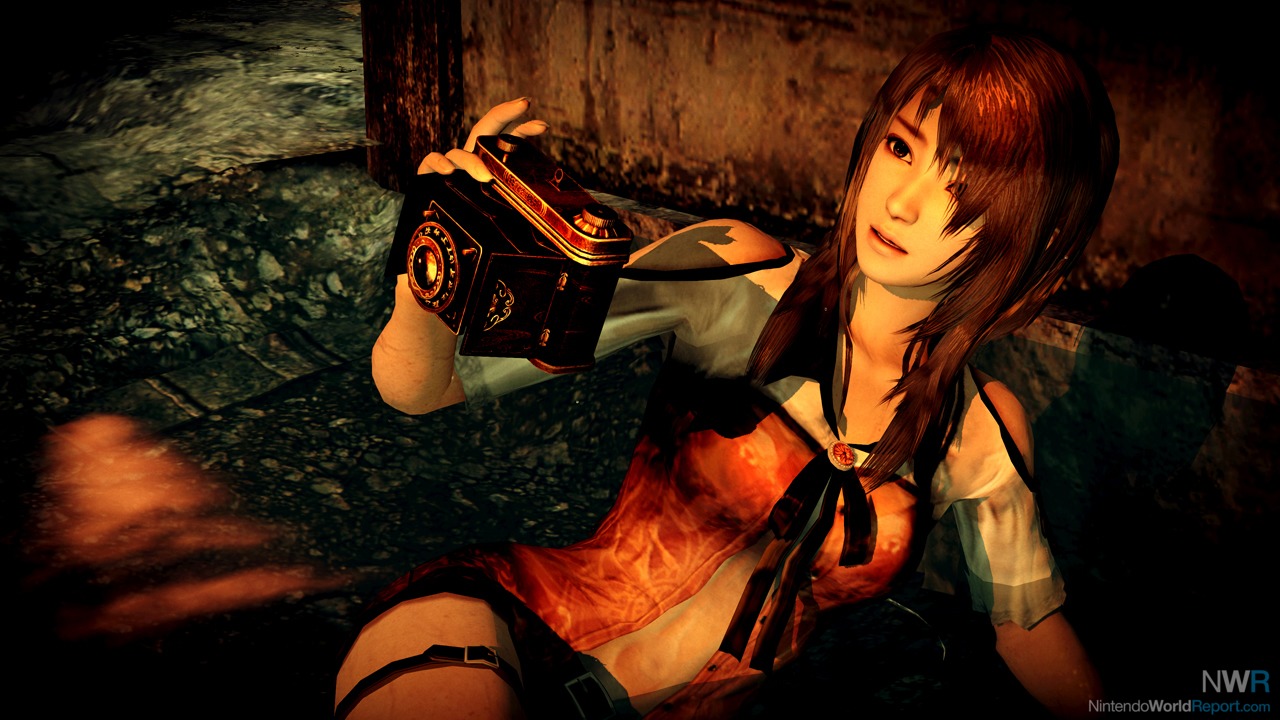 Yuri preparing for her supernatural photo blog.

You play the roles of three main characters in the game, Yuri, Ren and Miu, who each find themselves drawn into the mystery surrounding gruesome and cruel rituals that were once performed on Mt. Hikami. Each character has their own unique set of abilities that offer up a slightly different playing experience, such as holding the shutter for a charged attack, or a fast barrage of continual snap shot photos. The theme of the game is the Mt. Hikami springs gushing forth with the tainted Black Water, said to carry the essence of the land of the dead. The ghosts all have a certain connection with this water, and coming in contact with water or ghostly attacks increases your "wetness". Sometimes you have to wade through waist-deep water or dash through the rain, making your wetness meter rise steadily. Becoming completely soaked makes you more vulnerable to damage and summons more ghosts to attack you, so careful consideration must be taken to use drying Sacred Flame items or hiding under shelter until you dry off before proceeding.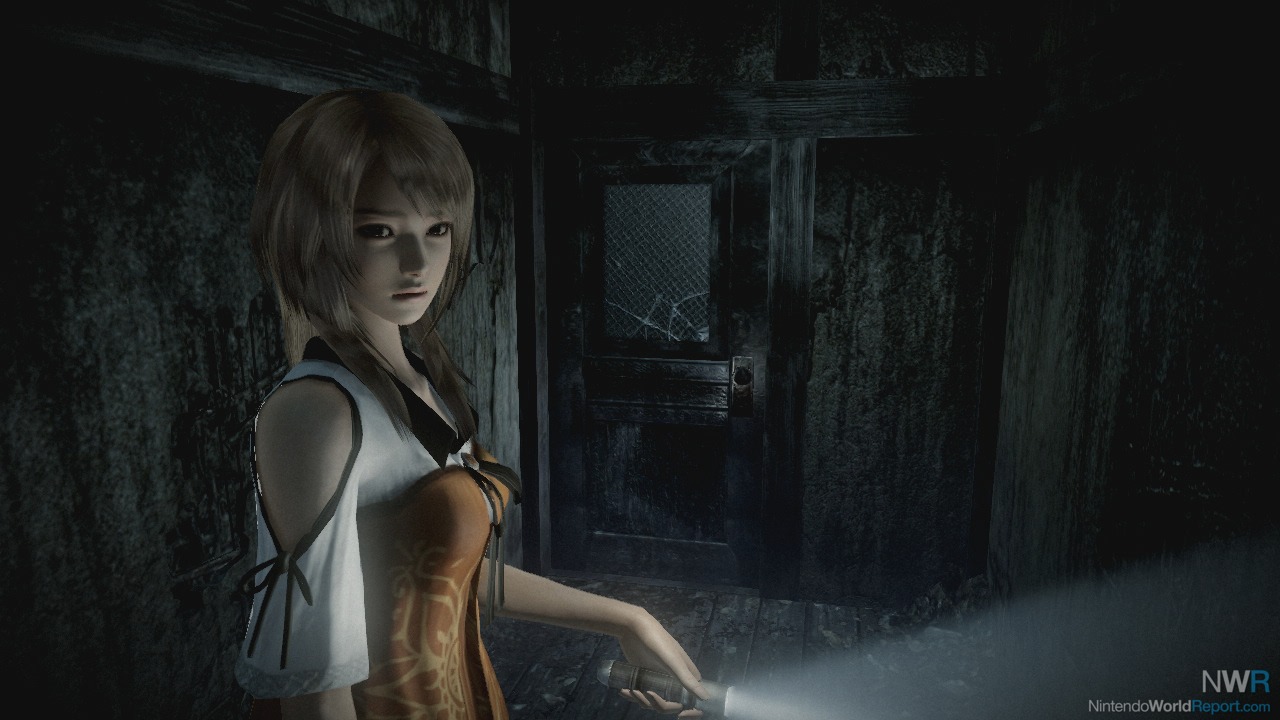 Controlling your character is a vast improvement over the stiff and awkward movement in previous Fatal Frame games. Walking and running is faster than before, and turning or pulling a quick 180 is now delegated entirely to the analogue stick, allowing for fluid maneuvers when being chased by vengeful spirits.
Battling ghosts with the Camera Obscura is also much more immersive than ever before. To take a picture, you first have to ready the GamePad in front of your face like a real camera before entering into the Photo mode. From there, you see the camera's point of view and HUD on the GamePad screen, while you get a general first-person perspective on the TV. Moving the GamePad around like you would a real camera allows you to tilt and adjust your aim, while the right analogue stick allows you to fine tune. There's a lock-on feature, and twisting the GamePad like a steering wheel lets you snap portrait or angled shots for better framing of the subject, giving added points and damage. There's an option to use analogue aiming for those who prefer the control style from the classic games, but after a few chapters with the new controls it's really hard to go back.
Your characters have some psychic ability, in that finding key items will allow them to sense a Trace, a ghostly guide that shows them the way to progress through an area. Relying on it too much will cause more ghosts to attack, so some degree of exploration is needed. You also get the ability to touch a defeated ghost for a Fatal Glance, which treats you to a cutscene showing that character's last living moments. Most of these are really spooky, and it's a great new feature. Introduced back in Fatal Frame 4 on the Wii, picking up items will trigger a mini scenario where you cautiously stretch out your hand to grab the object, while there's a random chance that a ghostly hand will lunge out of the aether to grab at you. If you don't release the buttons in time, the hand will grab on tight and you'll have to wrench free of its health-draining death grip. Getting grabbed makes for a quick jump scare and really helps to keep the tension high while you explore the haunted mountain. There are some neat and creative scenarios as well, like wading through half-submerged basements and caverns that hinder your movement, a mad dash down the mountainside whilst being pursued by the game's main antagonist ghost, and even a Paranormal Activity style level where Ren has to monitor a cycling security camera feed, protecting the girls from ghosts that try to infiltrate their bedrooms while they sleep.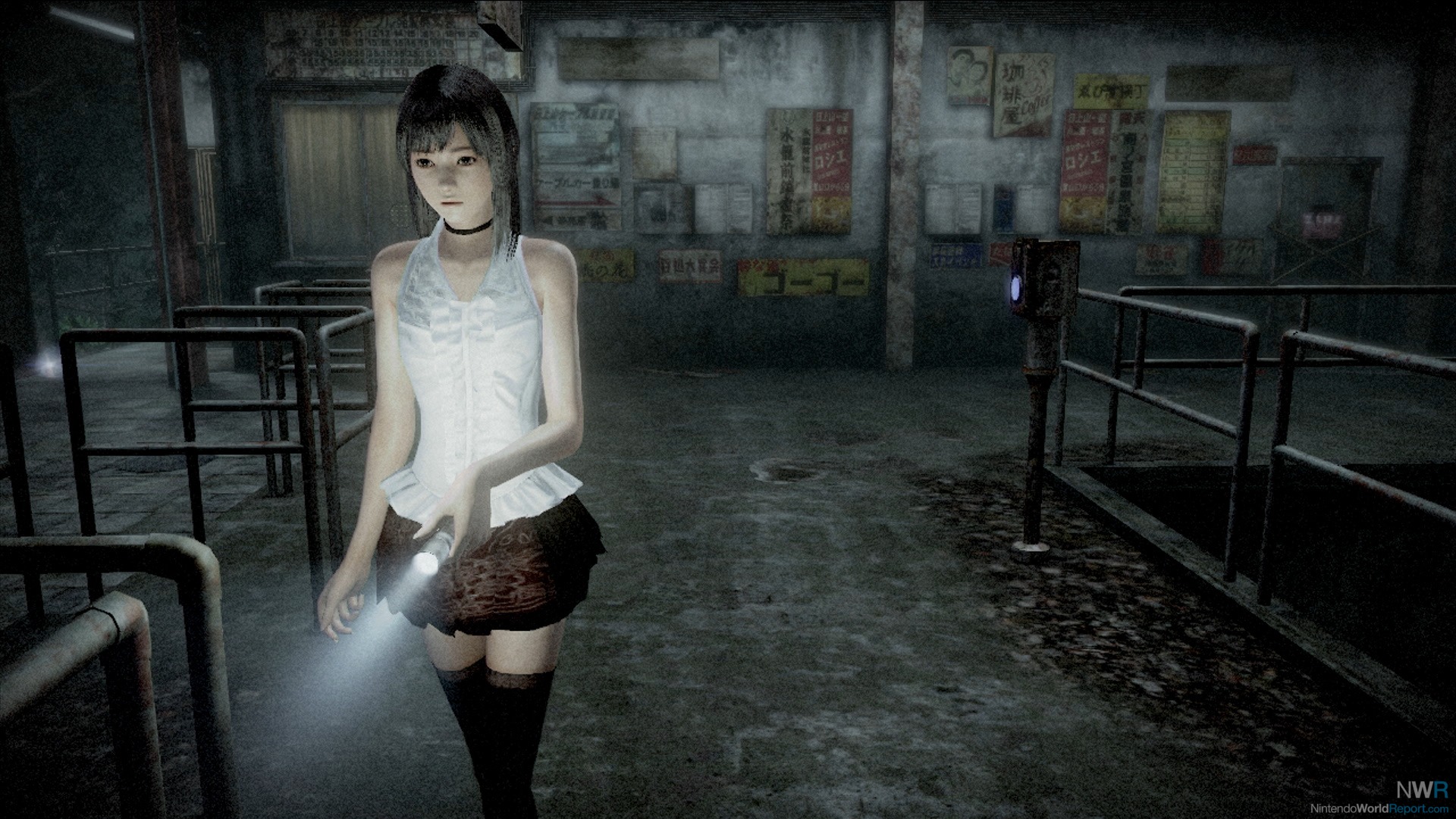 Gone are the save points of old, replaced by checkpoints that you can reload a file from at key moments throughout a chapter. Between chapters, you can choose to go back and replay previously completed levels to search for secrets you missed, collect items or buff up your spirit points for Camera Obscura upgrades before starting the next chapter.
The artistic directors for the Fatal Frame series are masters of atmosphere. Lights dance off the decaying scenery to cast all manner of grotesque shadows, and it's not unusual to find yourself suddenly spooked by little more than your own flashlight beam as you creep around the various locales. The visuals are sometimes weighed down by some low-res texture maps, occasionally blocky wireframes and hair that clips through clothing, which feels archaic in this generation. The characters are all very expressive, however, with some gorgeous character models that look realistically wet when they become drenched, and ghastly ghosts that feature all manner of lighting, transparency and liquid effects to pull you into the world of the game.
The sombre nature of Fatal Frame usually results in a cast of dreary cardboard cutouts who rarely sound more than mildly concerned at the presence of horrifying ghostly pursuers. Fortunately Black Water's cast feels more down to earth and relatable, with some genuine emotion and motivation to do their best and survive despite their surroundings. I won't go into story details because I don't want to spoil, but it's particularly easy to sympathize with the ghosts in this game as well, their grisly fates, particularly that of the Pillar maidens (you'll see) are amongst the most terrifying in all of the series' history.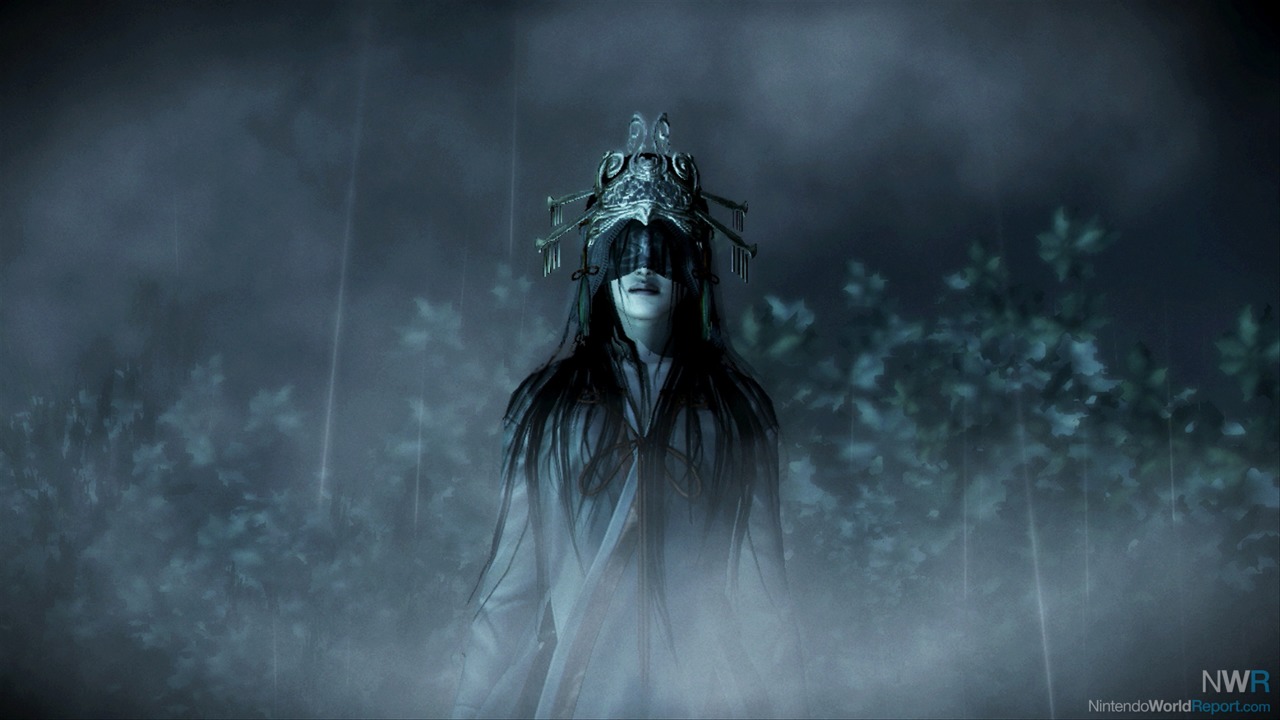 The game does have a few setbacks. In older Fatal Frame games, the Ghost List would collect an encyclopedia of every single supernatural entity to be found in the game, from vengeful spirits to disembodied hands floating through walls. In this game, the Ghost List appears to simply collect the malicious ghosts who attack you. To get 100% you still need to beat all the ghosts and then perform a Fatal Glance move to unlock the movie of their deaths, but the list is much easier to complete this time around. There are still dozens of one-shot ghosts that you can snap up like in previous games, but they're not collected in any kind of completion chart and appear to only exist for a quick boost in Spirit Points. As a completionist, searching for every last ghost just doesn't feel as satisfying as it used to.
Those who are familiar with the Japanese versions of this series will also know that unlockable costumes usually include bikinis for the main female cast. I'm sad to say that, just like in the English release of Fatal Frame 2 on Wii, the bikini content is also removed from this game. This censorship seems silly for a game rated as Mature 17+ by the ESRB, but it certainly doesn't detract from the overall experience of the game, and there's plenty of other post-game bonus content to discover.
Despite these nitpicks, this game is a triumphant revival of a series that has remained dormant in North America for several console generations, and for those who did get to play the Wii iterations there is much new spooky fun to be had. Fatal Frame is still the crowning king of the genre, and Maiden of Black Water holds the best representation of everything that makes the series great. The fact that an English release of this game exists at all is cause for celebration, and should definitely not be missed by fans of survival horror or Japanese ghost stories. Fatal Frame: Maiden of Black Water is good to the last drop.