Vehicles add a nice twist to the Skylanders formula, which shows off even more refinement and polish in SuperChargers.
With every passing year that the Skylanders series continues, there seems to be a palpable fear that the gimmick for the next game will be the straw that breaks the camel's back. After seeing the initial reveal of SuperChargers earlier this year, I feared that vehicles would be that final straw, as the land, sea, and air vehicles just added superfluous content to the typical Skylanders Diablo-lite gameplay. But after playing through SuperChargers, I think I missed the point initially. What this new Vicarious Visions-developed Wii U game does so right is variety. Skylanders is no longer just a quality toys-to-life brawler. It's also a kart racer, a flight sim, a car combat game, a Pixar-inspired story, and a Magic the Gathering-inspired card game. SuperChargers has such a wide breadth of content, and everything is executed beautifully.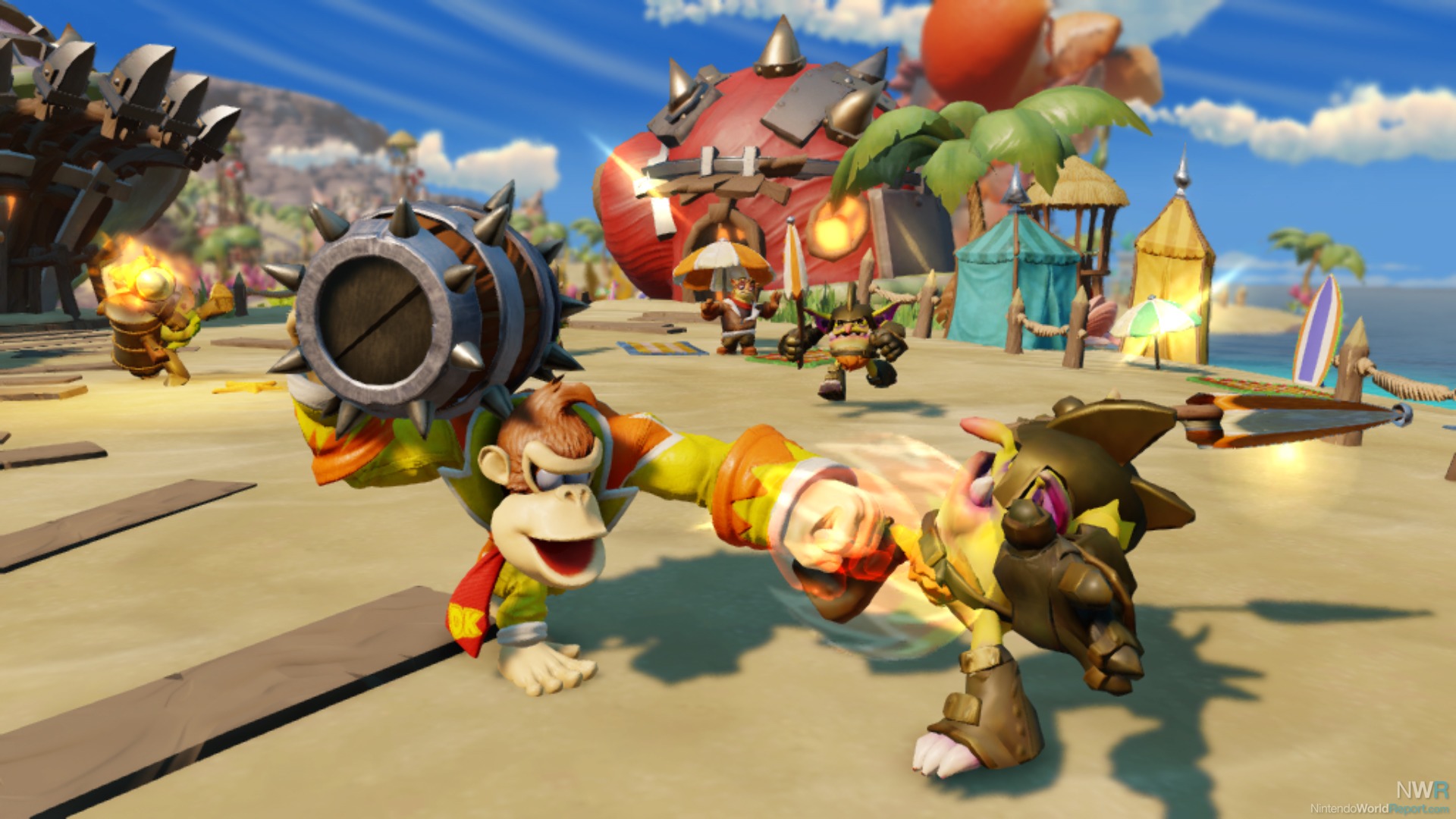 The main focus is on the story, which is more of a cinematic adventure than ever before. At the outset, the recurring villain Kaos has captured the recurring tutorial-giver Eon. Along with that, Kaos is using the aptly named Doomstation of Ultimate Doomstruction to destroy the Skylands. Things are looking dire, but of course, that means the Skylanders need to be controlled by a wily Portal Master (aka you) to save the day. The gameplay here is more or less unchanged from Swap Force and Trap Team, as you journey through a variety of worlds solving simple puzzles and battling numerous enemies. The structure has changed, though. Instead of having the game broken into levels, it is broken into story-based chapters, a mostly cosmetic change that makes the plot feel more important than the level progression.
The settings are wonderfully distinct, each with their own unique twist. One plays with perspective and messes with gravity so you bounce between walls and the ceiling. Another supersizes your Skylander so you basically become Godzilla. Exploring each area is so much fun, and each world is varied.
Peppered throughout each world are vehicle sections. Only the land segments are required, as you need toys outside of the Starter Pack to try out the sea or air areas. Each vehicle type feels distinct, though, and they bounce between straightforward races and arena battles. The land and sea races and straightaways are fantastic, as they feel like they could have been ripped right from a great kart racing game. The arena sections of both are a little hard to control, as the visuals switch from third-person to more isometric, which changes the way the vehicles handle just enough to be disorienting. The air gameplay, however, is a blast in both styles, even if the default controls aren't inverted.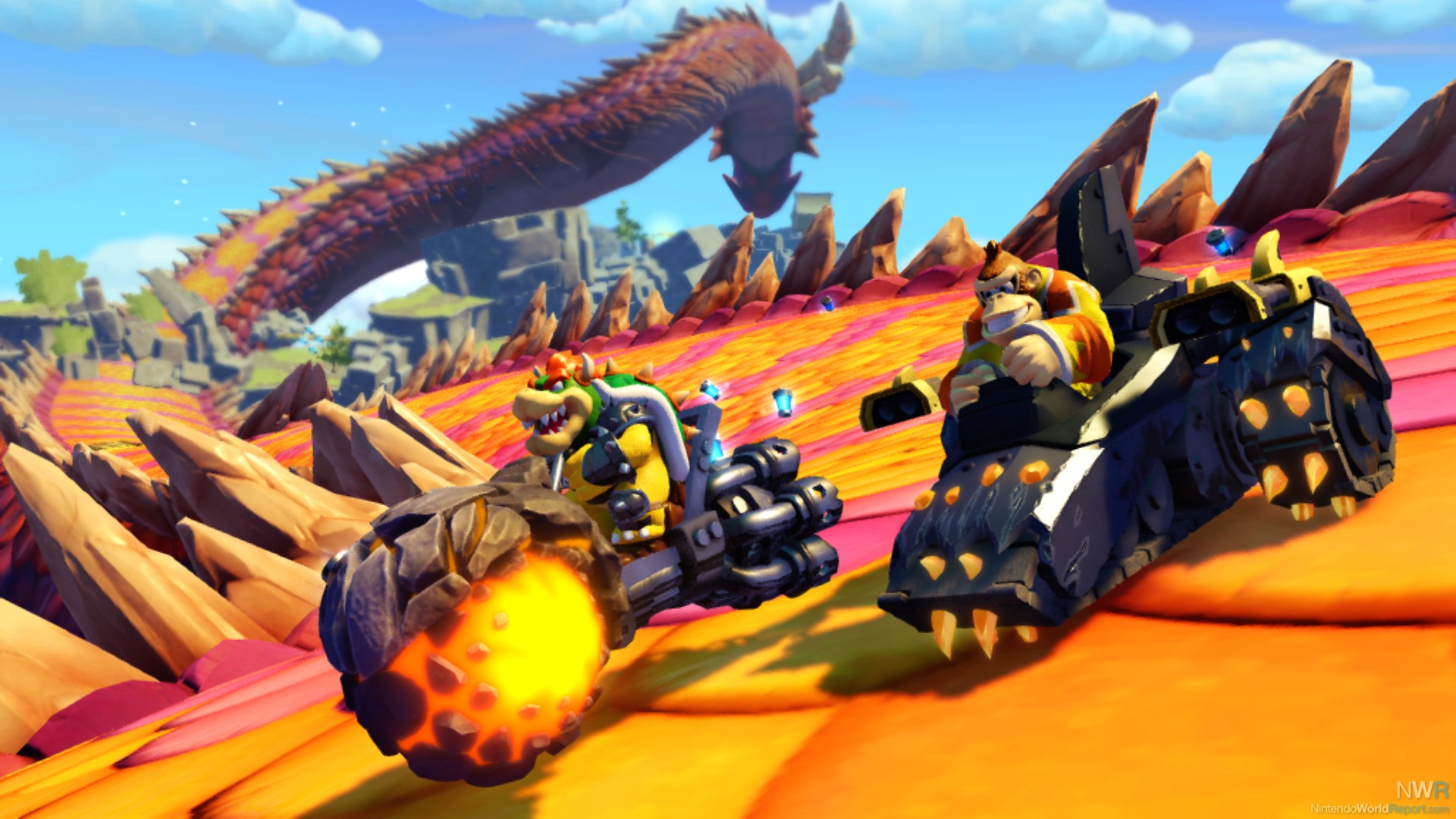 In addition to all of the vehicle fun in the story, SuperChargers also features what amounts to a small kart racing game complete with a four-player online mode. While only six courses are available out of the box (six more are locked behind figures), each course compares favorably to the average Mario Kart course, complete with shortcuts and secrets. Combat is a big part of the racing, as each vehicle has two unique weapons that can be used to slow down rivals. Like any good kart racer, items are also a big part of the insanity; they are triggered automatically when you pick one up, which works way better than you might expect. The racing isn't that deep or varied, but it's a well-crafted side mode that could be great if the online community is active. What could have been a hastily thrown-together side mode is actually well-crafted and very fun.
Side modes like these are plentiful throughout SuperChargers. The floating Skylanders Academy hub world hides lots of optional quests. Unsavory racing manager Pendergast doles out racing-related challenges every day. Each new SuperCharger figure has its own personal quest line. The Magic the Gathering-inspired card game Skystones returns with even deeper mechanics and even more cards to collect. You can also now place uncovered treasures throughout the Academy, which is a nice touch of customization. I currently have a toy plane flying around near a trampoline and a rake that hits my character in the face when I step on it. SuperChargers as a whole embraces goofiness, as you even unlock the ability to just randomly place hats on NPCs.
Skylanders: SuperChargers is just bursting with content, and fortunately, all of it is great fun. If you're invested in the series, SuperChargers is on par, if not better, than the best the series has offered in the past. If you're a newcomer, SuperChargers is a fantastic jumping-on point, as it has the lowest barrier of entry to see the majority of the content. As opposed to past games, which were filled with eight different elemental gates, the only gated story content is with sea and air vehicles. Even factoring out the sea and air segments, SuperChargers is still stellar. The Skylanders series is now into year five and as long as they keep being this entertaining, varied, and lively, then each one should still be worth playing, whether you're 7 or 27 years old.