A positive rage.
When we discuss games from the 16-bit era, "atmosphere" is typically not a topic that comes up. Sure, we'll talk about the music, mechanics, or difficulty, but atmosphere is a term that gets bandied about more when discussing the "artsy" indie or "cinematic" blockbusters of today. That said, I absolutely cannot discuss Sega's latest 3DS game 3D Streets of Rage 2 without bringing up the atmosphere - it's the first thing that comes to mind for me whenever I think of the game.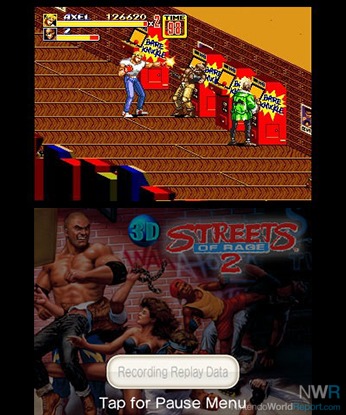 Like its closest contemporary of the era Final Fight, the Streets of Rage series takes the "gritty American city" from countless '70s and '80s films and gives it a 16-bit makeover. Streets of Rage 2 takes this aesthetic further through its neon-lit cityscapes and brilliant Yuzo Koshiro soundtrack. Koshiro's electronic score, while catchy, is full of dark undercurrents that emphasize the chic corruption of the city. It's one of the finest soundtracks on the Genesis, and arguably Koshiro's greatest work.
When you look beyond the aesthetic, you'll find a highly competent brawler - arguably the best in the genre. Streets of Rage 2 certainly doesn't reinvent the wheel, rather it simply does everything right. You have four distinct playable characters to choose from, memorable bosses, and a variety of interesting locations to kick, punch, and suplex through. And fortunately, those kicks, punches, and suplexes feel perfect.
Combat in Streets of Rage 2 is fast, responsive, and shockingly fair. The brawler is a genre born in arcades that is meant to attract players with flashy visuals so they'd keep pumping in quarter after quarter to defeat the next cheap boss. The Streets of Rage series, on the other hand, was designed for consoles, so while still brief and challenging, it never felt wholly unfair. Plus, the multiple difficulty levels meant that hardcore players would still be challenged, but those who just wanted to play in the game world could breeze through it in a leisurely Saturday morning session.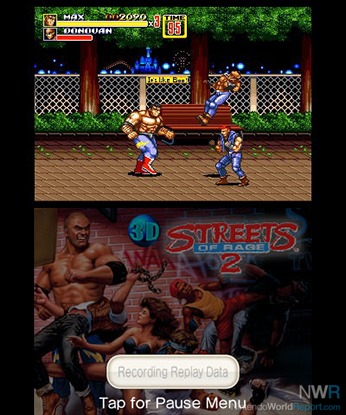 With 3D Streets of Rage 2, M2 and Sega have, as expected at this point, created a version of the game with even more playability options. One new addition is the Rage Relay mode. Here, you select the order in which you play each of the four characters, King of Fighters style, and switch whenever one is knocked out. As stated in our interview, this mode was designed so that players would experience how differently each character plays. The one-punch mode from the original 3D Streets of Rage is back, but with a bit of a twist. Here, the mode is known as Casual, and when selected, all enemies, including bosses are defeated when their bodies hit the floor. So it takes a bit more than one punch- maybe a combo, dropkick, throw, or special attack to knock enemies out here. This makes the optional mode even more satisfying than in the original, while still keeping the experience laid back and streamlined.
3D Streets of Rage 2 takes a game that was already infinitely replayable (solo or multiplayer as this version does allow for co-op if both players have the game) and gives you even more ways to experience this classic brawler. The impeccable port combined with the additional features and cool 3D effect make this the definitive version of one of the pinnacles of the genre.