It's hard to finish a race with a slow start.
A lifelong fan of Natsume's Harvest Moon series, raising animals is nothing new to my video game repertoire. Starting up My Horse 3D-Best Friends on my Nintendo 3DS instantly brought to mind the joys to be had when it comes to raising horses. The smells of the horse dung covered track filled my mind as I imagined the wind blowing past my horse and winning in a photo finish for the Triple Crown. What I was met with was a confusing beginning to the grindy equestrian life of My Horse 3D.
Upon starting the game you chose between several breeds of horses for your ranches first horse and give it a name. After picking a glorious clydesdale and lovingly naming it after my loyal house cat Apollo, I found myself in my character's house with little instruction of what to do. After surveying my property, I noticed that my ranch was pretty far in disrepair. By performing horse related services and other tasks, I could earn money to repair my ranch and increase my capacity for horses I could care for as well as the variety of services my ranch could offer.
My first task was to let my horse in the barn. Sounds simple enough, however the next half hour had me running around my ranch aimlessly looking for a way to do so. I could plainly see where my horse was, however walking to the fence did not allow me to go to my horse. After walking back and forth by the fence I finally came upon a prompt to open the gate.Lack of instruction is a common theme throughout My Horse 3D, and this doesn't mesh well with the surprising amount of options the game offers.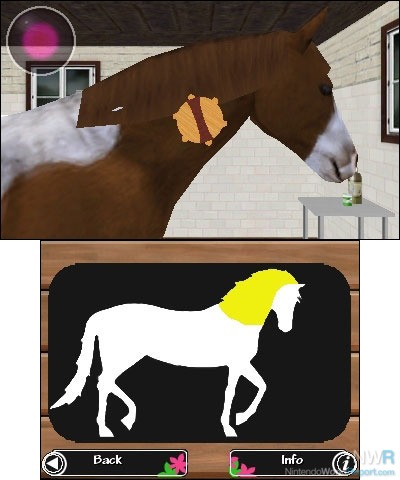 Eventually I was able to begin upgrading parts of my ranch. This unlocks various tedious minigames which gave me the money I needed to unlock further upgrades by repeatedly grinding. Most of the minigames I played came down to performing some sort of action using touch or motion controls and I was awarded based on my accuracy. An example of this was a horse massage minigame in which I twisted my 3DS back in forth in a steering wheel motion to massage horses for various clientele.
Where My Horse 3D really saddles up is in its suprising amount of customizable content. Players can purchase horses of various breeds and accessorize them with various saddles, brushes, bridles, blankets and more to help them ace the in game beauty contests.
It is also important to keep in mind the health, hygiene and happiness of your horses in order to nail the jumping competitions and wow the beauty pageant hosts. Through your in game computer at your house, you can order a variety of horse related health products such as food and medicine.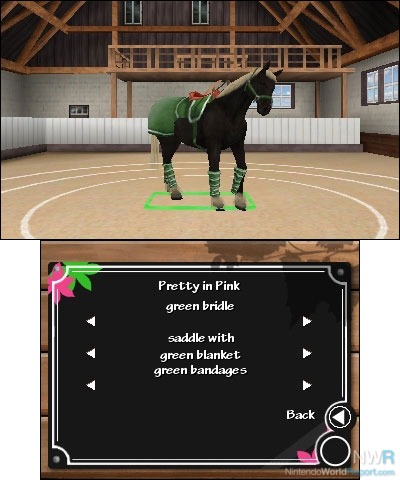 My Horse 3D - Best Friends is a decent choice for equestrian enthusiasts on the eShop. The variety of content here is a good value for those who are truly horse crazy. However, many aspects of the game lack the freshly brushed polish to be an attractive option to most 3DS owners .