Get ready! 3D After Burner II marks the start of the second wave of Sega 3D Classics in the West, and does so with style, accessibility, and a wealth of options.
The Sega 3D Classics line has Sega collaborating with emulation masters M2 in an effort to bring classic Sega titles into 3D on the 3DS. These eShop releases not only offer lovely stereoscopic 3D, but an incredible amount of customization options that are sure to please both hardcore enthusiasts and those checking out these classics for the first time.
After Burner II was released in arcades in 1987 as an incremental upgrade to the original game (which had been released earlier that same year). The features added were relatively minor (the most significant being throttle control and and three additional stages), but After Burner II is definitely the "complete" version, so it's nice that M2 used it as the starting point for this port.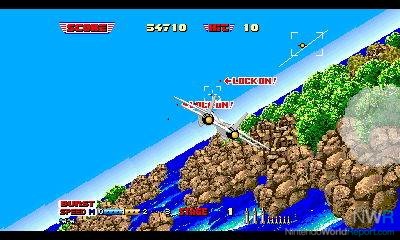 If you never played an After Burner game in the arcade (or one of the previous home ports), expect a fast and frantic on-rails shooter with charming scaling sprites. The 23 stages in 3D After Burner II are brief, yet feel exciting and varied due to the colorful changing backgrounds and fantastic music. Controls are simple: fire your gun (always), fire missiles (as you lock on to targets), do a barrel roll (to feel awesome), and adjust throttle to manage your speed (this is especially important in the canyon stages). Unfortunately, movement is fairly limited, lacking the freedom and fluidity of later games in the genre such as Panzer Dragoon and Star Fox. Another issue with After Burner II stems from the frantic nature of the game. Everything in the game happens so fast, with enemies constantly appearing from all directions, that you will often find yourself getting shot down and not knowing where your death came from. Thankfully, the multiple difficulty options, liberal continues, and a stage select mode help keep frustration to a minimum.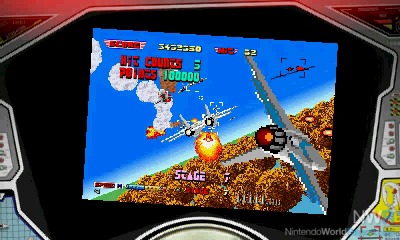 Difficulty is hardly the only option in the game. Sega and M2 give enthusiasts a plethora of ways to experience the game, ranging from cabinet designs to sound setups. Personally, I prefer the "Commander Type" HUD with the smallest screen size and Environmental SFX turned on. With these settings (and a pair of headphones), you can almost trick yourself into believing that you're in an arcade in the 1980s (or Shenmue II). The best addition to the options however, is unlocked once you finish the game. "Special" mode adds a feature created just for this version: burst. After filling up your burst meter (which is done by shooting down enemies) you can press the A button to enter slow motion, which makes taking out enemy planes quite a bit easier. This feature, inspired by the more recent After Burner sequel, Climax, improves the rhythm of the game and is my preferred method of playing.
While After Burner II definitely shows its '80s arcade roots, this version has many options to make the game accessible and fun for modern players. If you are even remotely interested in Sega and/or arcade history, or just wanting a quick and colorful action fix on your 3DS, you can't go wrong with this affordable labor of love from Sega and M2.