Inti Creates uses their Mega Man development background to create an exciting new action game.
Given developer Inti Creates' pedigree and the structure of their new game Azure Striker Gunvolt, it might just appear to be a Mega Man-inspired action romp. The spirit of the 3DS eShop game definitely echoes the Capcom series, especially the Zero and ZX series that Inti Creates worked on. But Gunvolt just borrows the structure and trots out cool new mechanics to become its own type of platformer. It's one that comes up with some fantastic and interesting gameplay concepts and puts together one of the sharpest games on 3DS this year.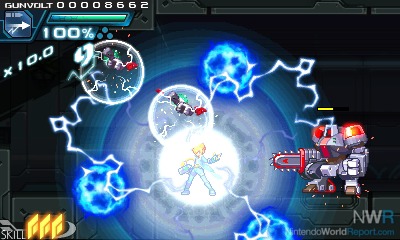 The hook to Gunvolt is that your main weapon generally doesn't do much damage at all. It's just a wimpy pistol used to tag enemies, allowing you to unleash a Flashfield, which is an electric shield that hurts any enemies that you tagged or that are next to you. The system takes a little getting used to, but it quickly rewires how you progress through the platformer, as the unique tag system kind of turns the genre on its ear. You can't play it like a Mega Man game. You have to be a little more deliberate with your tags and your Flashfield, especially if you want to get a good ranking and score.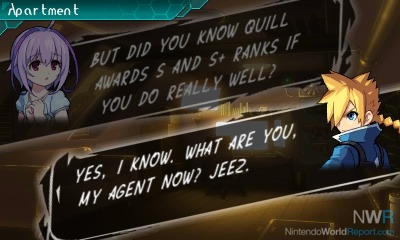 Gunvolt is a story about the titular hero, who is an adept, meaning he can use special powers. He is trying to protect a muse, a being who has an effect on adepts like Gunvolt, from an evil corporation. There are a lot of words and organizations thrown about that just come off as nonsense to me, but the dialogue is sharp and fun, never getting too bogged down by the ridiculous anime-inspired universe. The overall story is basic, and every character is shown in broad enough strokes that it's never confusing.
The bulk of the levels have you face off against Mega Man-style bosses that are preceded by levels that introduce different gameplay concepts, some of which you need to learn and use to defeat the bosses. You're encouraged to replay stages, as you earn different items in each level and complete challenges that give you more items. You can turn around and use those items to craft gear you can equip. Unless you're constantly replaying levels and completing challenges, though, you're likely not going to stumble into getting the right materials to make worthwhile gear. Essentially, the only way you'll be able to create most of the gear is by dumb luck or forced replaying. For me, that idea wasn't that appealing, so I basically ignored seeking out specific materials for crafting.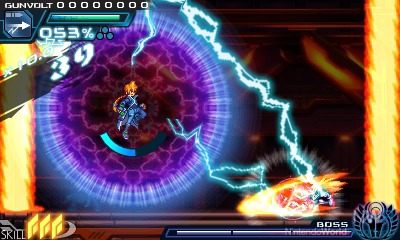 But even if you just toss crafting to the side, Azure Striker Gunvolt is an incredible game. The action platforming is so damn inventive and unique thanks to the tag and Flashfield ideas that I spent most levels just smiling as I faced whatever fun challenge the game threw at me next. Even better are the bosses, which are structured in a way that highlights the puzzle elements of each fight. The bosses get frustrating when their last-ditch special abilities can sometimes wipe you out in one hit, but all that does is force you to learn how to avoid those attacks by making use of the abilities at your disposal.
Even if you never touched a Mega Man Zero or ZX game or don't know who Inti Creates is, you should check out Azure Striker Gunvolt. All you need to know is that it is a great action platformer that introduces awesome new ideas while oozing with style, personality, and fun.