It's almost as great as finding your own Devil Fruit.
One Piece: Unlimited World Red, released earlier this summer, is a game that not only One Piece fans can enjoy, but anyone willing to give an action-adventure-RPG a chance. Fans of One Piece will find their favorite crew sailing the high seas in search of a certain island. Once on the island all sorts of enemies from the past arise and it's up to Monkey D. Luffy and his crew to take them down again. There are even a few new characters the Eiichiro Oda created specifically for this game.
The plot seems simple and straight forward, but there's plenty to do when you're not working on the main story missions. At first the island is pretty barren, but with the right materials and some money it can expand into a bigger and better base of operations. Players can find said materials during missions and in no time build a pharmacy to pick up healing items, a tavern to take on side missions and mini-games to earn more money among other institutions.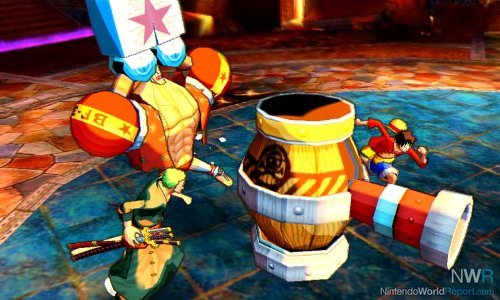 The town isn't the only thing that can be improved. Each character has their own set of stats that can be enhanced through leveling in battles or by items obtained throughout the game. Each of the nine Strawhats' also have distinctive play styles, and players can pick and choose their favorite characters to take along or choose the characters who can unlock secrets in each area. For instance, Chopper can bounce around the arena while fighting and dig up treasures while exploring, Usopp has a sniper-mode in battle, Sanji can fly through the air and Zoro can cut down walls. Each character has a lot to offer, so it's hard to let one fall to the wayside as the others get exponentially stronger.
The game also features two modes. Story mode encompasses most of what I mentioned above while other mode is Coliseum. In this mode, players can unlock rival characters to fight alongside the Strawhats in several modes of combat that include two characters taking on a horde, one on one duels, and boss rushes. Players can also unlock missions and items that can be used in Story Mode. All in all, the game has a huge amount of content to unlock.
The game is easy to pick up and play with X and Y being the go to battle buttons with the A button appearing overhead when a counter or dodge is available. The battle system is easy to pick up even though it can be a little exhausting later on in the game. And while there is a certain satisfaction in leveling up your favorite characters it can sometimes be a hassle to find out you needed to bring along a weaker character with you to unlock something. But these issues don't break the game at all.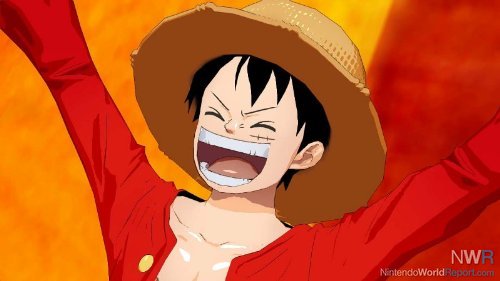 There's plenty of fun to be had in this exciting new adventure. The game looks and feels great. The story is solid and fun at the same time. There's very little not to love if you're a fan of the series. From fighting your favorite enemies to building a town from nothing, there's plenty to do in One Piece Unlimited World Red.